BOU AVENUE
Trapper Peak
---
Kicking off a three-week road trip through the mid-western United States, Zosia Zgolak and I warmed up with a relatively easy ascent of Trapper Peak in western Montana on 29 June 2019. The highest of the Bitterroot Mountains, Trapper Peak is part of a complex massif which includes the lower but more technically difficult North Trapper Peak. A fairly straightforward Class 1-2 ascent route for Trapper Peak is described in summitpost.org.

From US Highway 93, access West Fork Road (State Highway 473) about 7 kilometres south of Darby or via Conner Cutoff Road which is about 37 kilometres north of Chief Joseph Pass at the Montana-Idaho border. From the intersection with Conner Cutoff Road, drive south along West Fork Road for about 13 kilometres to the signed turnoff for Trapper Peak (forestry road 5630). Turn right and drive up the forestry road for about 10 kilometres to the signed trailhead (parking space for about half a dozen vehicles; no toilets). The forestry road is usually well-maintained and suitable for 2WD vehicles.

Trapper Peak is very popular with local hikers, and there were already several cars at the trailhead when we arrived. We started the trip with a steady and moderately steep climb on a well-defined trail going up Trapper Peak's southeast ridge. Most of this initial hike is in forest, but there are a few openings just a little bit off the trail which grant some enticing views of the upper mountain.

A short distance below tree line, we began running into a lot of lingering snow patches which ultimately obscured the trail. Fortunately, most of the snow was still quite supportive, and although we probably could have climbed more directly toward the summit ridge, we veered a bit to climber's right where we found less snow and more scenic views. Passing below an eastern outlier of Trapper Peak, we eventually cleared the last of the trees and trudged through more snow patches to reach the summit ridge. We had no trouble hiking up the remaining Class 2 terrain to reach the summit.

On descent, we took a slightly more direct line down through the numerous snow patches and eventually regained our trail of ascent without too much trouble. The subsequent hike back to the trailhead felt long but was uneventful.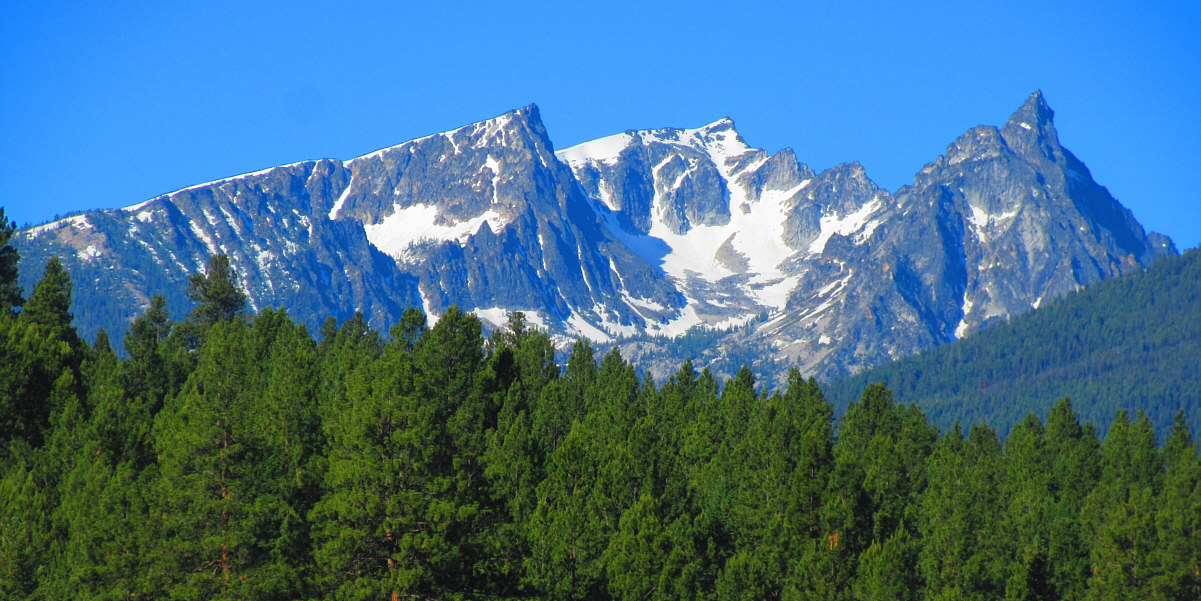 As viewed from US Highway 93, Trapper Peak is right of centre while North Trapper Peak is at far right.
Photo courtesy of Zosia Zgolak
Zosia starts the hike at the well-marked trailhead.
Zosia gets her first clear glimpse of Trapper Peak's summit (centre) from a semi-open ridge not far from the trailhead.
Higher up, the trail is largely obscured by lingering snow, but fortunately, the snow is still supportive on this day.
Zosia continues along the edge of the snow as the ridge becomes more well-defined.
Zosia crosses more lingering snow patches as she heads for the summit ridge in the distance.
Gem Lake can be seen from the summit ridge.
Zosia grinds her way up the last slopes before the summit.
A pack rat is spotted dashing about on the summit rocks.

Photo courtesy of Zosia Zgolak

Zosia and Sonny relax on the summit of Trapper Peak (3096 metres).
Boulder Peak is left of centre in this view to the southwest.

Cave Lake (bottom right) sits at the foot of Trapper Peak's huge north face while El Capitan stands out in the distance to the northwest.

Here is Trapper Peak's summit survey marker.
The access gully for North Trapper Peak is still choked with snow.
Zosia takes advantage of the firm snow on descent.
Total Distance: 13.9 kilometres
Round-Trip Time: 8 hours 42 minutes
Net Elevation Gain: 1253 metres