BOU AVENUE
Bald Hills
---
On 21 March 2021, Zosia Zgolak and I did a short ski tour of Bald Hills in Alberta's Jasper National Park. While I had hiked these hills in 2002, Zosia had already previously skied here albeit on light touring gear. Hoping to get some nice turns, we would both use AT gear on this day.

Starting from the trailhead at the end of Maligne Lake Road, Zosia and I skied up the wide and easy road to Bald Hills for about an hour before reaching a signed junction with a short cut trail. This short cut trail is narrower and climbs more steeply, but it does save roughly an extra one and a half kilometres of otherwise mundane skiing up the rest of the road. Where the trees begin to give way to open meadows, we continued to follow the tracks of some skiers ahead of us who climbed up the first big hill above tree line. We followed suit without any difficulties and even went a little further to tag the high point of this first hill. Had the sky been clearer, we might have considered wandering further south to the highest of the hills, but we decided that we would save that extension for a return trip in the future when hopefully we would have sunnier weather. Instead, we opted to turn around and enjoy some fabulous skiing off the first hill and into the open meadows below. Descending back into forest, we stuck loosely to the short cut trail at first but eventually wandered a little further to the north in search of untracked powder and wider openings between the trees. Just when the trees were beginning to feel a bit too tight to ski through, we popped back out onto the road not far from the signed junction. Unlike my previous day's tribulations on the ski out from Shangrila cabin, I had no problems with glide on this day, and our ski back to the trailhead was both fast and enjoyable.
| | |
| --- | --- |
| | Zosia passes an information board at the trailhead. |
| | The climb up the road to Bald Hills is a bit mundane but easy. |
| | Zosia leaves the road to take a steeper short cut trail. |
| | The ski tour becomes more interesting as the trees begin to thin out. |
| | Zosia follows skin tracks below the northernmost of the Bald Hills. |
| | Despite the cloudy conditions, numerous unnamed peaks and ridges are still visible across the horizon to the north. |
| | Frozen Maligne Lake comes into view as Zosia clears the last trees. |
| | Zosia approaches the high point on the northernmost of the Bald Hills. |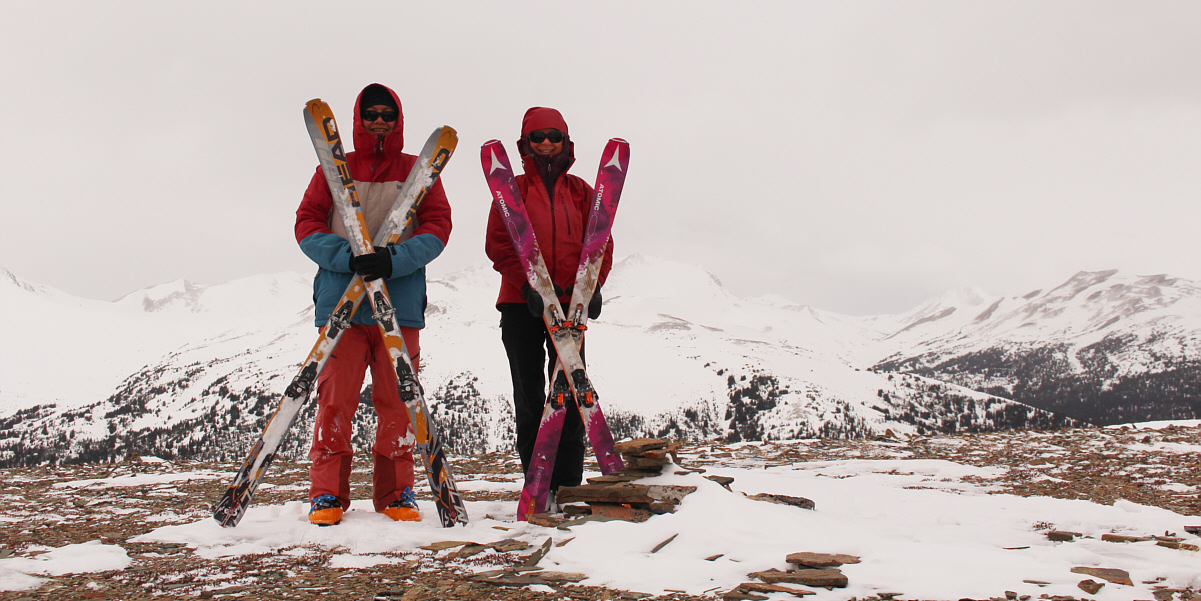 Sonny and Zosia cross their skis on the high point of the day (2316 metres).
| | |
| --- | --- |
| | The view to the northwest includes Trowel Peak (left), Little Shovel Pass (centre), and Sunset Peak (right). Both Trowel Peak and Sunset Peak are unofficial names. |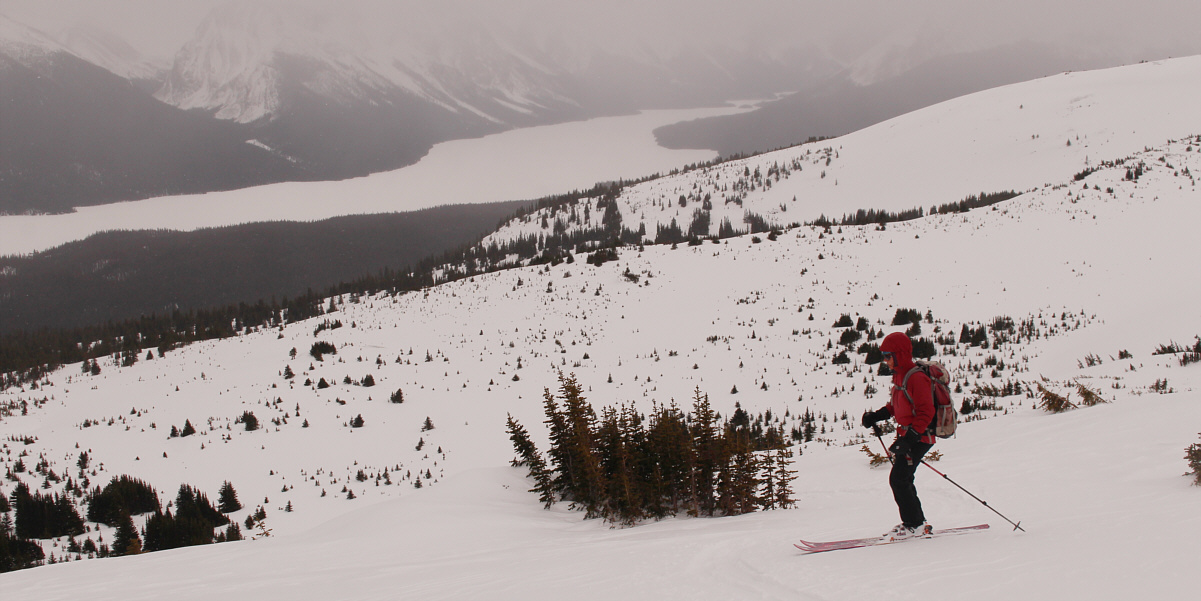 Zosia skis back down the slope she climbed up.
Despite the flat light, the skiing is fantastic on this day.

Sonny slashes through some fresh powder.

Photo courtesy of Zosia Zgolak

Opal Peak looms in the distance as Zosia skis back down the road.
Total Distance: 10.3 kilometres
Round-Trip Time: 4 hours 26 minutes
Net Elevation Gain: 626 metres