BOU AVENUE
Beaver Mines Ridge
---
In December 2020, Dave McMurray published a trip report describing his hike up an unnamed ridge located just north of Beaver Mines Lake in Alberta's Castle Provincial Park. McMurray took the liberty of naming the objective "Beaver Mines Ridge". Coincidentally, I had also been thinking about this ridge at around the same time, but from my research on Google Maps, I felt that it was a good candidate for an easy ski ascent in the right conditions. The area near Beaver Mines Lake is not renowned for skiing, and as a result of a generally mild start to the winter, I put this objective on the back burner. In the meantime, Matthew Clay followed up with a snowshoe ascent in January 2021, but in his trip report photos, snow coverage still looked marginal for skiing. A recent dump of snow combined with the polar vortex finally gave Zosia Zgolak and me the impetus to give Beaver Mines Ridge a try with our light touring skis on 14 February 2021. Unlike McMurray and Clay though, we would use a different approach from the northeast.

Starting from a pullout near a corral on the south side of Highway 774 (1.5 kilometres west of the park boundary sign), Zosia and I skied past an unsecured gate to follow a wide logging road entering the forest. We soon reached the first of numerous cut blocks in the area, and with the snow cover, it was not always obvious where the logging road went. Admittedly, I was too lazy to map out a route beforehand in my GPS unit, and although I had a rough idea of where we needed to go, we would be kind of flying blind with our route-finding. Fortunately, the openness of the cut blocks made it easy to navigate, and the snow coverage was generally ideal for ski touring--not too thin and not too deep. Initially, we stuck close to the northern edge of the cut blocks and headed eastward roughly parallel to the highway. We actually spotted two moose here from a distance, but they quickly disappeared before we had a chance to get close enough for a photograph. After passing a few more cut blocks, we eventually intersected another road running southward where we discovered some fresh ATV tracks. We followed the ATV tracks for over a kilometre to a scenic viewpoint before abandoning the road to climb westward up the ridge. We made a bit of a route-finding error here when we turned south again a bit prematurely and ended up in some steep forested terrain that did not agree well with our skis. Thankfully, the unpleasant bushwhacking did not last long, and we were soon standing atop one of the high points of Beaver Mines Ridge. At the time, I thought that this was the highest point of Beaver Mines Ridge, and I was nearly tempted to call it a day and ski down the enticing slope to the south. Instead, we took a short break before venturing further west into a forested dip and climbing up a second (west) high point which, according to my GPS unit, is virtually identical in height to the first (east) high point. Oddly enough, my elevation figures are higher than what would be expected from checking the contour lines on topographic maps of the area. In his trip report, McMurray noted that the west high point is slightly higher by about eight metres, and his elevation figures are more in line with what is shown on the maps. In any case, all of this is rather academic, and Zosia and I were both satisfied to have tagged both high points with minimal extra effort.

From the west high point, Zosia and I backtracked into the dip and took a short cut to bypass the east high point. We then worked our way over the north ridge (McMurray's "final highpoint") before descending eastward through mostly forested slopes. The skiing here was challenging in our light touring gear, but at the same time, I also found it to be a lot of fun. Again, had I bothered to map out a route beforehand, I might have found us better terrain to ski, but overall, I thought we fared quite well in getting down to the ATV tracks without too much grief. After closing our loop, we simply followed our own tracks back to the highway.
Covered by snow, the logging road is a bit ambiguous to follow through these cut blocks.

Zosia carefully skis over a snow-covered creek which cuts across the logging road.

The logging road is again difficult to follow as Zosia skis through another cut block. In the distance is Mount Backus.
Gaining another road, Zosia finds some convenient ATV tracks to ski on.
Zosia abandons the road to climb up the ridge. Visible at left is the east high point.
Sonny runs into some difficult terrain below the east high point.

Photo courtesy of Zosia Zgolak

Zosia is relieved to clear the last trees after a steep and miserable climb through thick forest.
Sonny and Zosia rejoice on the east high point (1698 metres) of Beaver Mines Ridge.
Zosia descends slightly from the east high point to get a better view of the peaks to the west.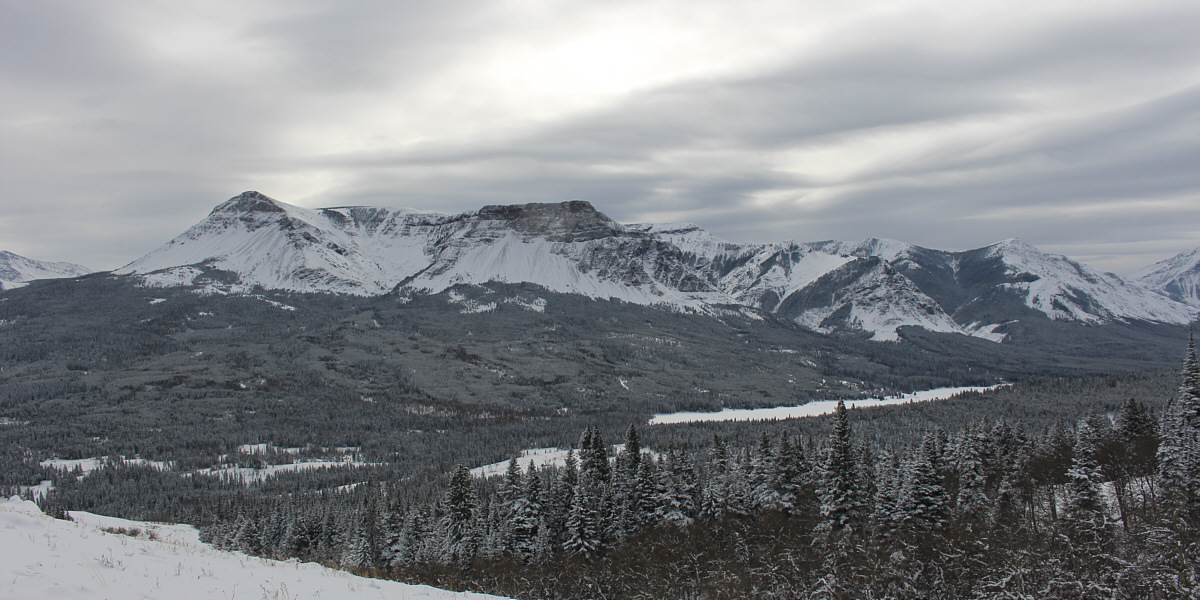 The view to the south is dominated by Table Mountain and Beaver Mines Lake.
| | |
| --- | --- |
| | Zosia huddles under a tree near the east high point for a quick lunch. |
| | Zosia arrives at the west high point (1698 metres) of Beaver Mines Ridge. |
| | The view to the south from the west high point is nearly the same as that from the east high point. |
| | Zosia cuts through some trees to bypass the top of the east high point. |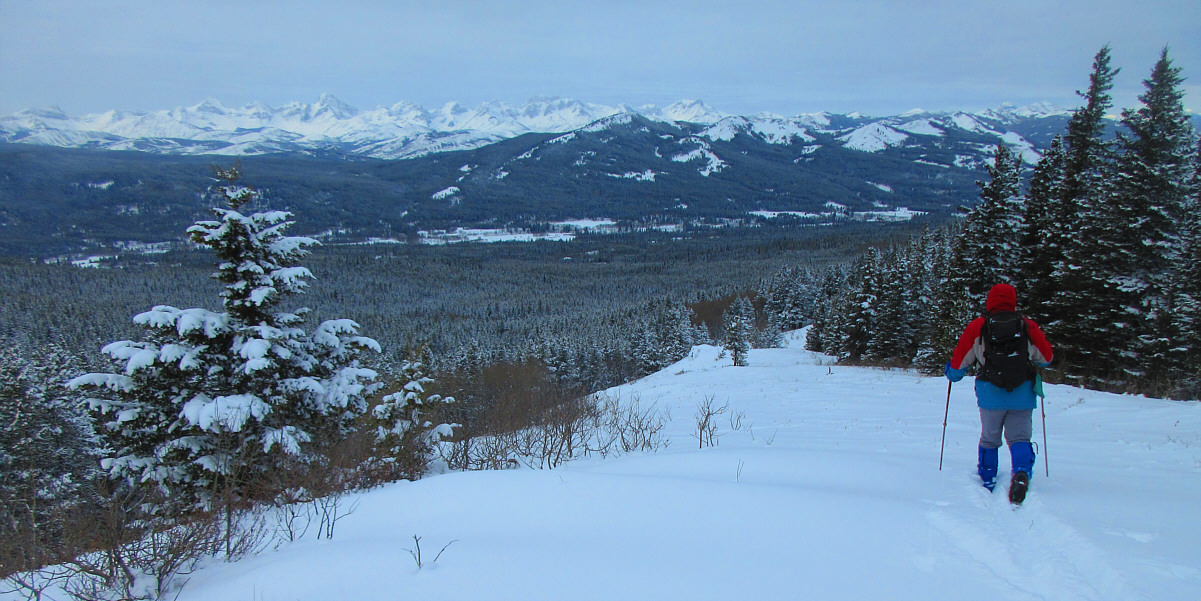 Sonny descends what appears to be a road along the ridge.
Photo courtesy of Zosia Zgolak
Zosia enjoys skiing down the ridge road.

Zosia heads for a subsidiary high point along the north ridge.

Zosia continues to head north along the ridge.

Sonny does a pretty good face plant while descending this slope.

Photo courtesy of Zosia Zgolak

There is a lot of skiing between trees as Zosia descends the northeast end of Beaver Mines Ridge.

Zosia retraces her tracks on the return ski.

Sonny arrives back at the gate near the highway.

Photo courtesy of Zosia Zgolak

Total Distance: 10.5 kilometres
Round-Trip Time: 5 hours 21 minutes
Cumulative Elevation Gain: 429 metres