BOU AVENUE
Dolomite Circuit
---
Eking out one more backcountry ski tour for the season, Zosia Zgolak and I hooked up with Tana Stratton to ski the Dolomite Circuit in Alberta's Banff National Park on 2 May 2021. This classic ski tour is well-described in Chic Scott's Ski Trails in the Canadian Rockies as well as numerous websites.

Zosia and I met Tana at the Mosquito Creek trailhead parking lot (west side of Highway 93, 24 kilometres north of the junction with Trans-Canada Highway), and after using the outhouses at the nearby hostel, we left her car there and piled into my car for the short drive (4.6 kilometres) north to the Helen Creek trailhead (pullout only, no facilities). A large group with the Canadian Scrambling and Mountaineering Club (CSMC) was just starting out when we pulled into the parking area, but by the time we were ready to go, we pretty much had the trail all to ourselves.

The well-established skin track was quite crusty at the start, and Tana, Zosia and I had to resort to side-stepping to get up one or two steep sections. Snow conditions improved once we crested the first ridge and dropped down slightly to cross Helen Creek. The skin track was generally easy to follow along the valley, but we still managed to make a wrong turn when we ended up on the east bank of the outlet creek from Lake Katherine. Fortunately, Tana, who has done this ski tour twice already, realized that we were off-route, and we quickly corrected our course without too much wasted effort. Much sustained climbing followed, but we eventually broke out of the trees and subsequently gained the southeast end of an unnamed ridge between Lake Helen and Lake Katherine. Some people refer to this as "Katherine Ridge" while Bob Spirko calls it "Helen-Kate Ridge". In any case, we easily climbed up to the high point of the ridge and stripped off our climbing skins before enjoying a nice cruise down to snow-covered Lake Katherine. We caught up to the CSMC group here as several of them were doing laps off the ridge, and I had the pleasure of meeting and chatting with some familiar people including Jessica Murray whom I knew through Facebook but had never met in person before. Her husband, Dave Murray, was also there as well as Rob Maybury, with whom I did a trip into St. Mary's Alpine Provincial Park in 2016, and Jason Minski, whom I met on an Alpine Club of Canada trip organized by Zosia earlier that same year.

Just east of Lake Katherine, Tana, Zosia and I stopped for a break beside one of several big boulders strewn across Dolomite Pass. When we resumed skiing, the CSMC group was also on the move again, and we shared the trail with them intermittently for the remainder of the circuit. East of Dolomite Pass, we dropped briefly into a vast flat area before re-attaching skins and commencing a long but gentle climb up to a col between the northeast outlier of Dolomite Peak and unofficially-named OXO Peak. Temperatures were unbelievably warm here without a hint of wind, and we were all skiing in just our base layers at this point. Upon reaching the col, we stopped to remove our skins again and proceeded to ski down the other side. Ski conditions on this day were okay but far from amazing. The generally flat light due to cloud cover certainly did not help my mood, but more than anything else, the snow was wet and a bit "grabby" which I hate. After skiing through a choke point, we entered a wide open valley with mostly gentle slopes, but there is at least one annoying flat section which requires some poling.

When we reached the edge of the forest above Mosquito Creek, we were a bit undecided about which route to take--plunging directly into the forest or staying on a high bench and possibly avoiding Mosquito Creek altogether. Tana had always done the latter and was advocating to do so again, but Zosia and I thought it might be easier to gain Mosquito Creek trail as soon as possible. In the end, we opted for descending directly to Mosquito Creek, and the CSMC group caught up to us here and also did the same. The tightness of the trees and steepness of the slope certainly made the descent through the forest challenging, but the poor snow conditions--isothermal mush--only made things worse. We were in full survival ski mode here employing a lot of side-slipping and kick-turns to get down tricky terrain. Besides a couple of wipe-outs, I inadvertently ran into numerous trees and nearly got sucked into deep tree wells a few times. It was not pretty! To her credit, Tana did a great job of leading us down the most hellish sections, and we all breathed a big sigh of relief when we finally intersected Mosquito Creek trail. Other than a few too many annoying undulations along the trail, the remaining ski out to the Mosquito Creek trailhead was straightforward. Tana drove Zosia and me back to my car at the Helen Creek trailhead before we parted ways.

Despite the so-so snow conditions and less-than-memorable descent into Mosquito Creek, I still enjoyed skiing the Dolomite Circuit overall, and certainly, the warm weather and awesome company contributed greatly to my enjoyment. A return trip in the future is definitely warranted, and I think that there are other areas (eg. Cirque Peak or Lake Helen) in the vicinity that would be worth further exploration on skis.
Parking space at Helen Creek trailhead is severely limited.

Photo courtesy of Zosia Zgolak

The steep crusty trail near the beginning already requires some side-stepping to climb up.

Tana watches Zosia crossing Helen Creek on a snow-covered log.

The route heads a little left here but eventually climbs over the ridge at far right.

Zosia follows Tana across a narrow snow bridge beside the outlet creek of Lake Katherine.

Tana and Zosia emerge from the forest and will shortly turn to the right. Visible at far left is Cirque Peak.

The route traverses the slope ahead and climbs to the left.

Tana and Zosia continue to follow the skin track heading up the gap to the right.

Here is a comprehensive view of Dolomite Peak with Mount Hector visible in the distance at right.

Zosia and Tana climb up an unnamed ridge in front of Cirque Peak. Some people refer to this as "Katherine Ridge" while Bob Spirko calls it "Helen-Kate Ridge" since it sits between Lake Helen and Lake Katherine.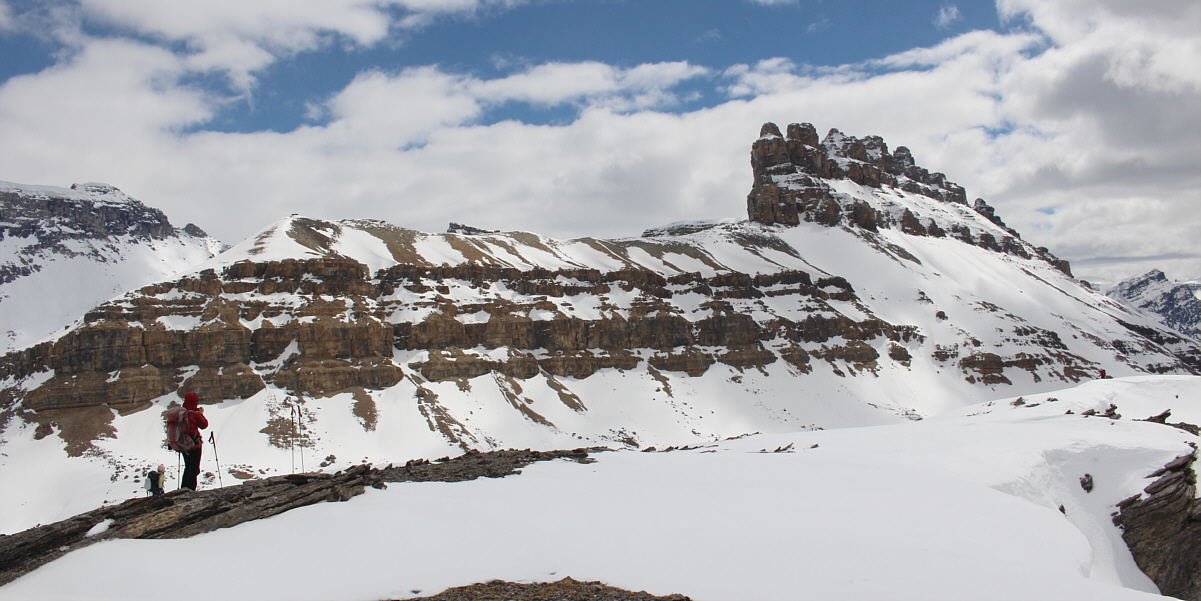 Here is a grand view of Dolomite Peak and its extended north ridge from the top of Katherine Ridge (2553 metres).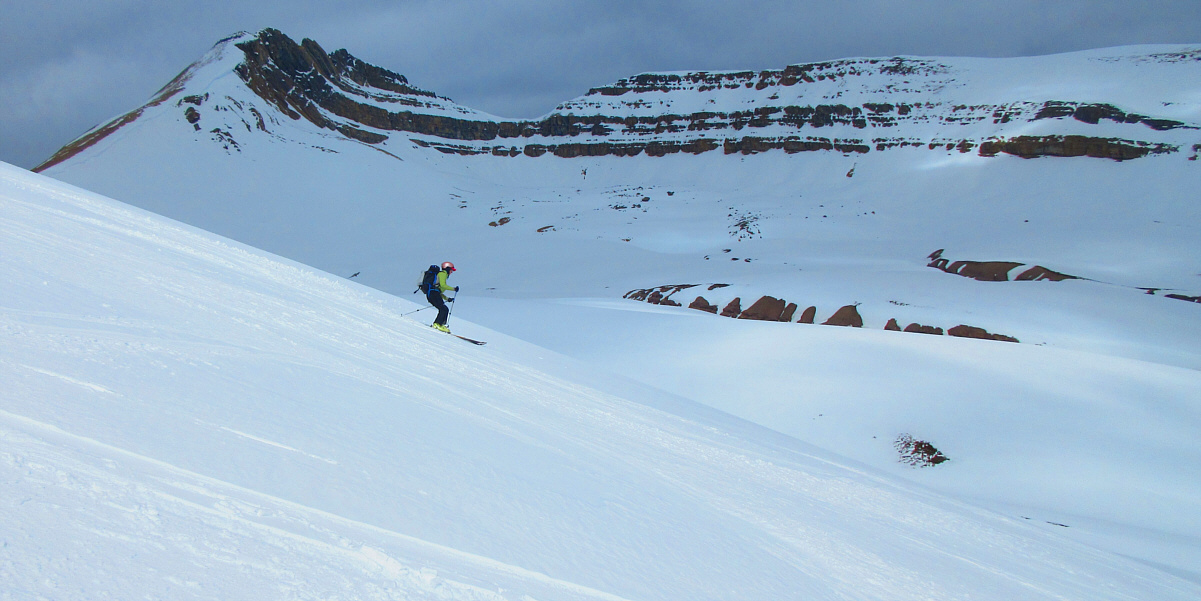 Tana skis down the easy eastern slope of Katherine Ridge.
Photo courtesy of Zosia Zgolak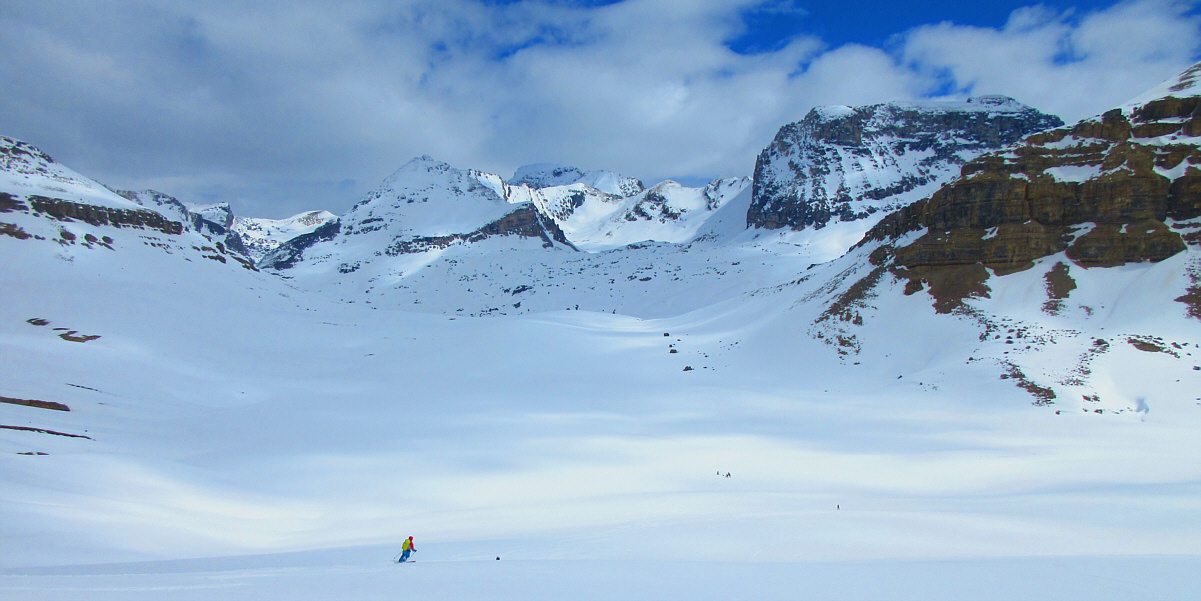 Sonny descends to snow-covered Lake Katherine and Dolomite Pass.
Photo courtesy of Zosia Zgolak
| | |
| --- | --- |
| | Zosia skis down from Katherine Ridge under moody clouds. |
| | It does not get any better than skiing open slopes in front of Dolomite Peak. |
| | Tana and Zosia stop for lunch beside one of several big boulders at Dolomite Pass. |
| | Tana (left) and several members of a Canadian Scrambling and Mountaineering Company (CSMC) group ski through Dolomite Pass. |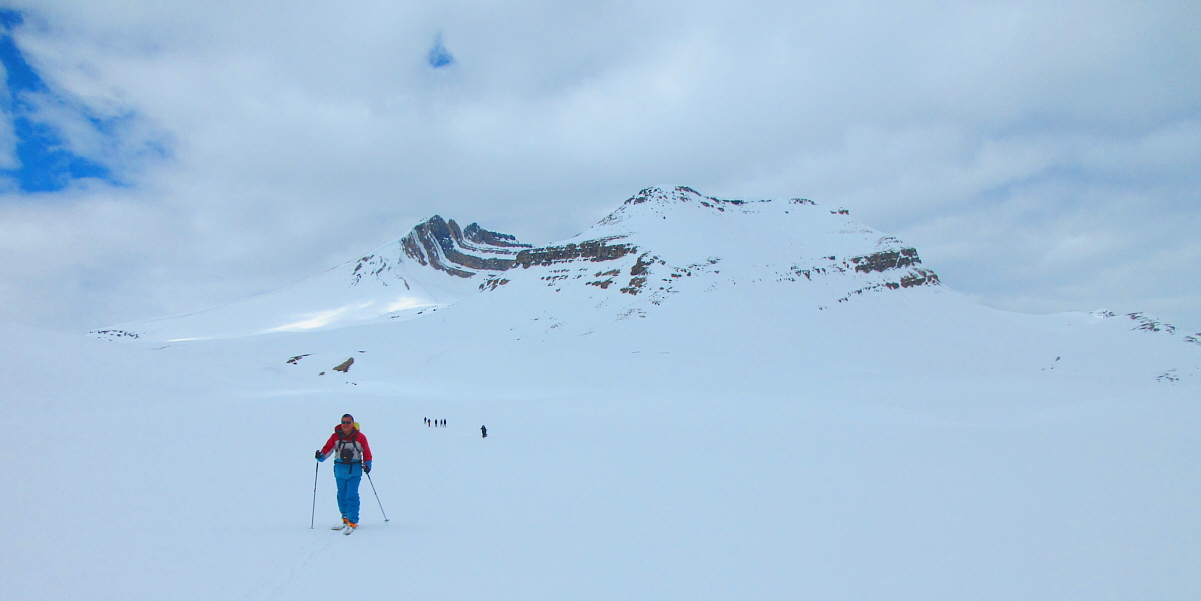 Sonny crosses Dolomite Pass with Cirque Peak in the background.
Photo courtesy of Zosia Zgolak
| | |
| --- | --- |
| | The route passes below the impressive west face of unofficially-named OXO Peak. |
| | Zosia and Tana climb in front of the northeast aspect of Dolomite Peak. |
| | A conga line of skiers parades toward the col at right. |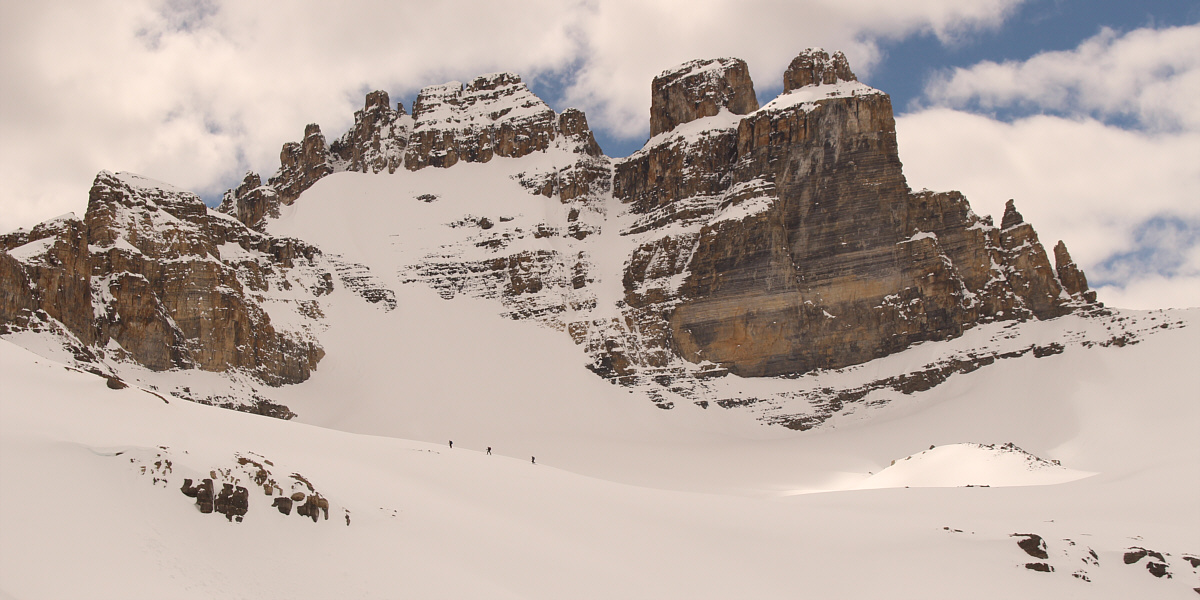 Three intrepid skiers take a higher line below the northeast face of Dolomite Peak.
| | |
| --- | --- |
| | Sonny, Zosia and Tana pose at the col (2568 metres) which is the high point of Dolomite Circuit. |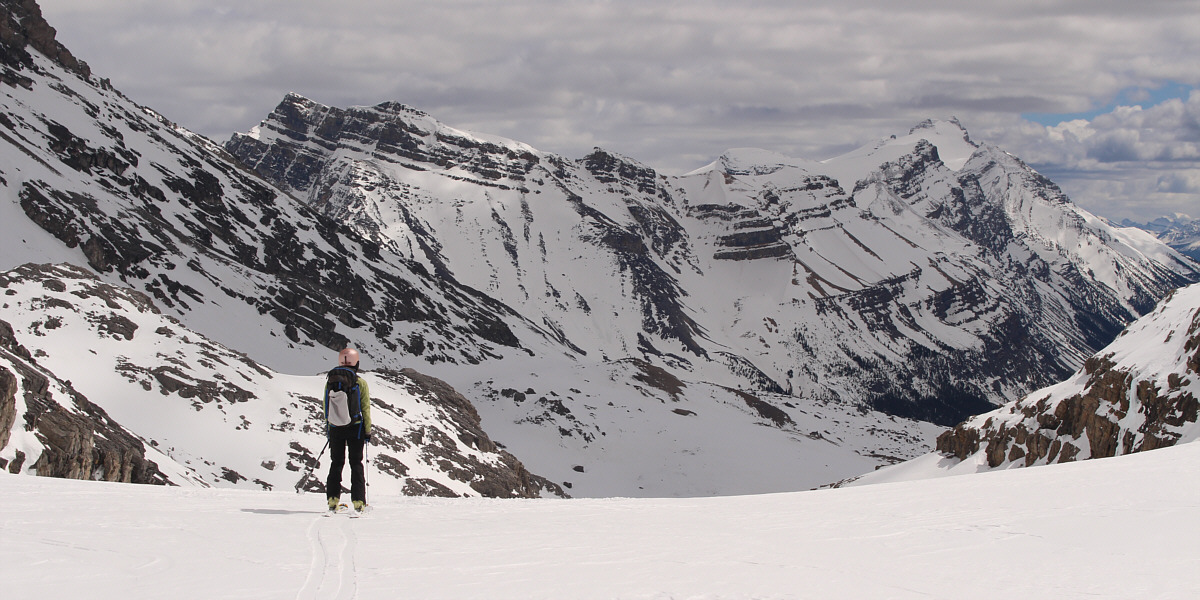 Tana heads down the far side of the col with Mount Hector visible at distant right.
Sonny descends from the col.

Photo courtesy of Zosia Zgolak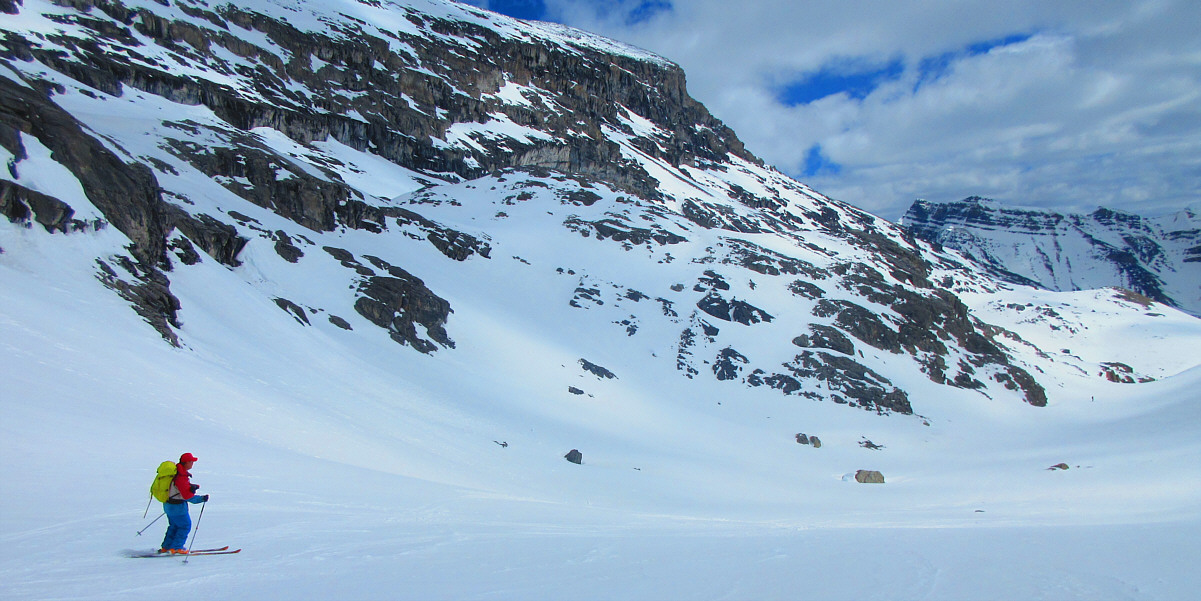 Sonny skis past some impressive cliff bands.
Photo courtesy of Zosia Zgolak
Zosia descends through a choke point along the route.
Sonny comes down the same choke point.

Photo courtesy of Zosia Zgolak

The route enters this wide open valley and heads past the distant trees at far right. Visible at left is Noseeum Mountain.

Sonny tucks to squeeze out some extra momentum while crossing a flat section in the valley.

Photo courtesy of Zosia Zgolak

Zosia approaches the edge of the forest above Mosquito Creek.

The ski descent to Mosquito Creek is challenging.

Photo courtesy of Zosia Zgolak

Past all difficulties, Zosia and Tana ski out along Mosquito Creek trail.

Total Distance: 17.8 kilometres
Round-Trip Time: 7 hours 47 minutes
Cumulative Elevation Gain: 949 metres