BOU AVENUE
Miners Peak And Ha Ling Peak
---
Zosia Zgolak and I were originally planning on taking my mother, Grace Bou, out for an easy Mother's Day walk in the mountains on 9 May 2021, but she decided to take a rain check due to the inclement weather. Furthermore, she declined our offer to treat her to a take-out dinner and instead invited us over to her place for a home-cooked meal in the evening. How could we refuse? Not wanting to let the day go to waste, Zosia and I drove out to Canmore, Alberta to hike the recently revamped trail up Ha Ling Peak and possibly tag nearby Miners Peak as well. Zosia had already climbed Ha Ling Peak before, but she had never ascended Miners Peak. I scrambled up Miners Peak at the end of 2014, and the last time I was atop Ha Ling Peak in 1996, it was still officially known as Chinamans Peak.

Starting from the trailhead at Whitemans Gap (5.1 kilometres west of Canmore Nordic Centre along SR742), Zosia and I followed the signed trail which zigzags up the west slope of Ha Ling Peak. From what I could recall, the steepest and iciest sections of the old trail have been eliminated via re-routing or the addition of wooden staircases. On this day, there was a lot of fresh snowfall in the area, and higher elevations were still under mid-winter conditions. Even with all the trail improvements, the footing was still treacherously slippery in numerous places. Near tree line, we ran into a familiar acquaintance, Lisa Lee-Johnson, and her friend, Kate Snedeker. Zosia convinced them to join us for the ascent of Miners Peak, and the four of us turned off the beaten path near the end of the maintained trail and into the teeth of a bitterly cold wind. Mindful of cornices and with limited visibility, we stuck to windswept rocks on our way up, and only when we could see the connecting ridge to Miners Peak did we confidently venture across an intervening snow drift. Although we had no problems reaching the summit of Miners Peak, the windy conditions and slippery footing made it feel more exposed than usual, and we only stayed long enough to snap a few requisite photos.

While Lisa and Kate were content to head back down on their own at this point, I dragged Zosia with me up to the highest of three nearby bumps on the connecting ridge to Mount Lawrence Grassi. These three bumps are unofficially known as The Three Miners, but unlike my previous trip here, we skipped tagging the First and Second Miners in order to steer clear of some dangerous cornices. With snowy conditions, we had to be extra careful maneuvering on the precipitous perch atop the Third Miner, and again, we only stayed long enough for a quick photo before retracing our steps.

Back on safer ground, Zosia and I descended from Miners Peak without trouble and proceeded to scramble up the normal route for Ha Ling Peak. Although we had a beaten path to follow, snow rendered the route quite slippery and a bit more challenging than usual. Oddly enough, the wind died down considerably here making our ascent of Ha Ling Peak a lot more pleasant. Unfortunately, low clouds obscured most of the far-reaching views from the top, and with little reason to linger, we began our descent as soon as I finished taking another summit photo. Other than getting down a few slippery spots just below the summit, we had few problems returning to the maintained trail and hiking out. Zosia and I even had time to drive home and pick up some fresh Chinese bakery for dessert before grabbing a quick shower and heading to my mother's place for a wonderful dinner to cap off the day.
| | |
| --- | --- |
| | Zosia hikes the revamped trail to Ha Ling Peak. |
| | The trail gains elevation gently but steadily up the western slope of Ha Ling Peak. |
| | This staircase is one of the improvements made to the old trail. |
| | Zosia runs into Lisa Lee-Johnson and her friend, Kate Snedeker, at the bottom of another set of stairs. In the background are the bumps known unofficially as The Three Miners. |
| | Zosia, Kate and Lisa hike up the ridge leading to Miners Peak which is obscured by mist somewhere to the left. |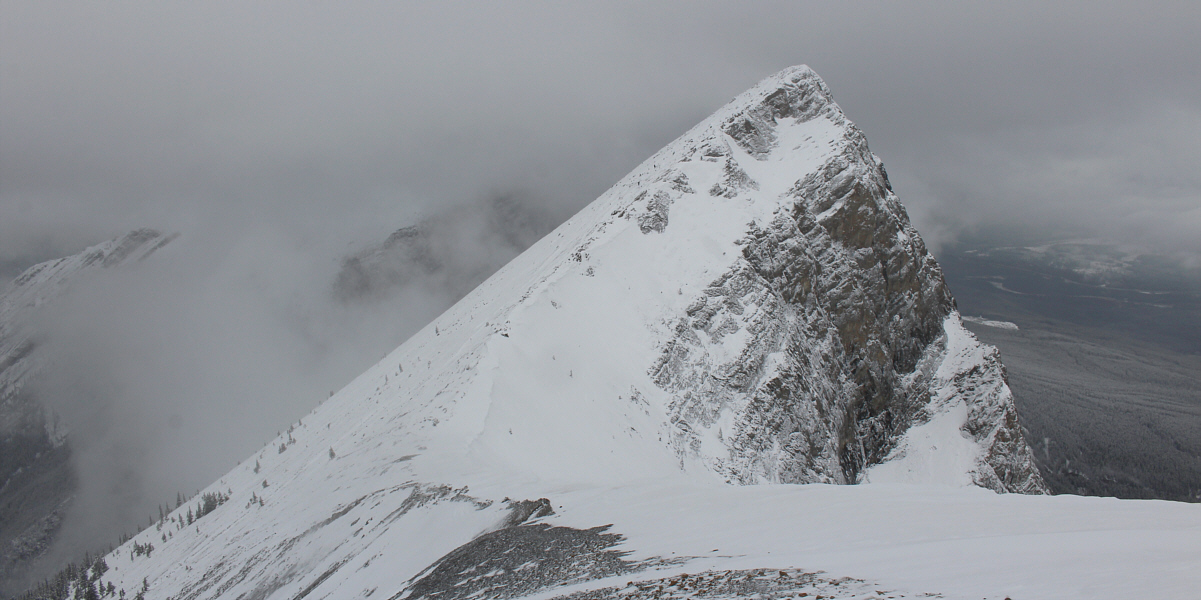 The mist clears briefly to grant this view of Ha Ling Peak from the ridge leading to Miners Peak.
Zosia, Kate and Lisa carefully scramble up a steep section along the ridge.

Kate waits for Lisa and Sonny to catch up. Barely visible behind her are The Three Miners.

Photo courtesy of Zosia Zgolak

Kate, Zosia and Lisa reach the summit of Miners Peak (2477 metres).

This is Sonny's second visit to Miners Peak.

Photo courtesy of Zosia Zgolak

Sonny approaches the top of Third Miner.

Photo courtesy of Zosia Zgolak

Sonny and Zosia sit atop Third Miner (2480 metres), the high point for the day.

The mist clears again to reveal Miners Peak (left). At bottom right is "Town Gully" which is a difficult ski descent.

Sonny crosses the connecting ridge to Ha Ling Peak.

Photo courtesy of Zosia Zgolak

Zosia climbs up the steep, snow-covered rocks just below the summit.

Zosia and Sonny stand on the summit of Ha Ling Peak (2476 metres).

Here is an aerial view of the town of Canmore from the top of Ha Ling Peak.
Zosia descends one of the staircases on the way down.
Total Distance: 9.1 kilometres
Round-Trip Time: 5 hours 14 minutes
Cumulative Elevation Gain: 950 metres
Grace Bou and her son share a toast to celebrate Mother's Day.

Photo courtesy of Grace Bou