BOU AVENUE
Horton Hill And Timbit Hill
---
On 26 February 2022, Dinah Kruze, Bob Spirko, Zosia Zgolak and I ascended unofficially-named Horton Hill located just east of the Tim Horton Children's Ranch in Alberta's Kananaskis Country Public Land Use Zone. A fairly straightforward ascent route is described in Gillean Daffern's Kananaskis Country Trail Guide. While both Dinah and Bob had already ascended Horton Hill in 2016, they were willing to repeat the ascent with Zosia and me.

From the Lusk Creek trailhead (north side of Highway 68, 1.6 kilometres east of the junction with Highway 40), Dinah, Bob, Zosia and I simply started climbing up the forested slope to the north. Despite some fresh snow cover, footing was generally good, and the snow depth was never too deep. Deadfall along the route was also easy to avoid or circumvent. We essentially followed the path of least resistance up the southwest ridge which includes a slight dip about three quarters of the way up. The actual high point is forested, but there is a clearing nearby with some respectable views and a geocache. Due to a brisk wind, we only stayed long enough to snap some photographs before retreating partway down the hill to take a quick snack break. The remainder of our descent was uneventful.
| | |
| --- | --- |
| | With no official trail to follow, Bob, Dinah and Zosia simply start hiking uphill near the trailhead for Horton Hill. |
| | Mount Baldy is visible in the distance from a clearing along the route. |
| | Despite some deadfall and snow cover, the route up the southwest ridge is fairly straightforward. |
| | Bob, Dinah, Zosia and Sonny hold up their Tim Hortons swag at a geocache location just a short distance from the high point of Horton Hill (1718 metres). |
| | Here is a close-up of Tim Horton himself who tragically died in a car crash on 21 February 1974. |
| | Several clearings on the southwest slopes of Horton Hill grant clear views of Barrier Lake to the west. |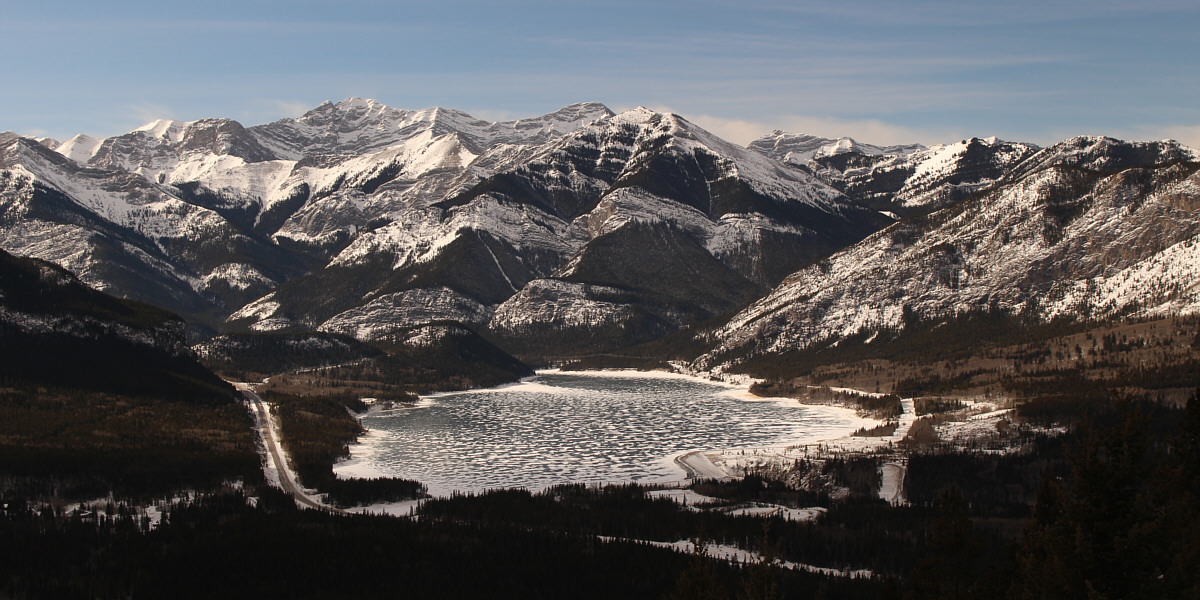 Here is a closer look at Barrier Lake as sunlight fills the valley at around midday.
Bob, Dinah and Zosia continue to descend Horton Hill.
Total Distance: 3.5 kilometres
Round-Trip Time: 2 hours 36 minutes
Net Elevation Gain: 372 metres
Since the trip to Horton Hill was so short, Zosia and I convinced Dinah and Bob to join us for a second hike up an unnamed hill further to the east along Highway 68. This diminutive hill hardly warrants consideration as a primary hiking objective by itself and is better suited as a supplemental trip for those in the vicinity with extra energy to burn. In keeping with the day's Tim Hortons theme, we whimsically chose to call this objective "Timbit Hill".

Parking on the shoulder of Highway 68 (about 1.7 kilometres west of Camp Cadicasu or 2.0 kilometres east of the junction with Homestead Road), Dinah, Bob, Zosia and I hiked northward through a grassy clearing to gain an obvious logging skid road. Ignoring a vast clear cut to our right on the southwest ridge of our objective, we dutifully followed the skid road northward for about a kilometre to where it bends eastward and enters a sizeable glade. At the far end of the glade, we dropped into a short dip before climbing up the other side through essentially the same clear cut we bypassed earlier. Other than having to traipse through unpleasant logging debris, we had no serious problems hiking to the semi-open high point of Timbit Hill. We only paused briefly here for a quick picture before hiking down the hill's southwest ridge. Although we tried to stay on the ridge as much as possible, the tedium of walking through the logging debris in the clear cut eventually prompted us to make a beeline for the skid road that we used for our approach. Where we regained the skid road, we only had a short walk back to our cars to cap off an easy but fun day in the hills.

Be sure to check out Bob's trip report.
Bob, Dinah and Zosia hike up a logging skid road on the approach to Timbit Hill.
The skid road is easy to follow, but the footing can be tedious at times due to logging debris.
The top of Timbit Hill comes into view.
A chinook arch can be seen overhead as Bob, Dinah and Zosia cross a large clearing.
Zosia, Dinah and Bob cross a short dip along the route.
Dinah and Bob ascend the final logged slope before the top of Timbit Hill.
Sonny, Dinah, Zosia and Bob stand on the high point of Timbit Hill (1544 metres).
Moose Mountain dominates the horizon to the south as Zosia, Dinah and Bob descend through a tedious clear cut.
Zosia and Dinah stand beside the trailhead sign.
Total Distance: 2.8 kilometres
Round-Trip Time: 1 hour 25 minutes
Net Elevation Gain: 155 metres