BOU AVENUE
Eager Hills Lookout
---
Kicking off our spring break road trip on 7 April 2023, Zosia Zgolak and I hiked up Eager Hills Lookout in British Columbia's Cranbrook Community Forest Recreation Site. Due to its close proximity to the city of Cranbrook, this diminutive hill is popular with local hikers and mountain bikers and can probably be ascended year-round. For us, it made for a convenient leg-stretcher to help break up a lengthy first day of driving. The trailhead is accessed via a short gravel road on the north side of Highway 3/95 about 4.6 kilometres east of the interchange with Highway 95A or 1.5 kilometres west of the interchange between Highways 93/95 and 3/93. The trailhead's small parking area can accommodate about a dozen cars.

Zosia and I initially headed north along a trail known as "Waterpark" before turning eastward to follow "Eager Lookout" up to the high point marked by a concrete foundation. Far-reaching views are somewhat limited here, but by heading another 150 metres further to the east, we found another concrete foundation with a picnic table and a fairly satisfying panorama. From there, we backtracked to the high point before dropping down open south-facing slopes to intersect a lower section of "Eager Lookout". Turning westward, we easily followed this trail back to the trailhead to complete a loop.
| | |
| --- | --- |
| | Zosia follows a good trail through light forest during the ascent. |
| | Views open up behind Zosia as she climbs higher up the trail. |
| | Zosia and Sonny stand on the high point of Eager Hills Lookout (1062 metres). Mount Baker is visible in the distance. |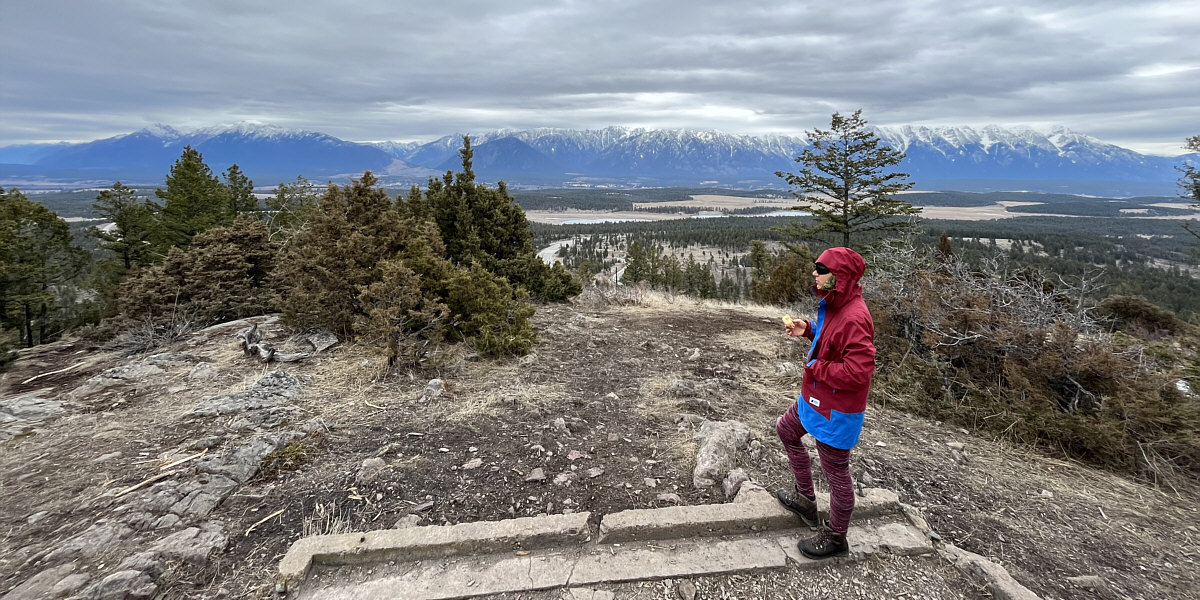 East of the high point is what appears to be a former fire lookout site.
Zosia drops down grassy south-facing slopes to intersect a trail that will lead her back to the trailhead.

Total Distance: 2.3 kilometres
Round-Trip Time: 1 hour 8 minutes
Net Elevation Gain: 128 metres