BOU AVENUE
Storm Mountain Fire Break
---
Zosia Zgolak and I skied the Storm Mountain Fire Break in British Columbia's Kootenay National Park on 1 April 2023. This trip is described in Summits & Icefields 1: Alpine Ski Tours In The Canadian Rockies by Chic Scott & Mark Klassen. Given the recent lack of significant snowfall in the area, I was not expecting much in the way of amazing skiing here, but I was still eager to check out the fire break anyway. Although we could have parked on the side of Highway 93 near the bottom of the fire break, we started our trip from the Stanley Glacier trailhead (3.3 kilometres west of the Continental Divide) as directed in the guidebook.

From the parking lot, Zosia and I started along the trail to Stanley Glacier but had to immediately remove our skis in order to cross the bridge over Vermilion River. The snow on the bridge was icy, and we had to be extra careful with our footing especially on the stairs. On the far side, we abandoned the broken trail to Stanley Glacier and followed old ski tracks eastward along the south bank of the river. Although getting to the start of the fire break was not terribly difficult, crossing a couple of side drainages added some minor route-finding challenges. Other than the odd steep section which required some zigzagging, the fire break itself was fairly straightforward to ascend. Had the snow conditions been better, we might have considered climbing right to the base of the big cliffs above the very top of the fire break, but instead, we stopped a little bit short at the first notable cliff band where we found what appeared to be a snow-choked adit. We removed our climbing skins here and took a short break before commencing our descent.

As expected, the snow quality was marginal, and Zosia and I were mostly in survival ski mode as we muddled through the choppy crust of countless old ski tracks. Ironically, the best skiing for me was a steeper section with moguls where I actually found it easier to make turns. In any case, we both eventually made it down to the bottom of the fire break without a spill, but neither of us had any interest in going back up for another run. Instead, we re-attached our climbing skins and simply followed our tracks back along the south bank of Vermilion River to the bridge and trailhead.
Not far from the parking lot, Zosia carries her skis across the bridge over Vermilion River.

Sonny squeezes between some trees while working his way along the south bank of Vermiliion River.

Photo courtesy of Zosia Zgolak

A couple of side drainages along the south bank of Vermilion River require some route-finding to ski across.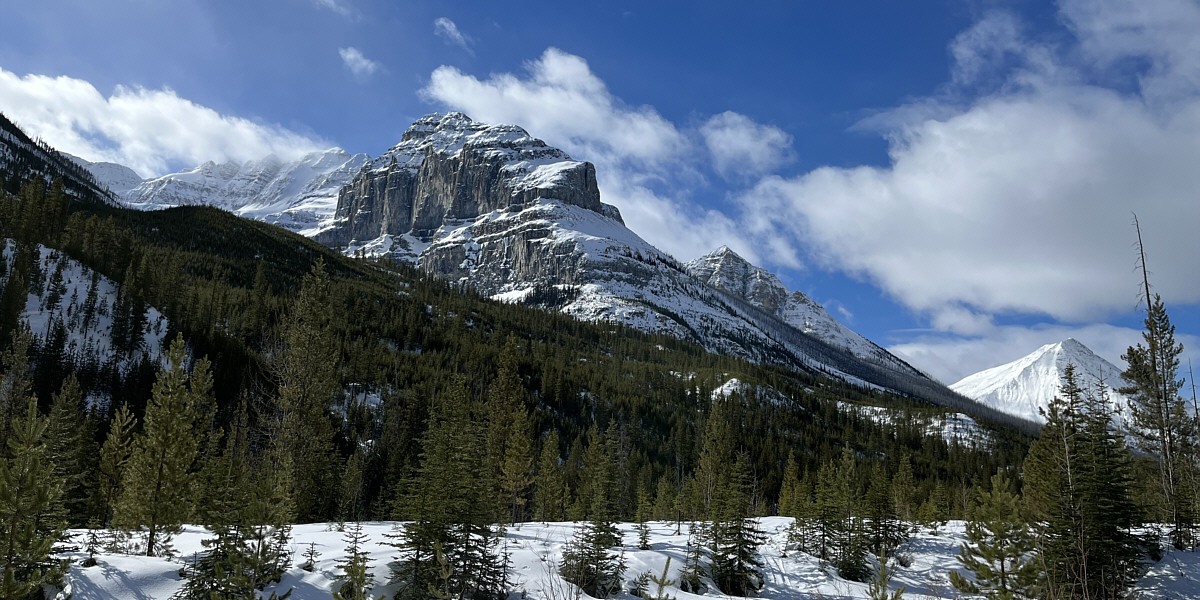 This clearing near the start of the fire break grants views to the south of Stanley Peak (far left) and Vermilion Peak (far right).
Zosia begins climbing up the fire break.
Mount Whymper and its eastern outlier dominate the background as Sonny climbs up the fire break.

Photo courtesy of Zosia Zgolak

Zosia approaches the top of the fire break. She would stop below the first cliff band just past the trees in the foreground.
Zosia stops for a break at what appears to be a snow-choked adit.
Zosia skis down the upper part of the fire break.
Zosia descends the most difficult section which is steep and has a few moguls.
Sonny makes a few final turns just before the bottom of the fire break.

Photo courtesy of Zosia Zgolak

Here is a last look at Stanley Peak's north outlier (left) and Vermilion Peak (right) under increasingly cloudy skies.

Zosia tries to re-cross the bridge near the trailhead without removing her skis.

Total Distance: 5.0 kilometres
Round-Trip Time: 3 hours 7 minutes
Net Elevation Gain: 250 metres