BOU AVENUE
Mount Adams
---
Just before Christmas 2012, a fellow named Doug Lutz contacted me to compliment me on my website and to discuss scrambling and peak-bagging in general. A chemical engineer by profession, Doug is also an avid scrambler who gets out to the mountains quite regularly despite living in Red Deer, Alberta (AB). After a few e-mail exchanges, I was intrigued to learn that Doug was planning a trip up Mount Adams, the second highest mountain in the state of Washington (WA), via Suksdorf Ridge (the easy South Spur route). I informed Doug that I was very interested in joining him for an ascent up the massive stratovolcano, but when he finally set a climbing date of 28 June 2013, I was admittedly doubtful about the trip for a couple of reasons. Firstly, the end of June is traditionally the busiest time of year for me at work, and I was uncertain that I could afford to take the time off to go climbing. Secondly, I thought that the date was perhaps too early and that there would still be an abundance of snow along with the possibility of avalanche danger. After doing a bit of research on the Internet (there is a lot of information available about Mount Adams), I realized that Doug's chosen date was not so far-fetched after all, and the likelihood of avalanches would be minimal if not nonexistent. It took me awhile, but I eventually secured the time off from work to make this trip happen. I made plans to first visit my brother and his family in Kirkland, WA before meeting Doug at the Cold Springs campground (trailhead). Also joining us would be Doug's old friend, Pat Sloan, and Pat's friend, Deanna Marie Molenda. They both lived in Seattle, WA and would also meet us at the campground. Now all we needed was the weather to cooperate.

One week before our climbing date, southern AB was inundated when torrential rains caused widespread flooding on an almost biblical level. Major highways and bridges were washed out, and thousands of people in many different communities were forced to evacuate their homes. I was among the lucky ones in Calgary, AB who were not directly affected by the floods, but my plans to leave the city were delayed a couple of days due to road closures and foul weather. I was eventually able to drive south and to proceed through Crowsnest Pass into British Columbia (BC). I later reported the road conditions to Doug who was relieved that he would not have to make a major detour to leave the province. As a warm-up for Mount Adams, I ascended Mount Outram near Hope, BC and spent a couple of days golfing which I think does wonders for calming nervousness before big climbs!

After visiting my brother in Kirkland, I drove to Trout Lake, WA on 27 June 2013 via Interstate Highways 5 and 84, the latter of which runs along the south side of the Columbia River in the state of Oregon (OR). According to Google Maps, there is a more direct route to Trout Lake from Seattle which is about 95 miles shorter, but because it entails quite a bit of traveling along narrow and winding forestry roads, it actually takes longer to drive. I opted for the less complicated Interstate Highways although they can be heavily congested even at the best of times. Just when I thought my drive was going really well, I missed the turnoff to the toll bridge (costs $1 USD) which crosses the Columbia River at Hood River, OR. I had to travel quite a few extra miles eastward before I could find a place to turn around--the hazards of missing turnoffs on Interstate Highways. Subsequently, I had no further navigational hiccups and reached the Trout Lake ranger station about an hour or so before it closed.

At the ranger station, I bought a one-day Cascades Volcano Pass for $15 USD which serves as a climbing permit and includes a detachable parking tag. Also included is a zip-lock bag, a smaller paper bag containing some kitty litter, and a sheet of paper with a target printed on it. I did not get a chance to buy any souvenirs when I was in the area, so this was a nice little 'gift'! Furthermore, the ranger that sold me the Volcano Pass was a crusty old lady who was somewhat gruff and almost a little condescending. Given the multitude of people she has probably sold Volcano Passes to and the likelihood that more than a few of them were real yahoos, I could forgive her for a little attitude.

Narrow and steep in places, the rough access road to Cold Springs campground was nevertheless well-maintained, and even the numerous water bars along the last few miles were not enough to deter some people from driving their low-clearance BMWs up there. Doug had already pitched his tent when I arrived at the campground, and he proceeded to build a makeshift fire pit in order to roast some smokies for dinner. Our original plan was to get up for a 2:30 AM start which meant that we would have to get to bed early, probably even before sunset. As the evening wore on though, Pat and Deanna still had not shown up. Doug was getting concerned and decided to drive back down the access road far enough so that he could get cel phone coverage to find out where the others were. It turned out that Pat and Deanna were stuck in traffic and would not arrive until much later. In the meantime, I prepared all my gear and turned in early to try and get as much sleep as possible in anticipation of the long day ahead.

At about 2:00 AM on 28 June 2013, I woke up in the back of my car and quickly ate a banana before gearing up. Doug's tent was illuminated which meant that the others were also getting ready. Pat and Deanna had made it to the campground late, but I was not sure how much sleep they actually got. It was approximately 2:50 AM by the time we started hiking up the trail, and I could feel my heart pumping soon after as Pat and Doug set a blistering pace. We followed the trail for awhile until it disappeared under an increasing amount of snow. Instead of trying to find the summer trail in the dark, we abandoned it in favour of climbing up snow slopes which lead more directly (this is the winter route) up Suksdorf Ridge. From the start, Deanna was struggling to keep up due to a lack of both sleep and food, and by the time we reached the feature known as South Butte, about a 600 metre ascent from the trailhead, she decided to turn around. Pat graciously abandoned his attempt to climb Mount Adams and accompanied Deanna back to the trailhead. Doug and I carried on and climbed higher into thickening mist.

Just when I thought I would never see the sun again, the mist cleared as Doug and I reached a broad plateau known as the Lunch Counter which is about 500 metres above South Butte. The Lunch Counter is a popular bivouac site for folks who want to break up an ascent of Mount Adams over two days. The wind really picked up here and would buffet us relentlessly for the rest of our ascent. What was most daunting though was the clear view of what was ahead--a 700-metre slog up a vast snow slope to the false summit known as Pikers Peak. Up until this point, we had seen nobody else during our ascent though we had spotted a few tents scattered among the rocks near the Lunch Counter. On the slope ahead of us were at least three separate parties still climbing upward, and two of them were on skis. As Doug and I crossed the Lunch Counter and followed footprints up the slope, I began noticing more people coming up behind us as well. Mount Adams was starting to live up to its popularity. The snow on the upper mountain was not quite as consolidated as what we had encountered lower down, and despite wearing crampons, I had some difficulty finding good traction. The constant slipping and stumbling--the wind did not help matters either--made for a wearisome climb. I steadily fell behind Doug who seemed unfazed by the conditions although he later reported that he too felt some difficulty especially with respect to a previously injured knee.

By the time I topped out on Pikers Peak, Doug was already well on his way up the remaining 200 metres or so to the true summit. This remaining section felt like an encore of the massive ascent up Pikers Peak, but in addition to the crappy snow and energy-sapping wind, the altitude began to wear on me as well. The effects of the thin air was reminiscent of what I felt on Colorado's Mount Elbert, and I had to stop frequently to allow my heart rate to slow down. I eventually staggered up to the broad summit plateau where I finally caught up to a jubilant Doug who had arrived about a half hour earlier. The entire ascent had taken me about 8.5 hours.

Doug hung out with me on the summit for another 50 minutes, and we both removed our crampons before beginning the descent together. I was really envying those who had climbed with skis as they now had a gloriously long but fast run back down the mountain. Doug and I had to settle for plunge-stepping and glissading down the mountain, but that was fun too. The highlight of the day was glissading the 700 metres from Pikers Peak down to the Lunch Counter. That alone was worth all the suffering and logistical hassles of climbing Mount Adams. The rest of our descent was largely uneventful though the route was taking on a circus-like atmosphere with the hordes of people we were encountering in the afternoon.

Doug and I parted ways after striking camp and driving back down to Trout Lake. He would later meet Pat again to scramble for a couple more days (including a successful ascent of Mount Saint Helens) before returning home. I, on the other hand, spent a stormy night in a rather questionable hotel in Pasco, WA before driving all the way back to Calgary.

I want to thank Doug for inviting me on this fabulous trip, for offering me a delicious smokie, for his unwavering enthusiasm, and for his great company throughout.

| | |
| --- | --- |
| | Pat and Doug lead the way in the dark. |
| | Dawn breaks over South Butte. At distant far right is Mount Hood. |
| | The morning sun illuminates Mount Hood. |
| | Doug trudges upward into the mist. |
| | Breaking out of the clouds, Doug surveys the route up Pikers Peak (false summit). |
| | Here is a closer look at the slope below Pikers Peak. Note the numerous figures on the slope. |
| | Numerous rock shelters can be found at the Lunch Counter. |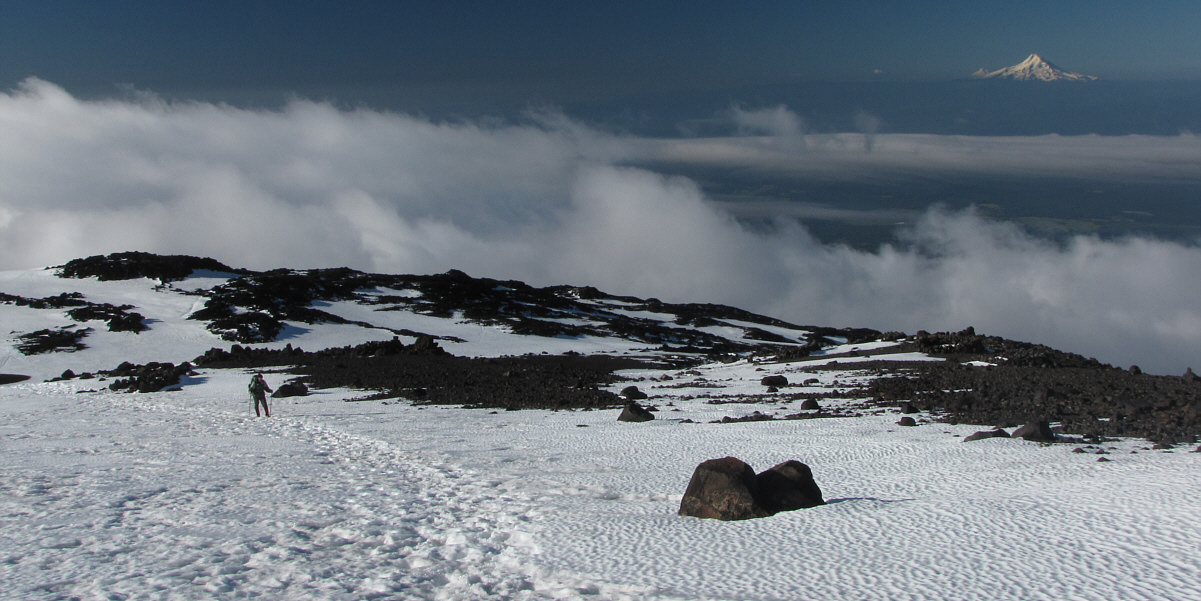 Doug continues to climb past the Lunch Counter.
| | |
| --- | --- |
| | Snow conditions are adequate but not ideal for climbing on this day. |
| | This is looking back at the Lunch Counter from near the top of Pikers Peak. |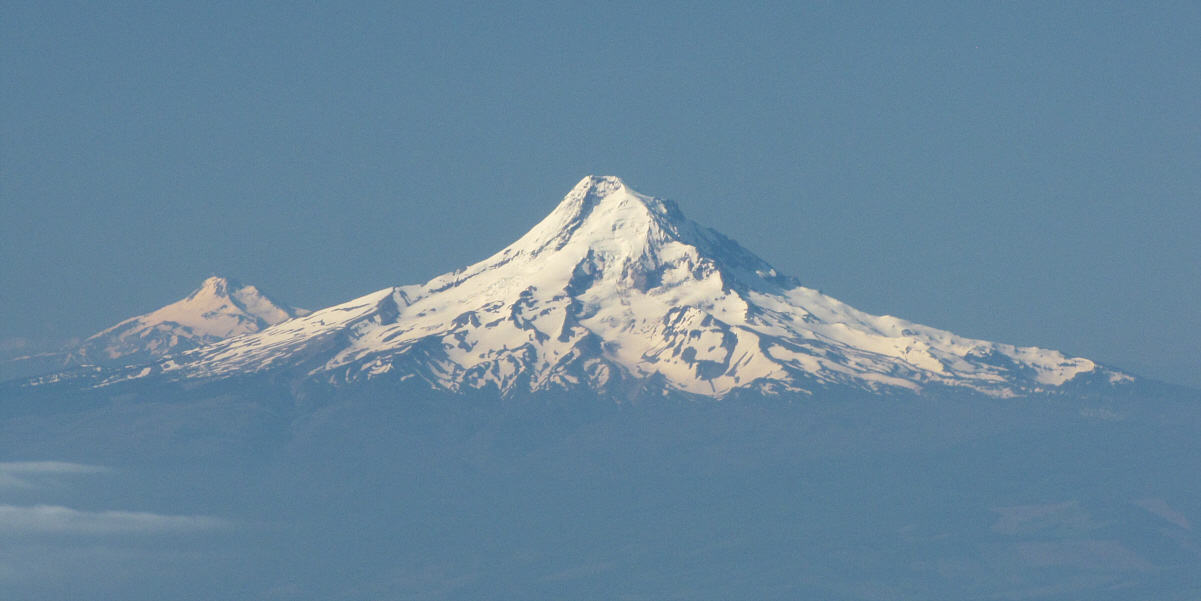 Mount Hood looks resplendent on the horizon to the south.
| | |
| --- | --- |
| | Getting to the summit from Pikers Peak entails some more slogging. |
| | The top of Mount Saint Helens is shrouded by clouds. |
| | Doug is all smiles on the broad summit of Mount Adams. |
| | Sonny gives a thumbs up to the summit of Mount Adams (3729 metres). Mount Rainier is mostly obscured by clouds on the horizon at left. |
| | Ironically, there is not much to see from the summit of Mount Adams. |
| | The Pinnacle to the northwest is the only visible nearby feature. |
| | Doug enjoys a gloriously long glissade down from Pikers Peak. |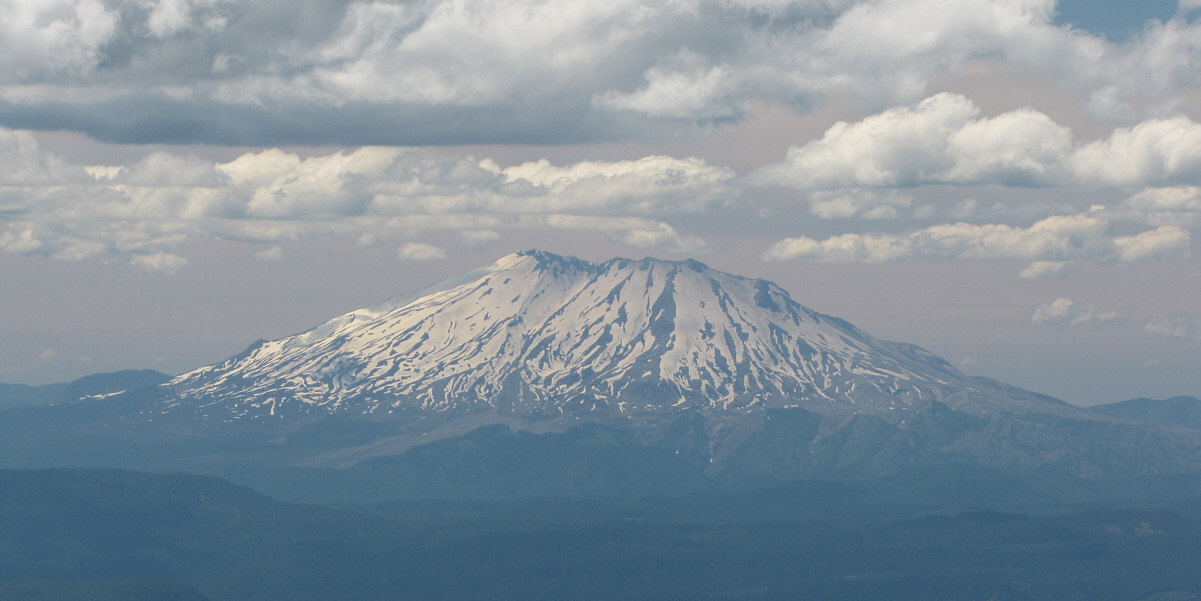 By mid-afternoon, the clouds finally lift to reveal Mount Saint Helens.
Here is a last look at Mount Adams from below tree line.
Total Distance: ~16.6 kilometres
Round-Trip Time: 12 hours 56 minutes
Net Elevation Gain: 2142 metres