BOU AVENUE
Leatherman Peak
---
Unsure about where to go after climbing Grays Peak, I stopped briefly in Ketchum, Idaho to gas up and re-stock on food. There is a fantastic grocery store here called Atkinsonsí. It's pricey, but the food selection is amazing. I was tempted to check into a hotel in Ketchum but thought better of it after perusing the inflated room prices on the Internet. Instead, I drove northeast along Trail Creek Road and eventually found a deserted Bureau of Land Management campground (Garden Creek; pit toilet, fire rings, picnic tables, no fees) where I spent the night. Being so close to the Lost River Range, I figured that it would be remiss of me to not bag a 12,000-foot summit while I was in the area. Having already climbed Borah Peak in 2009, I set my sights on the second highest mountain in Idaho--Leatherman Peak.

On the morning of 31 August 2015, I left the campground and drove east before turning south onto US Highway 93. It was not long before I found the turnoff to Sawmill Gulch Road (FS-411). A bit rough in spots, this road climbs steadily from the highway up into a forested valley leading to Sawmill Pass which is the western approach for Leatherman Pass and its namesake peak. Although I probably could have driven all the way to a log barrier well within the valley, I decided to give my car a break and parked about 2 kilometres short. Doing so also added about 400 metres of extra elevation gain albeit on a rocky road which is quite easy to hike. Shortly after passing the log barrier, I left the road to hike up Sawmill Pass trail (FST-089) which is unsigned but fairly obvious (cairn). At one point, I lost the trail in a small glade, but a short bushwhack led me to an open creek bed which I followed briefly before climbing over a talus-covered ridge into the semi-open environs of Sawmill Pass. The trail is faint or sometimes non-existent here, but the route is still obvious. Instead of dropping down the east side of Sawmill Pass into Lone Cedar Creek, I stayed high by heading north and found the trail strengthening again as it traverses the southeast slopes of White Cap Peak. The trail forks beside a very large boulder about 300 metres short of Leatherman Pass, but either branch works. After taking a short break at Leatherman Pass, I followed game trails up the loose scree at the base of Leatherman Peak's west ridge. The scree eventually transitions to more rugged Class 3 terrain on the upper mountain which requires some route-finding and perseverance. The looseness of the rock here was reminiscent of that found in the Canadian Rockies--I felt like I was home! After what felt like a lengthy ordeal of traversing ribs and ascending chutes, I finally set foot on the spacious summit. I spent about half an hour there before commencing my descent.

While it had taken me about 2 hours to climb the 500 metres from Leatherman Pass to the summit, it only took an hour for me to retrace my steps back down as I took advantage of some of the loose rock to do some scree surfing. From the pass, I enjoyed a pleasant and worry-free hike back to my car. I also built a more obvious cairn in the small glade where I lost the trail earlier. Upon returning to my car, I pulled out a lawn chair and sat in the shade of my car to enjoy a cold drink and a teriyaki chicken wrap that I had bought at Atkinsons'. It was a wonderfully satisfying moment after a fantastic day of hiking and scrambling. After finishing off the wrap, I packed up and drove back out to the highway. I would eventually head north to the town of Challis where I checked into a much more reasonably-priced hotel for the night.

| | |
| --- | --- |
| | A lot of elevation gain can be saved by driving up the Sawmill Gulch road, but a vehicle with high clearance and possibly 4x4 capability is recommended. |
| | A giant log effectively blocks any motorized traffic except for maybe dirt bikes beyond this point. The Sawmill Pass trail (FST-089) starts about 125 metres further along the road. |
| | Leatherman Peak and Bad Rock Peak dominate the view east of Sawmill Pass. |
| | From Sawmill Pass, a good trail traverses the slope at far left to reach Leatherman Pass. |
| | The West Fork Pashimeroi River valley is an alternate approach to Leatherman Pass. Visible at left is Borah Peak. |
| | This is a foreshortened view of Leatherman Peak's west ridge from Leatherman Pass. |
| | The initial climb from Leatherman Pass is mostly up loose scree as shown. |
| | The terrain becomes more complex higher up. |
| | Pass Lake is situated below Peak 11967 at left. On the right is Mount Idaho, the seventh highest peak in the state. |
| | This is typical of the Class 3 terrain on the upper mountain. |
| | Embedded in this rock are some crinoid fossils. |
| | Sonny stands on the summit of Leatherman Peak (3719 metres). |
| | Here is a more comprehensive view of Pass Lake, Peak 11967 (centre), and Mount Idaho (right). At left is White Cap Peak. |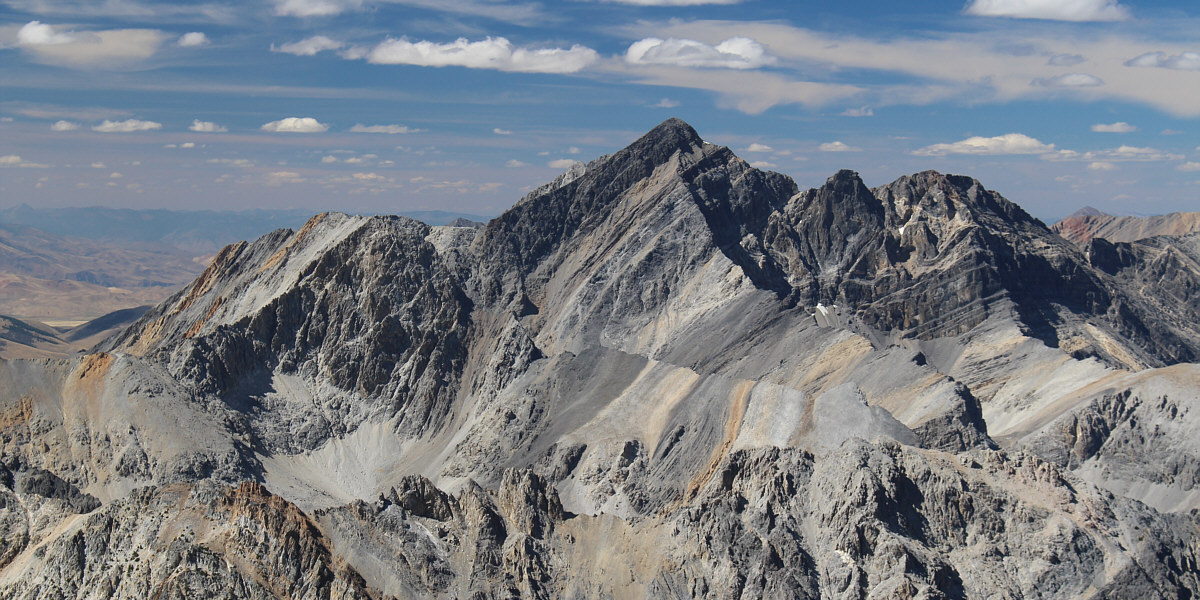 Borah Peak attracts all the attention to the northwest.
The Lost River Range stretches away to the southeast. At right is Mount Church, the third highest peak in Idaho.
A flag and a 4-iron are the most notable items found in the summit cairn.
The Pioneer Mountains can be seen on the horizon to the southwest. Sawmill Gulch (western approach for Leatherman Peak) is visible at lower right.
Leatherman Peak remains prominent in this view from the mouth of Sawmill Gulch.
This is Sonny's "trailhead". Leatherman Peak is still visible in the distance.
Total Distance: 13.8 kilometres
Round-Trip Time: 8 hours 55 minutes
Net Elevation Gain: 1494 metres