BOU AVENUE
Jasper Triathlon
---
Gail Molina, Gil Molina, Leslie Pryslak, Zosia Zgolak and I headed to the Medicine Lake area of Alberta's Jasper National Park on the morning of 18 February 2018. We had made plans for a full day of ski touring to Summit Lake and Jacques Lake as described in Chic Scott's Ski Trails in the Canadian Rockies. The temperature was downright frigid when we started off from the Beaver Creek picnic area, but we felt a little warmer once we got moving. Aside from a few short rolls, most of the trail to Summit Lake is flat, and we had no issues with snow conditions. Upon reaching Summit Lake, a nasty wind made it unbearable to linger for long in the open, and we unanimously abandoned any aspirations to continue further to Jacques Lake. We promptly retreated back to the trailhead without guilt (round-trip time of 2 hours 38 minutes with a total distance of 9.8 kilometres) and subsequently drove to Maligne Canyon Hostel (where Leslie, Zosia and I were staying for the weekend) to warm up and enjoy lunch.
| | |
| --- | --- |
| | While skiing alongside Beaver Creek, Leslie pauses for a look back at a striking unnamed peak in the Queen Elizabeth Range. |
| | This partially buried boat near Beaver Lake belongs to Currie's Guiding, a local guided fishing outfit. |
| | Gail gains some speed on a short downhill section. |
| | Gail, Gil, Zosia and Leslie arrive at Summit Lake. |
| | Sonny squeezes in for a photo with Zosia, Gail and Gil at Summit Lake. |
After a relaxing lunch at Maligne Canyon Hostel, Gail, Gil, Leslie, Zosia and I ditched our ski gear and drove to Old Fort Point trailhead which is located along Old Fort Point Road just east of the bridge over Athabasca River. We then hiked to the top of Old Fort Point and continued further on the loop trail which initially goes east before turning north and then west back to the trailhead. Other than a few slippery sections, the trail was very easy to hike, and signs at key junctions helped us stay on the right track. When we finished our loop hike, we next visited Jasper Park Lodge to warm up a bit and enjoy some complimentary water.
| | |
| --- | --- |
| | The group climbs some stairs at the start of the hike to Old Fort Point. |
| | Leslie heads up the snowy trail. |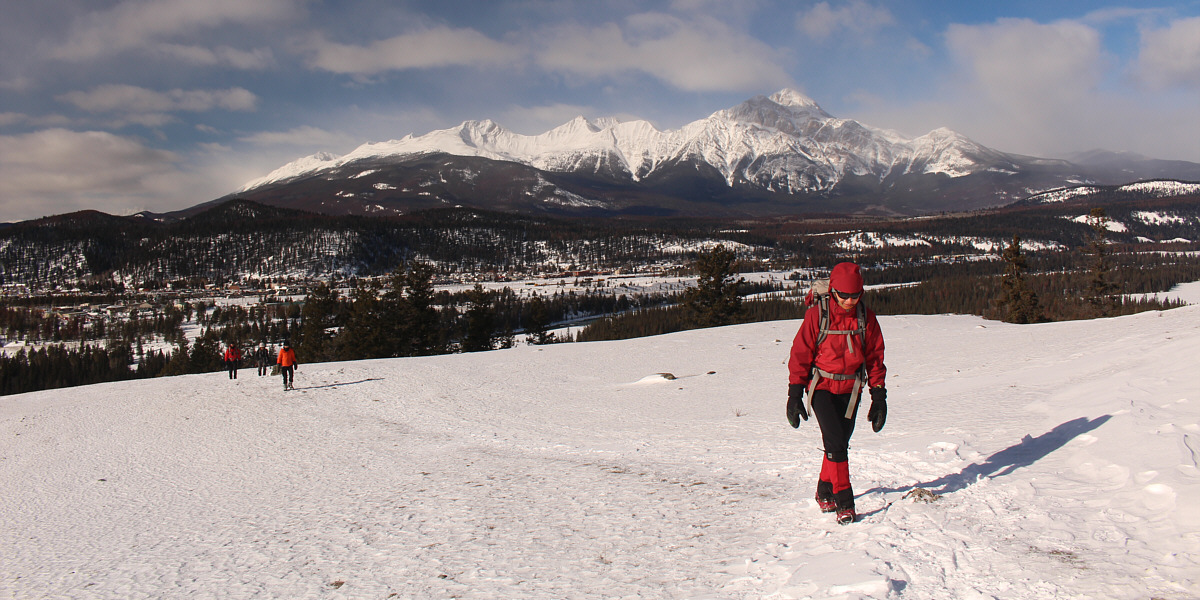 Zosia leads the group across a plateau with Pyramid Mountain in the background.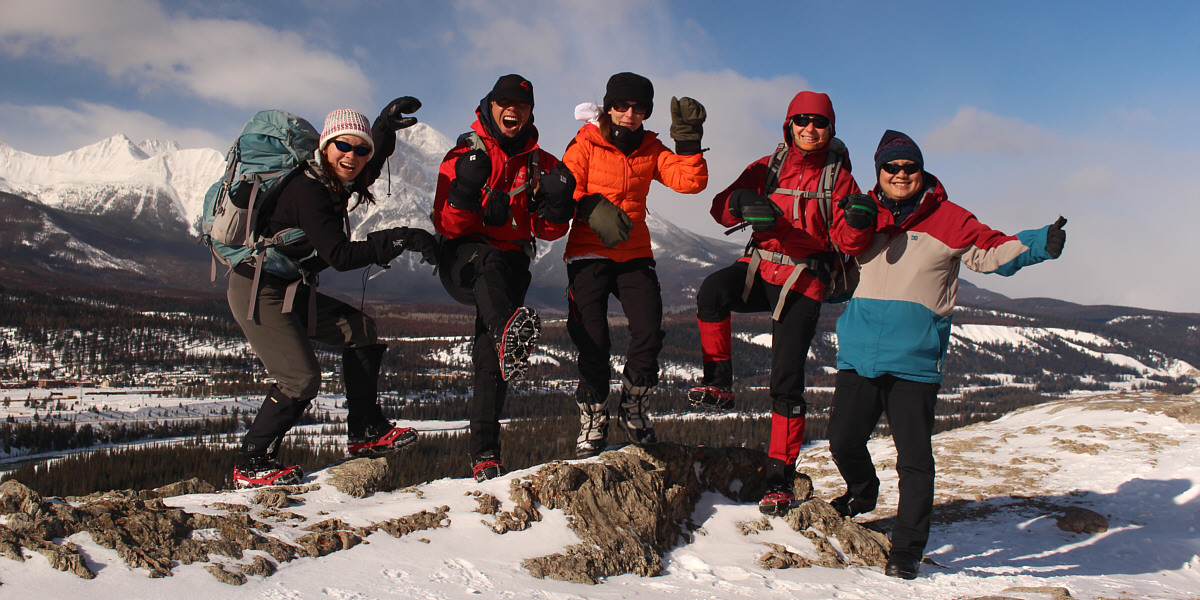 Gail, Gil, Leslie, Zosia and Sonny do a "bear dance" on top of Old Fort Point (approximately 1170 metres).
Visible to the northeast are peaks of the Colin Range including Hawk Mountain (far left) and Roche Bonhomme (right).
Pyramid Mountain dominates the view to the northwest.

Sonny and Gil share a "Red Chair Experience" on a subsidiary summit of Old Fort Point.

Photo courtesy of Zosia Zgolak
While Gail and Gil were content to head back to their accommodations after visiting Jasper Park Lodge, Leslie, Zosia and I opted to complete the third leg of our Jasper Triathlon by donning ice skates and skating a couple of laps on nearby Mildred Lake. Once again, the cold temperature forced us to limit our time on the ice, but it was still a satisfying way to end a busy and fun-filled day in the Canadian Rockies.
| | |
| --- | --- |
| | Zosia and Leslie skate on Mildred Lake near Jasper Park Lodge. |