BOU AVENUE
Eagle Mountain (Goat's Eye Mountain)
---
Located at the confluence of Healy Creek and Sunshine Creek in Alberta's Banff National Park, officially-named Eagle Mountain is more commonly known as "Goat's Eye Mountain" especially among visitors to nearby Sunshine Village Ski Resort. Goat's Eye is actually the official name of a seldom-visited natural window located along Eagle Mountain's northeast ridge. Climbing to the summit of Eagle Mountain is little more than an easy walk-up, but because of logistical reasons, ski ascents can be problematic.

On 28 November 2015, Sunshine Village Ski Resort was already open for the new ski season, but the Goat's Eye Mountain section was still closed to downhill traffic. Because of this, Rafal (Raff) Kazmierczak and I assumed that we could skin up the vacant ski runs to ascend Eagle Mountain. After climbing up the resort's ski-out to the mid-mountain gondola station near the bottom of the Goat's Eye Express Quad chairlift, we veered onto one of the ski runs leading to the upper mountain. While nothing was groomed yet, we were able to follow a convenient cat track all the way to the top of the chairlift. On this day, the final slope above the top of the chairlift still had a lot of rocks protruding from the snow, and I had doubts about being able to ski all the way to the top. At worst, we would have to boot-pack, but in any case, I had no concerns about possible avalanche hazards (rated low-low-moderate that day) since there had not been any recent new snow and what was already on the ground felt quite bomb-proof. As a bonus, the weather was perfect--clear and calm.

Raff was a bit further ahead of me as we left the ski resort boundary to ascend the final slope. Surprisingly, I heard a voice all of a sudden in the distance far behind me. I looked back to see a lone figure walking up the cat track, and he was shouting and waving to get my attention. Regrettably, I stopped to find out what this person wanted, and he turned out to be a ski patroller walking on foot. To this day, I am still not sure what he was doing there so high up on a non-operating section of the resort, but I suspect that he was skiing nearby to take advantage of some pristine snow slopes and happened to catch sight of Raff and me just by chance. Anyway, he informed me that Raff and I were not allowed to climb up Eagle Mountain beyond the ski resort boundary, and when I asked why, he came up with some BS about avalanche danger which, as I have mentioned, was virtually non-existent on this day. With some help from me, the ski patroller tried to get Raff to also turn around, but Raff's Polish radar warning system must have kicked in and made him deaf as he continued up the slope seemingly oblivious to all our shouting. Eventually, the ski patroller gave up, and after I promised him that I would not continue climbing but would wait for Raff's return, he left me there and disappeared down the slope almost as quickly as he had appeared. In hindsight, I probably should have continued climbing after the ski patroller left, but instead, I sat there nonplussed and waited until Raff returned from his successful summit bid. Together, Raff and I skied back down the cat track and the ski-out without any further issues.

Given the restrictions on the mountain during the ski resort's operational season and the fact that the ski-out is usually unskiable during the off-season, I came to realize why ski ascents of Eagle Mountain are seemingly so rare. Having said that, there has been at least one ski ascent done immediately after the end of the ski season as reported by So Nakagawa, and of interest is a snowshoe ascent by Steven Song where he managed to avoid ski patrollers by climbing super early. While I was happy that Raff was able to tag the summit of Eagle Mountain, I would continue to stew over my missed opportunity for quite a long time to come.
| | |
| --- | --- |
| | Raff follows a cat track leading to the top of Goat's Eye Express Quad chairlift which is barely visible at far right. |
| | Raff goes beyond the ski resort's boundary to climb the final slope leading to the top of Eagle Mountain. He would remain "oblivious" to the calls from a ski patroller prohibiting access to the upper mountain. |
As a result of a coronavirus pandemic, Sunshine Village Ski Resort was closed for operations on 22 March 2020, and I saw a golden opportunity to return for another attempt to ski up Eagle Mountain. Joining me this time was Zosia Zgolak, and coincidentally, we met with Raff and our mutual friends, Andrea Battistel and Peter Henostroza, just outside the resort's closed parking lot that morning. Andrea, Peter and Raff had plans to ski up Quartz Hill that day, but Zosia and I shared the ski-out with them for the first hour and change until we reached the gondola mid-station. We parted company here, and Zosia and I followed the easy ski run "Forget-Me-Not" for awhile before cutting uphill through a short stretch of forest to intersect another run known as "Sunshine Coast". This run eventually leads all the way to the top of the now-familiar Goat's Eye Express Quad chairlift, and we essentially followed much of the same route as the cat track that Raff and I ascended in 2015. One steep section early on prompted us to use our ski crampons but only briefly. The rest of the climb up "Sunshine Coast" was generally easy but also long and even a bit mundane at times.
With Sunshine Village Ski Resort closed due to a coronavirus pandemic, Andrea, Peter, Raff and Zosia have to ski across an empty parking lot to reach the start of the ski-out. Andrea, Peter and Raff would eventually go their own separate way to climb Quartz Hill.
Sonny passes the gondola mid-station near the bottom of Goat's Eye Express Quad chairlift. Mount Bourgeau dominates the background.

Photo courtesy of Zosia Zgolak

Zosia climbs up the ski run known as "Sunshine Coast".
The top of Eagle Mountain comes into view.
Zosia continues the long grind to the top of Goat's Eye Express Quad chairlift.
Upon reaching the top of the chairlift, Zosia and I re-attached our ski crampons before ducking under the resort boundary rope. This time, there was no surprise ski patroller appearing to prevent us from proceeding. The final slope had a bit more snow than my first visit, but I was still confident that avalanche hazard was minimal (rated low-low-low on this day). Unfortunately, the snow was highly variable with an unpredictable mix of hard crusts and unconsolidated powder. The final slope is also steeper than it initially appears, and I was thankful to have my ski crampons for the ascent. Partway up, Zosia felt that she would not be able to safely ski down the slope, and although she was willing to continue climbing on foot, she was not comfortable doing so without boot crampons. As such, she turned around and would wait for me back at the top of the chairlift. I continued to zigzag upwards on my own, and although my progress was slow, the slope never became too steep for my skis. After what felt like an eternity, I finally dragged myself up to the snow-covered summit cairn.
Zosia prepares to go beyond the ski resort's boundary to climb the final slope leading to the top of Eagle Mountain.
Sonny climbs up the final slope.

Photo courtesy of Zosia Zgolak

After a seemingly long climb, the summit is finally within sight.
Sonny stands on the summit of Eagle Mountain (2837 metres).
The view to the southwest includes most of Sunshine Village Ski Resort.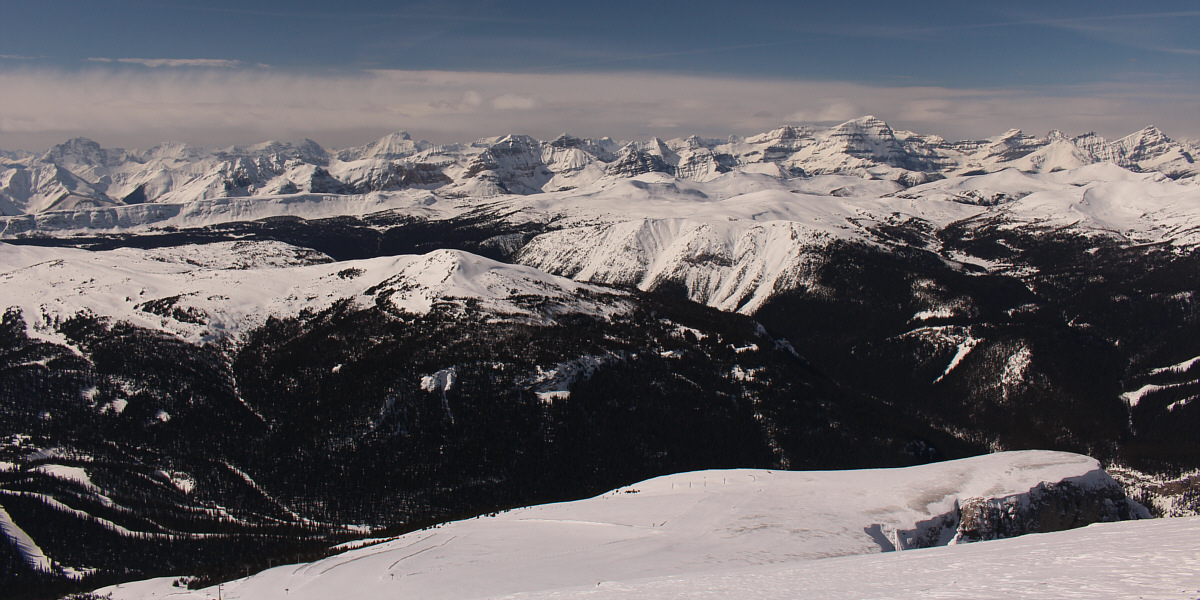 Familiar landmarks to the west include Monarch Ramparts (left), Wawa Ridge (foreground left of centre), and Mount Ball (right horizon).
| | |
| --- | --- |
| | Mount Bourgeau (left of centre) is the most distinguishable peak to the north. |
| | Besides many familiar peaks near the Banff townsite, part of Lake Minnewanka can be seen to the northeast. |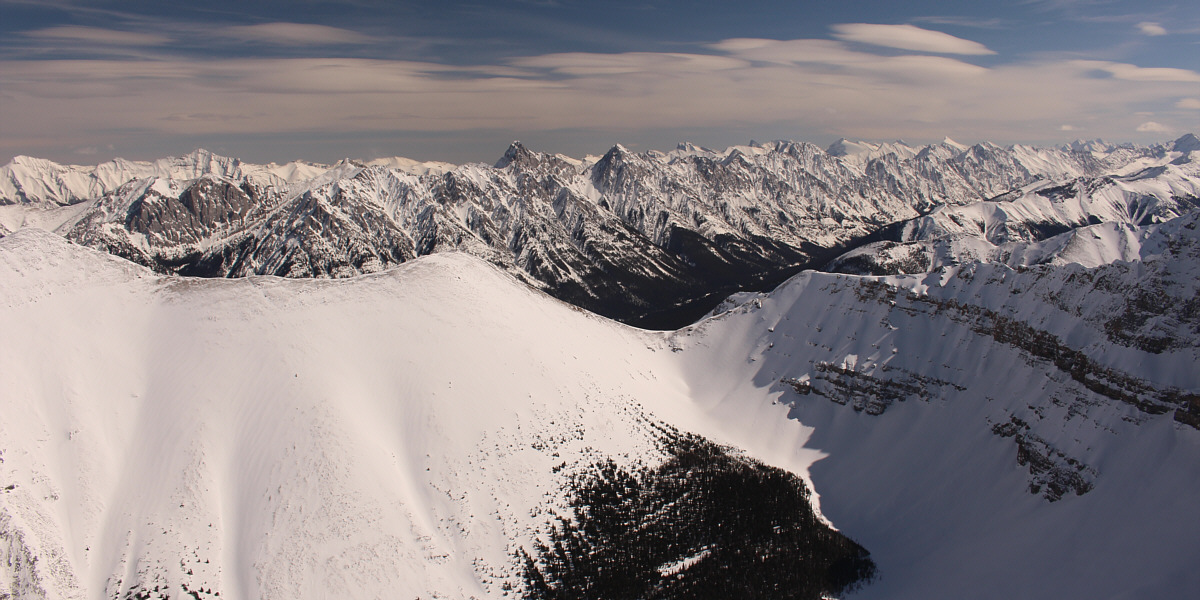 The prominent peak left of centre is the high point of the Sundance Range to the east.
| | |
| --- | --- |
| | The impressive north face of Mount Howard Douglas attracts the most attention to the southeast. Also visible on the right horizon is Mount Assiniboine. |
Despite being buffeted by a rather chilly wind at the top, I was thankful that the weather remained clear, and the summit views did not disappoint. I snapped my usual requisite photos before detaching my ski crampons and climbing skins. As expected, the ski down from the summit to the top of the Goat's Eye Express Quad chairlift was challenging. The highly variable snow plus the occasional protruding rock forced me into "survival ski mode", and I had one spectacular wipeout where I did a somersault while losing one of my skis. Fortunately, I recovered from this wipeout without too much grief, and I avoided further spills by skiing a bit more carefully on the lower part of the slope.

After reuniting with Zosia, we enjoyed the best skiing of the day cruising down "Sunshine Coast". In contrast to the wind-affected slope above the chairlift, the groomed run was a real pleasure to ski. Best of all, we had it all to ourselves. We had no problems skiing back to the gondola mid-station and subsequently down the ski-out to the parking lot.

A few days after this trip, Parks Canada shut down vehicular access to all National Parks across Canada amid growing concerns about the coronavirus pandemic. Just like that, the window of opportunity to climb Eagle Mountain had closed once more, and I am eternally grateful to Zosia for having the patience and understanding to allow me to continue my ascent without her. Dziękuję bardzo moje kochanie!
Sonny skis down the upper slopes of Eagle Mountain.

Photo courtesy of Zosia Zgolak

Zosia skis down "Sunshine Coast".
As Zosia cruises down "Sunshine Coast", she is treated to views of Brewster Rock (right of centre) and the resort's expert skiers' zone known as "Delirium Dive" (centre).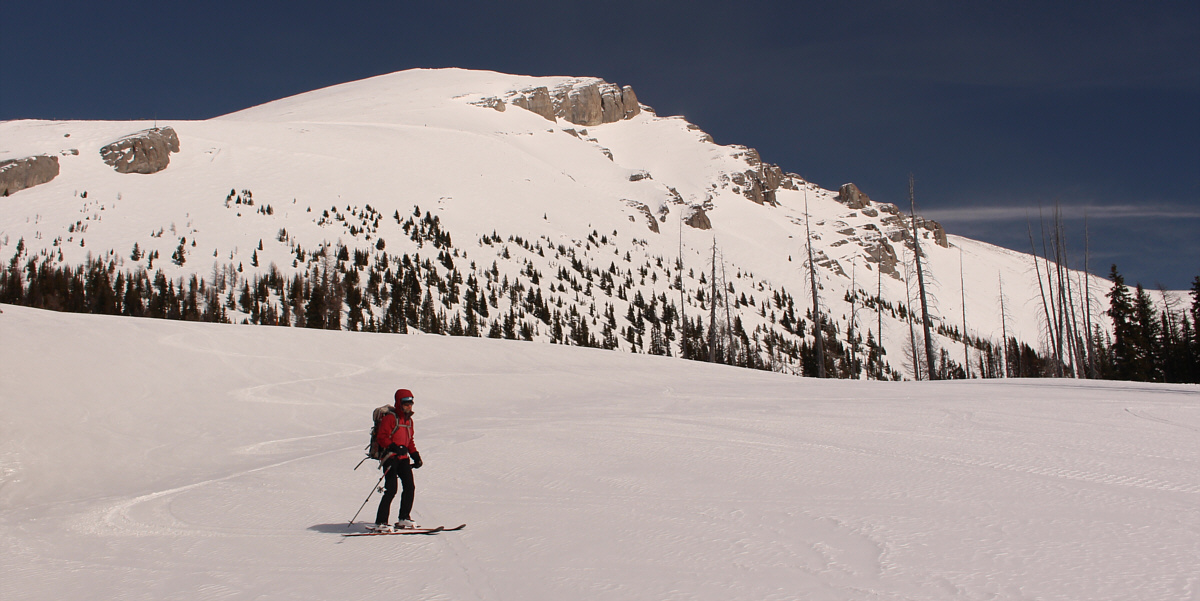 Here is one last look at Eagle Mountain as Zosia continues descending "Sunshine Coast".
Total Distance: 16.2 kilometres
Round-Trip Time: 6 hours 48 minutes
Net Elevation Gain: 1188 metres