BOU AVENUE
Maverick Hill, Poker Peak And Cherry Hill
---
Due to an unsettled weather forecast in the mountains, Chester Fitchett, Marta Wojnarowska, Zosia Zgolak and I hiked up some less-committing hills in Alberta's Castle Provincial Park on 1 July 2020 (Canada Day). We would start with a traverse between officially-named Maverick Hill and unofficially-named Poker Peak similar to what Dave McMurray did in 2016. Since we had two vehicles, we were able to set up a car shuttle and do just a one-way hike. After some debate about which way to do the traverse, we eventually settled on going from south to north which is probably the more strenuous option; the deciding factor was that Chester prefers ascending instead of descending!

From Highway 3, turn south onto East Hillcrest Drive about 11 kilometres west of the junction with Highway 22. Follow East Hillcrest Drive for 2.4 kilometres to the junction with Adanac Road. This junction can also be accessed from the west via 232 Street in the town of Hillcrest (drive southeast past the intersection with 12 Avenue for 1.4 kilometres). Drive south along Adanac Road for 8.8 kilometres to the park boundary which is also the location of the trailhead for Poker Peak. If doing the traverse one-way, leave a vehicle (or a bicycle) here. Continue driving south for 2.4 kilometres and park in a small pullout on the west side of the road.

Although we had McMurray's starting point correct, I think we completely missed his ascent route for Maverick Hill. While McMurray found a faint trail to follow right from the road, we climbed up a marshy and overgrown drainage further south of where he went up, and almost right away, my shoes and socks were soaked (the others fared better with their waterproof boots). Despite our inauspicious start, we gained elevation quickly and were soon out of the boggy lower sections. The slope is open enough that route-finding is never an issue, and we did not have much difficulty gaining the ridge crest. The wind was a factor on this day and would buffet us whenever we were on any open slopes. As such, we would often try to find relief from the wind in the shelter of some trees or the lee side of the ridge crests. Hurricane winds notwithstanding, an easy plod brought us to the top of Maverick Hill where we took a short break.

To traverse to Poker Peak, we backtracked to where we first gained the ridge crest and continued northward over several rising undulations. Once again, route-finding was fairly easy, and only the wind marred what was otherwise a very pleasant hike to the summit of Poker Peak. We took an extended break there before dropping down a steep trail to the west. The descent to Adanac Road was quick and painless, and we were soon driving south to pick up our second vehicle and to head for our next objective of the day--Cherry Hill.
| | |
| --- | --- |
| | Chester, Zosia and Marta start hiking up a mucky drainage. |
| | The drainage begins to open up as the group climbs higher. |
| | Marta climbs up steep but easy slopes. |
| | The group gains the ridge crest and proceeds up Maverick Hill. |
| | Marta walks past some trees near the top of Maverick Hill. |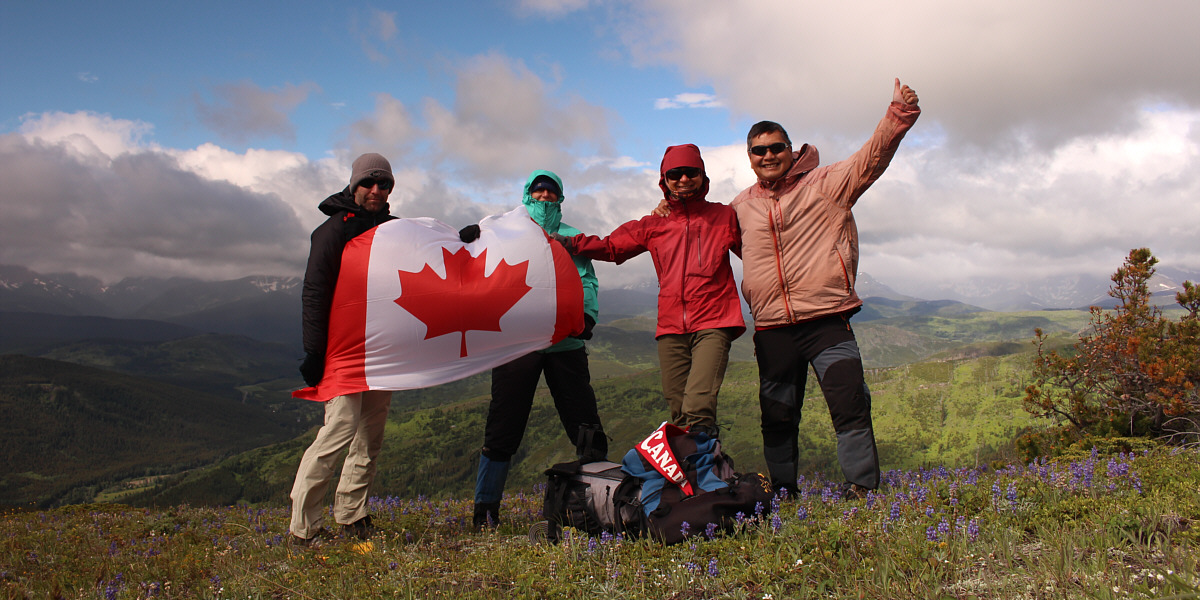 Chester, Marta, Zosia and Sonny celebrate Canada Day on the high point of Maverick Hill (1859 metres).
| | |
| --- | --- |
| | Carbondale Hill is immediately to the south. |
| | Marta descends Maverick Hill en route to Poker Peak (right). |
| | Zosia and Marta approach one of several dips along the connecting ridge to Poker Peak. Chester is barely visible on the grassy slope up ahead. |
| | Here is a look back south toward Maverick Hill. |
| | The group climbs up the final slope before the top of Poker Peak. |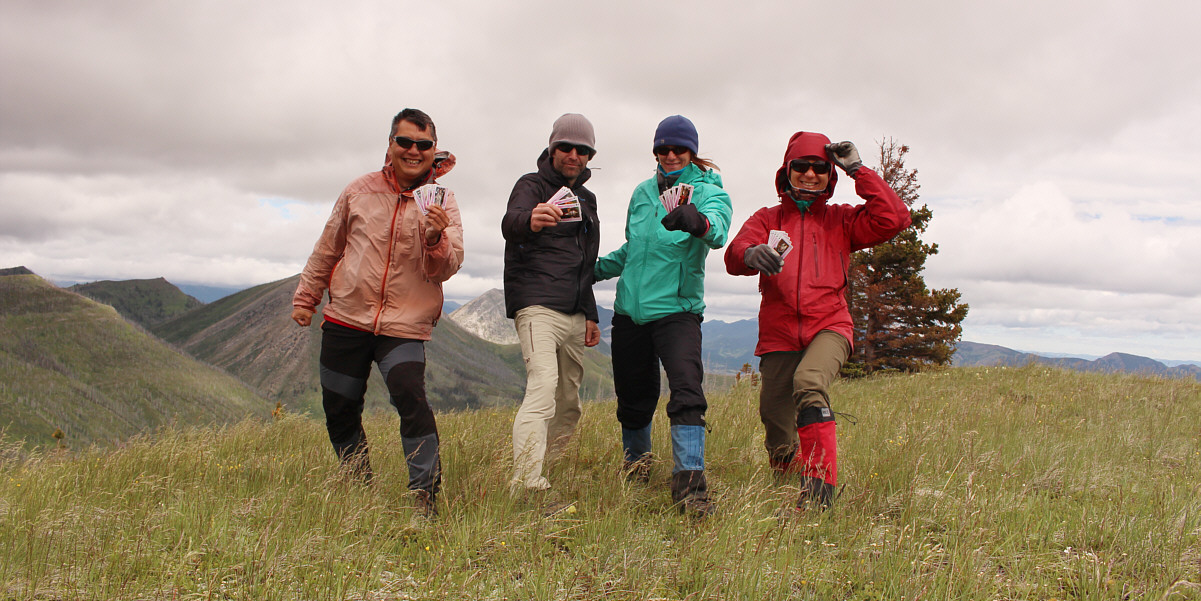 Sonny, Chester, Marta and Zosia show off their Royal Flushes on the summit of Poker Peak (1933 metres).

Cherry Hill is a scrubby little bump that, if not for its official name, would probably garner very little interest from all but the most die-hard peak-baggers. As reported by Dave McMurray in his 2016 trip report and more recently by Vern Dewit, Cherry Hill's low elevation and innocuous appearance belie the difficulties of its approach. The hill is bounded on nearly all sides by creeks and rivers which limits the number of access points when water levels are high, and the most direct and enticing route up the eastern slope entails a nasty bushwhack in order to reach the high point. Armed with the knowledge provided by McMurray (Thank you, Dave!) and Dewit (Thank you, Vern!) and a GPS track from Matthew Clay (Thank you, Matt!), I hoped to avoid the same pitfalls as we commenced our hike.

Dave McMurray's recommended starting point for Cherry Hill is along Carbondale Road between Lynx Creek Campground and the bridge over Carbondale River. There are a number of different ways to get here, but probably the shortest and easiest is as follows. From Highway 3, turn south onto East Hillcrest Drive about 11 kilometres west of the junction with Highway 22. Follow East Hillcrest Drive for 2.4 kilometres to the junction with Adanac Road. This junction can also be accessed from the west via 232 Street in the town of Hillcrest (drive southeast past the intersection with 12 Avenue for 1.4 kilometres). Drive south along Adanac Road for 14 kilometres to a 3-way intersection with Carbondale Road and Napay Road. Keep right and drive west along Carbondale Road for about 3.2 kilometres to just beyond Lynx Creek Campground. Park on the side of the road next to some boulders in front of a clearing.

At the far end of the clearing near where we parked, Chester, Marta, Zosia and I picked up an obvious dirt track which heads west toward Cherry Hill. The track is easy to follow for the first half-kilometre or so, but it eventually peters out among the large cow pastures that cover the lower eastern slopes. There is a myriad of intermittent cattle trails to follow here, and some are perhaps better than others. Some bushiness is inevitable, and stepping in cow dung is almost a certainty! The general idea is to keep moving to climber's left without gaining elevation too quickly. Even so, we still climbed a wee bit higher than we should have and ended up with a small taste of the heinous toothpick-forest thrashing that McMurray and Dewit endured. Thankfully, our bushwhack was short-lived, and we soon emerged from the trees onto the open southeast ridge. The climb from there to the high point is straightforward.

As mentioned by others in their trip reports, the gazetted summit is actually on a clearly lower bump about 650 metres further to the west. Some cartographer likely mislabeled a map in the past due to the similarity of the contour lines surrounding each summit, but the mistake has persisted in all subsequent maps. Or was it a mistake to begin with? There are many examples in the Canadian Rockies of gazetted summits which are not true high points, but perhaps that is a debate best saved for wing nite at a pub. In any case, the traverse from the high point to the gazetted summit looks problematic because of all the bush and deadfall along the connecting ridge, and I suspect that few will bother with it and even less will care.

We were quite content to lounge for a bit out of the wind on the lee side of the true high point, but a light sprinkling of rain prompted us to begin our descent sooner than we would have liked. We retreated back down the southeast ridge and went beyond where we first gained it in order to avoid the short stretch of heinous bushwhacking we encountered earlier. Upon turning the corner, we once again followed intermittent trails through various cow pastures, but our route-finding seemed more efficient on our return journey. We eventually regained the obvious dirt track which led us back to our starting point without problems.
| | |
| --- | --- |
| | Near their starting point, Chester, Marta and Zosia follow a dirt track heading to the right. Cherry Hill is visible in the distance behind the trees. |
| | The group follows cow trails through flower-filled pastures such as this one. Visible in the background is Mount McCarty. |
| | Zosia and Marta follow a trail through some tall undergrowth. |
| | Zosia and Chester gain Cherry Hill's open southeast ridge. |
| | The group ascends the southeast ridge of Cherry Hill. |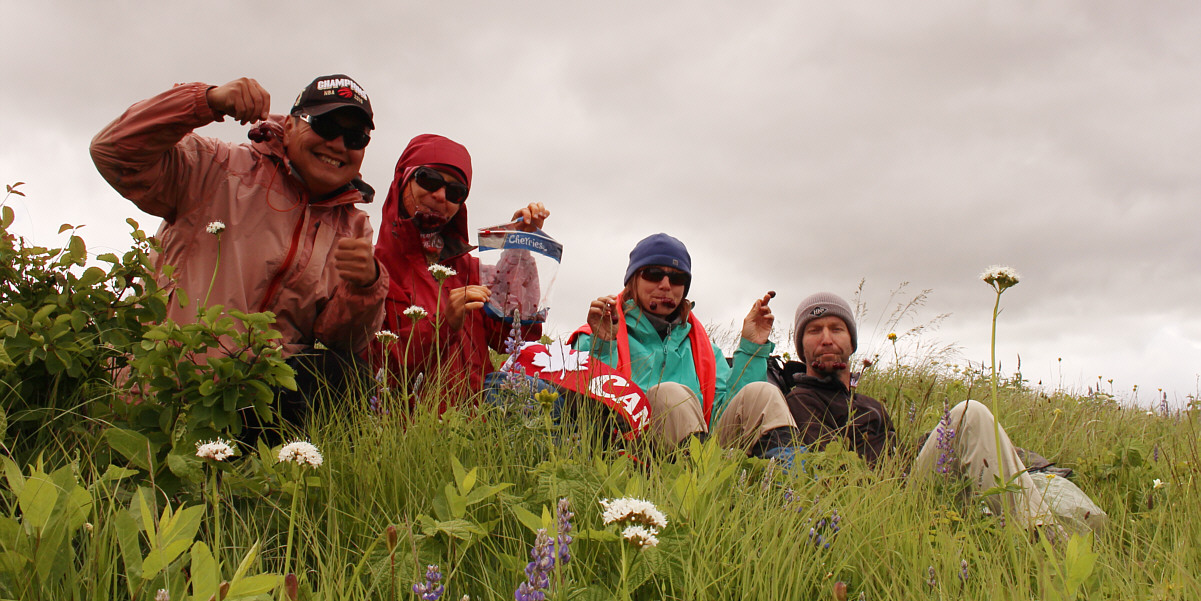 On top of Cherry Hill (1762 metres), Sonny, Zosia, Marta and Chester hold up the namesake fruit with both hands and mouths.
Zosia and Marta descend the southeast ridge.
On the return hike, the group passes a large herd of cows.
Total Distance: 6.0 kilometres
Round-Trip Time: 3 hours 29 minutes
Net Elevation Gain: 396 metres