BOU AVENUE
Mockingbird Hill Lookout
---
Taking advantage of a great weather forecast, Zosia Zgolak and I skied up Mockingbird Hill Lookout in the Waiparous Creek area northwest of Cochrane, Alberta on 16 April 2020. Having already skied up to the lookout in 2004 using cross-country skis and remembering my fair share of embarrassing wipeouts on the way down, I opted this time to use AT gear.

Turn north onto Highway 40 from Highway 1A about 13 kilometres west of Cochrane or 15 kilometres east of Morley. Drive roughly northwest for 40 kilometres to the junction with Waiparous Valley Road. Turn left and drive for 2.8 kilometres to a prominent fork. Stay right and drive for another kilometre to the start of the access road to Mockingbird Hill Lookout. Park where appropriate without blocking the access road.

Waiparous Valley Road was still quite snowy on this day, and I was a bit nervous about getting my car stuck. Fortunately, there happened to be a pick-up truck just ahead of us, and I was able to follow behind in its tire tracks without any issues. Near the start of the lookout access road, I managed to turn my car around and park far enough to the side of the main road so as not to block any traffic potentially (but unlikely) driving through. The occupants from the truck had also parked just off the main road and were planning to hike/snowshoe up to the lookout.

Other than a couple of annoying gates along the way, the access road is quite straightforward to ascend, and Zosia and I had no problems skinning all the way up to the lookout. As promised, the weather was fantastic, and we took an extended break at the top to enjoy the far-reaching views and warm sunshine. The only disappointing aspect of the day was our descent. Warm temperatures made for some wet and sticky snow, and while the skiing was not technically difficult, maintaining our balance required extra effort and felt more exhausting than it should have. In any case, we both still made it down without any spills, and after packing up our gear, we managed to drive back out to the main highway without any issues.
| | |
| --- | --- |
| | Zosia begins skiing up the access road to Mockingbird Hill Lookout. |
| | The ski up the access road is straightforward. |
| | Unlike Sonny's first trip here in 2004, there is now a convenient opening in the fence guarding the top of the lookout. |
| | Zosia and Sonny give thumbs up on the helipad near the top of Mockingbird Hill Lookout (1905 metres). |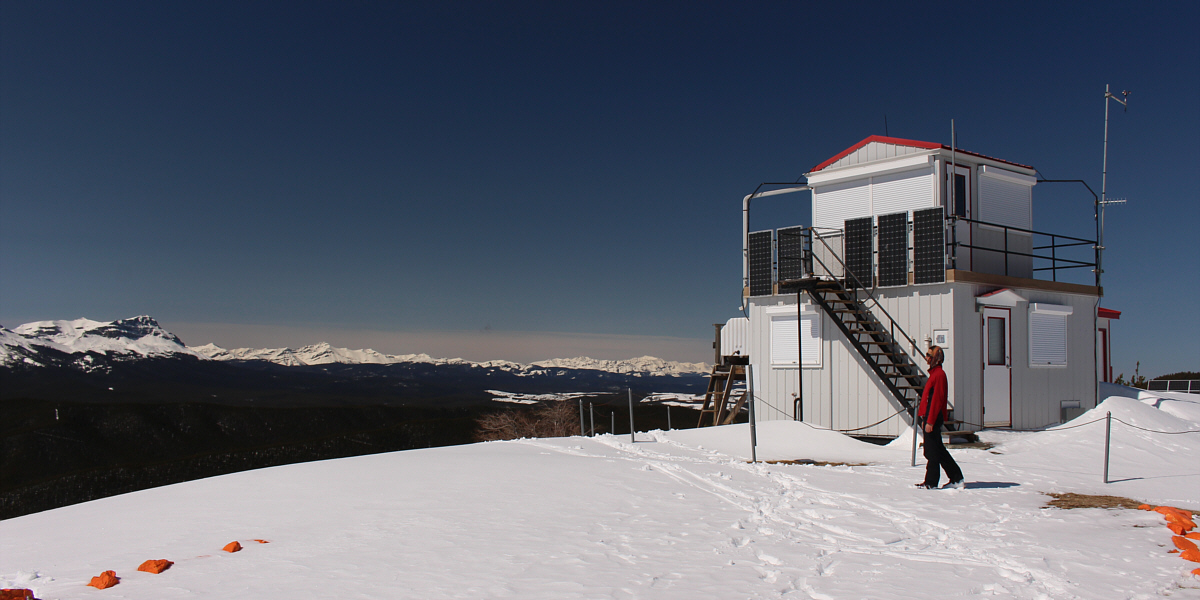 The lookout building is unmanned on this day.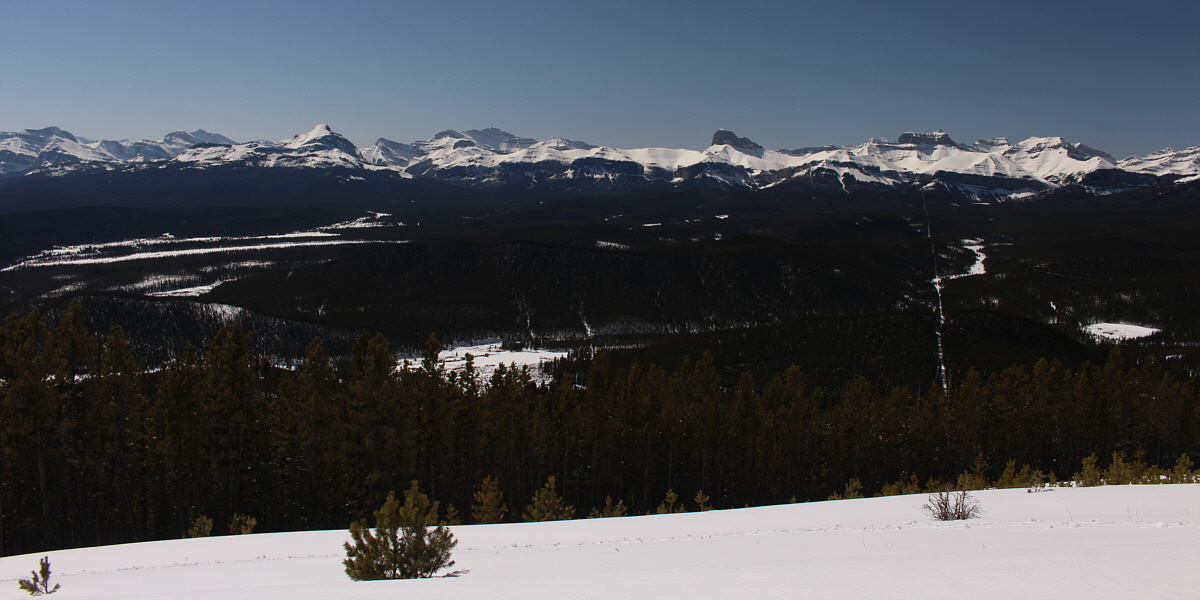 Notable peaks to the southwest include Orient Point (far left edge), Black Rock Mountain (left), Mount Costigan (left of centre) and Devils Head (right of centre).
Zosia begins skiing down the access road.
The slow ski through wet and sticky snow allows Zosia to showboat a little.
Zosia awkwardly squeezes through one of the gates along the access road.
Total Distance: 6.3 kilometres
Round-Trip Time: 3 hours 3 minutes
Net Elevation Gain: 378 metres