BOU AVENUE
Mount Quirk
---
With warm weather breaking a recent cold snap, rising avalanche hazard prompted Zosia Zgolak and me to find a low risk ski objective on 19 January 2020, and strangely enough, we settled on Mount Quirk in the McLean Creek region of Alberta's Kananaskis Country. A hiking route description can be found in Gillean Daffern's Kananaskis Country Trail Guide, but we got a lot of help from trip reports by Matthew Clay and Cornelius Rott. Although an ascent of Mount Quirk is technically easy via logging roads and dirt bike tracks, the mountain's lowly summit hardly justifies the long and dull approach to get there. To avoid the drudgery of walking through endless kilometres of uninspiring terrain, a bicycle or light touring skis seem like the best means of approaching the mountain, but there are some problems worth considering. In summer and fall, the area is rife with off-highway vehicles (OHV) and hunters which can make for a less-than-aesthetic bike ride if not a dangerous one (see Rott's trip report). In winter and spring, the area is prone to Chinook winds and warm temperatures which can result in marginal ski conditions (fat bikes might still work). Also, less OHV traffic during this period may mean more wearisome trail-breaking. To make matters worse, the access road, McLean Creek Trail, is partially closed in winter and spring which necessitates a much longer approach. Given all these issues, a successful ski ascent of Mount Quirk would almost seem to require some heavenly bodies to align, but Zosia and I were feeling lucky when we began our trip that morning from the Fisher Creek Provincial Recreation Area (from the junction with Highway 22 near Millarville, drive west along Highway 549--which eventually becomes McLean Creek Trail--for 22 kilometres to a parking lot before a seasonal gate).

Beyond the seasonal gate, Zosia and I skied along the continuation of McLean Creek Trail for 1.3 kilometres before turning right at a T-intersection. Despite the seasonal closure, McLean Creek Trail appeared to have been plowed recently probably to accommodate snowmobilers or winter OHV enthusiasts. From the T-intersection, we dropped down to a bridge over Fisher Creek before climbing up to Fisher Creek West staging area which is the summer trailhead (an additional 1.3 kilometres from the T-intersection). Leaving McLean Creek Trail here, we followed OHV tracks in the snow along Fisher Creek road for 4.9 kilometres to a Y-junction. We took the right fork and climbed past a wooded knoll to an open cut block which, according to Daffern, used to be an old gas well site. On the far side of the cut block, we entered forest and climbed steeply to gain the east ridge of Mount Quirk. With snow covering Daffern's described trail and no OHV tracks to follow at this point, we were pretty much route-finding on our own, but fortunately, I had Rott's GPS track to help keep us pointed in the right direction. The forest is open enough here to allow for generally easy skiing and navigation, and we were really lucky that the trail-breaking was not too strenuous. As we progressed higher up the ridge, Daffern's trail became more evident, and we were then able to follow it without further issues the rest of the way to the summit.
| | |
| --- | --- |
| | Beyond the seasonal gate near Fisher Creek Provincial Recreation Area, Zosia skis on the continuation of McLean Creek Trail. |
| | Zosia turns onto Fisher Creek road at Fisher Creek West staging area (summer trailhead). |
| | At a Y-junction along Fisher Creek road, Zosia takes the right fork. She would later return on the left fork. |
| | A Chinook arch can be seen above a wooded knoll as Zosia enters a cut block. |
| | Zosia crosses the cut block en route to the top of the forested ridge in the background. |
| | Zosia briefly follows a man-made corridor through the forest on the east ridge of Mount Quirk. |
| | Cross-country skiing through the forest on Mount Quirk's east ridge is not too bad for the most part. |
| | Some open areas like this one are actually more tedious to ski through because of underlying deadfall. |
| | Zosia and Sonny sit on the summit of Mount Quirk (1895 metres). |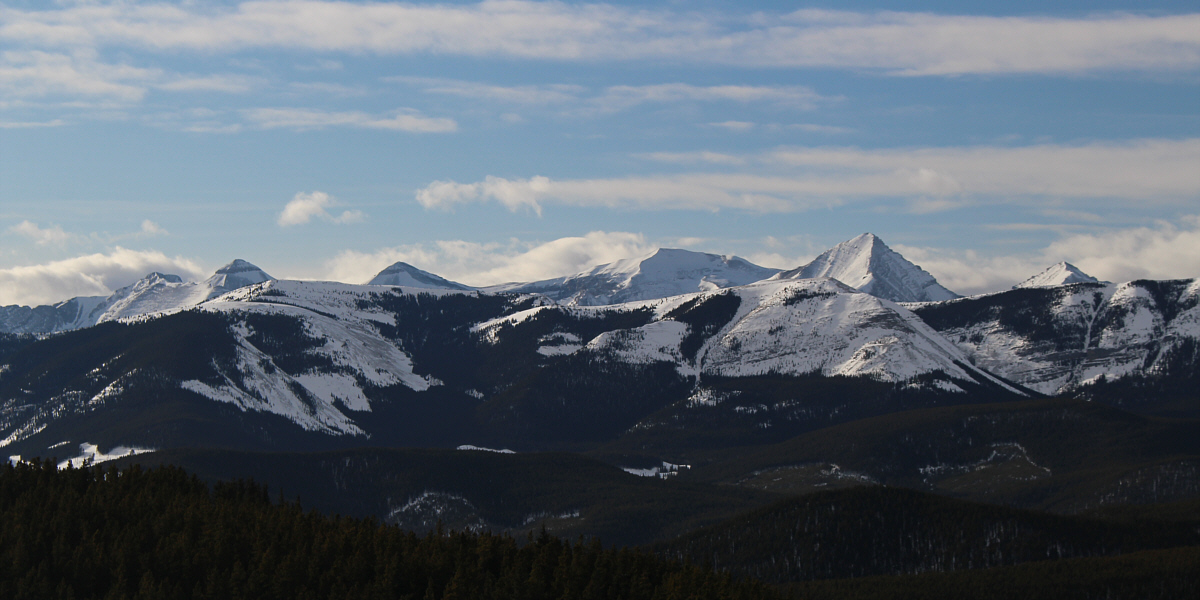 To the southwest, Banded Peak, Outlaw Peak, Mount Cornwall and Mount Glasgow can be seen poking above Forgetmenot Ridge.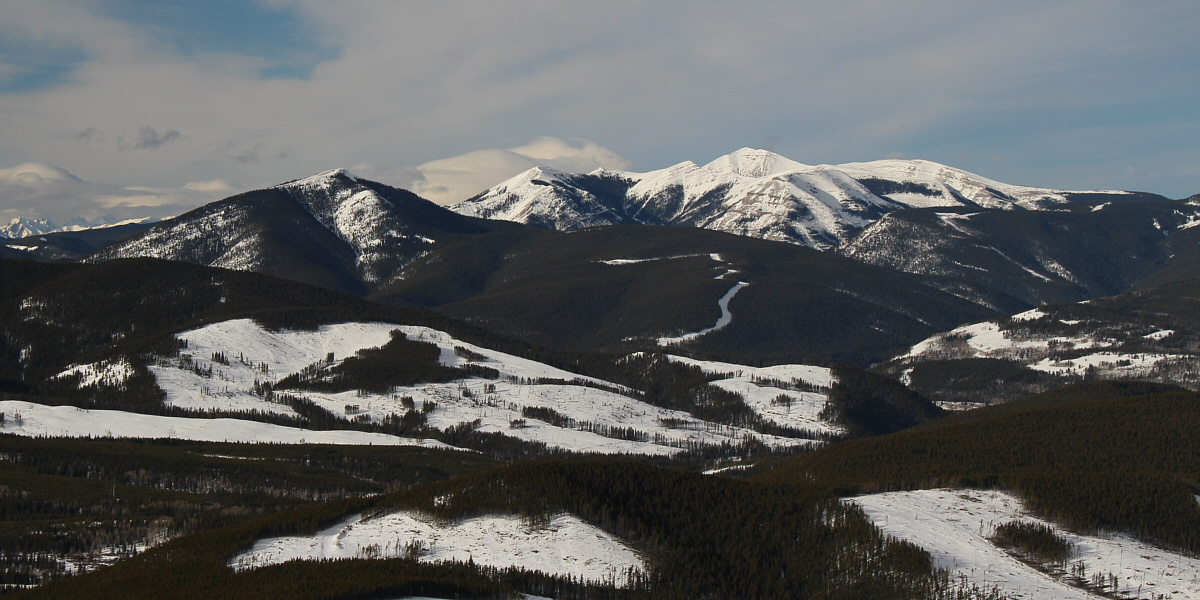 Prairie Mountain and Moose Mountain are visible to the northwest.
After taking a short break, Zosia and I started skiing down the south side of the summit, but almost immediately, we had to remove our skis and descend on foot because of the steep slope and thin snow coverage. We donned our skis again when we reached flatter terrain at the bottom of the slope. Continuing westward, we re-entered forest and passed a makeshift shelter before reaching a surprising escarpment with views to the west. We followed the edge of the escarpment for a short distance and subsequently turned southward to ski down a rough trail on the ridge crest. Undulating snow drifts and occasional bare patches along the trail made the descent challenging, and we had to remove our skis again to walk down another steep slope just before a T-junction. Switching back to skiing mode, we kept straight (south) at the junction and once again had the pleasure of following OHV tracks in the snow as we climbed over a low hump along the ridge. About 700 metres further, we reached a 5-way junction which is mentioned in Daffern's route description. Turning eastward, we soon removed our skis again for a lengthy walk down probably the steepest section of road on the entire trip. We both agreed that it was a real shame to have to lose so much hard-won elevation on foot, but for us, self-preservation always trumps thrill-seeking! Even walking was not easy as some parts of the road were sheer ice and had to be carefully negotiated. When we descended far enough to reach more moderately-angled slopes, we strapped our skis back on and finally enjoyed some nice cruising along the road. We eventually intersected our up-track at the Y-junction and continued eastward along Fisher Creek road. Despite a few thrilling downhill sections on the ski out, there are enough uphill sections to make this a long and tiring grind. Most dispiriting to me were the final few kilometres of mostly uphill plodding along McLean Creek Trail to get back to the seasonal gate at our starting point.

Overall, I am not sure if I can recommend Mount Quirk as a ski ascent. The summit views hardly justify the long approach, and I think we were very fortunate to have ideal snow conditions and OHV tracks to follow on the back roads. Still, the solitude we had--we did not see a single soul or motorized vehicle all day--was hard to beat, and the trip was undeniably a "quirky" adventure for Zosia and me.
Zosia begins to ski down the south side of the summit.
The steep slope south of the summit forces Zosia to pick up her skis and walk down.
Zosia comes across a makeshift shelter not far from the summit.
Sonny makes his way along the edge of an escarpment.

Photo courtesy of Zosia Zgolak

Zosia skis down one of several challenging sections along Mount Quirk's south ridge. At centre in the distance is Allsmoke Mountain.
Sonny is not pleased about having to drag his skis down a very steep road into Fisher Creek valley.

Photo courtesy of Zosia Zgolak

Zosia also walks down the steep road into Fisher Creek valley.
Sonny finally gets to enjoy some nice downhill cruising on the ski out along Fisher Creek road.

Photo courtesy of Zosia Zgolak

With darkness approaching, Sonny grinds his way back to Fisher Creek Provincial Recreation Area along McLean Creek Trail.

Photo courtesy of Zosia Zgolak

Total Distance: 25.4 kilometres
Round-Trip Time: 8 hours 36 minutes
Total Elevation Gain: 858 metres