BOU AVENUE
Hidden Bowl
---
With questionable avalanche conditions and even more questionable snow quality in the mountains on 17 April 2021, Zosia Zgolak and I opted for a relatively safe and non-committing ski tour to Hidden Bowl behind the Lake Louise Ski Resort in Alberta's Banff National Park. This was a follow-up for our previous trip there three months earlier, and although we expected the skiing to be marginal at best on this day, we knew that we would at least have some outstanding scenery in the area.

Right off the bat, Zosia and I noticed the crusty condition of the snow as we left Fish Creek trailhead and skinned up the resort's ski-out. In some places, there was already dirt creeping in from the sides, but coverage improved the higher we climbed. After passing Temple Lodge, we continued along the snowmobile-packed trail along Corral Creek, but we left it shortly before the usual turnoff to Halfway Hut. We then followed a good skin track across a creek and all the way up into Hidden Bowl. As nice as it was to see all the surrounding peaks bathed in glorious sunshine, the snow quality here was hardly better than anything we had earlier, and we consequently bailed on climbing high onto the south end of Richardson Ridge. Instead, we took a short break in the shade of some trees to avoid the hot sun, and then we subsequently skied down one of the slopes above Corral Creek. The skiing was actually not bad on the more open sections higher up, but as the forest became thicker lower down, we had more trouble maneuvering between the tight trees especially given the poor quality snow. Somehow, we managed to muddle our way through the trees and ultimately intersect the trail along Corral Creek. The ski out was uneventful but perhaps a little slower than usual since we had to be mindful of the deteriorating snow conditions.

Overall, this was a rather bittersweet day of beautiful weather and scenery coupled with perhaps the worst ski conditions of the season. If nothing else, I at least got to try out my recently-purchased brand new ski equipment--G3 FINDr 86 skis (167 cm long), Dynafit ST Rotation 10 bindings, Dynafit TLT8 Expedition CR boots, and Black Diamond Ascension skins. Christmas came early for me this year!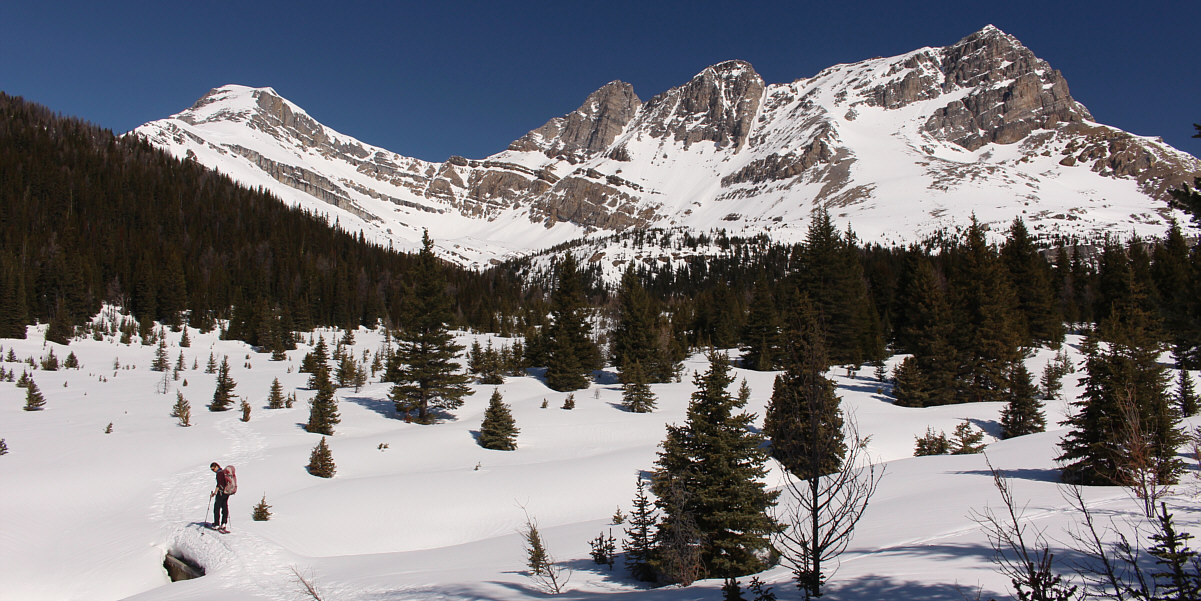 Zosia crosses a bridge over Corral Creek. In the background are (L to R) Mount Richardson, Pika Peak, unnamed, and Ptarmigan Peak.
| | |
| --- | --- |
| | Entering Hidden Bowl, Zosia finds the snow a bit crusty. |
| | Behind Zosia is Richardson Ridge. |
| | Visible through the gap (Boulder Pass) at right are Fossil Mountain, Mount Douglas, and Mount St. Bride. |
| | Lots of ski tracks can be seen across the valley on the slopes at the south end of Redoubt Mountain. |
| | Sonny and Zosia pose together with their skis in the warm sunshine. |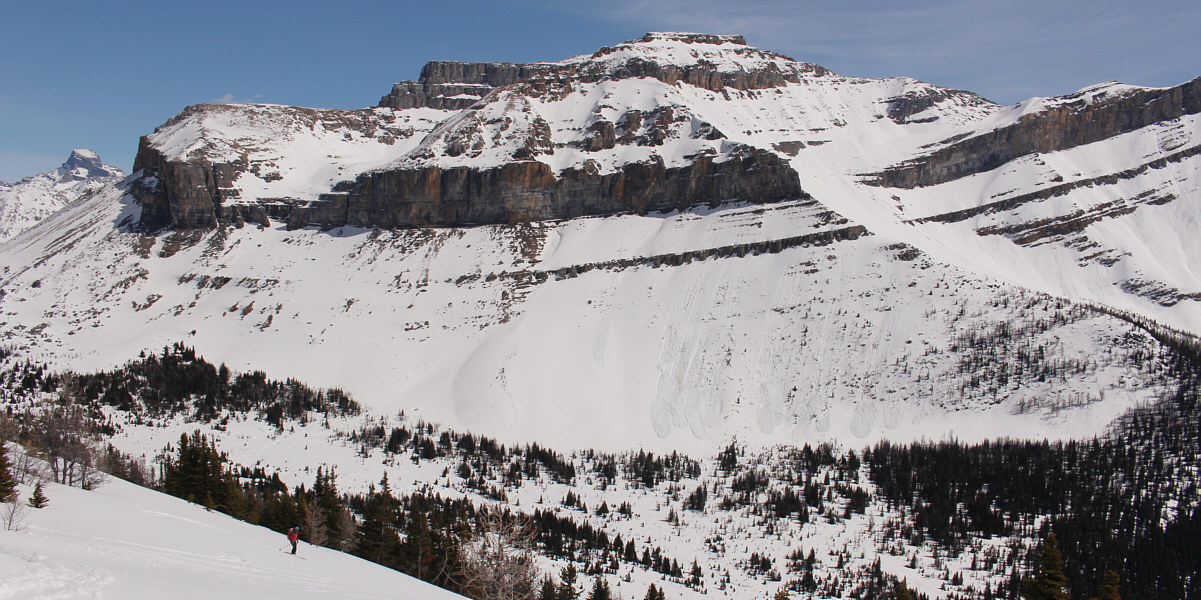 Here is a comprehensive view of Redoubt Mountain as Zosia begins her descent.
Sonny fights a bit with the "grabby" snow as he makes some big sweeping turns.

Photo courtesy of Zosia Zgolak

Despite the less-than-ideal snow conditions, Zosia still manages to make some nice turns.

Zosia weaves between some trees near the bottom of the slope. At left is Lipalian Mountain.
Zosia is relieved to emerge from the trees behind her after skiing down from the ridge above.
Zosia cruises down the ski-out with Mount Temple in the background.
Total Distance: 16.9 kilometres
Round-Trip Time: 6 hours 40 minutes
Net Elevation Gain: 694 metres