BOU AVENUE
Elbow Hill
---
Anticipating unfavourable weather for 19 June 2021, Ali Shariat, Wil Tabak, Zosia Zgolak and I opted for a non-committing ascent of unofficially-named Elbow Hill near Little Elbow Campground in Alberta's Kananaskis Country Public Land Use Zone. The inspiration for this trip came from a couple of reports by Matthew Clay and Bob Spirko (Spirko calls it "Glasgow Hill"). The hike begins from the day use area located just east of the campground.

From the day use area's parking lot, Ali, Wil, Zosia and I headed west along the campground's main access road for about 600 metres before turning south to cross Little Elbow River on the Harold Chapman Bridge. We briefly veered eastward before turning south again to follow Big Elbow Trail. About 2.5 kilometres south of the bridge is an unmarked turnoff for Elbow Hill, and we would have completely missed it had Ali not been on the ball with his phone's map application. From the turnoff, we climbed up a narrow trail and quickly reached a scenic viewpoint overlooking South Glasgow Creek. The remainder of the ascent up the southeast ridge is mostly off-trail hiking with very light bushwhacking and few route-finding problems. Upon reaching the mostly forested high point of Elbow Hill, we stopped only long enough to snap a requisite photo before moving on.

Instead of returning the way we came, Ali, Wil, Zosia and I traversed westward to a subsidiary high point (also forested) before dropping down a northwest-trending ridge. Again, bushwhacking here was light, and we eventually intersected a good trail where we turned right and followed it down to the south shore of Little Elbow River. The myriad of trails along the river can be a bit confusing to follow, but we still found it easy enough to make our way back to the bridge to complete a loop. As if on cue, some rain began to fall just as we returned to the parking lot.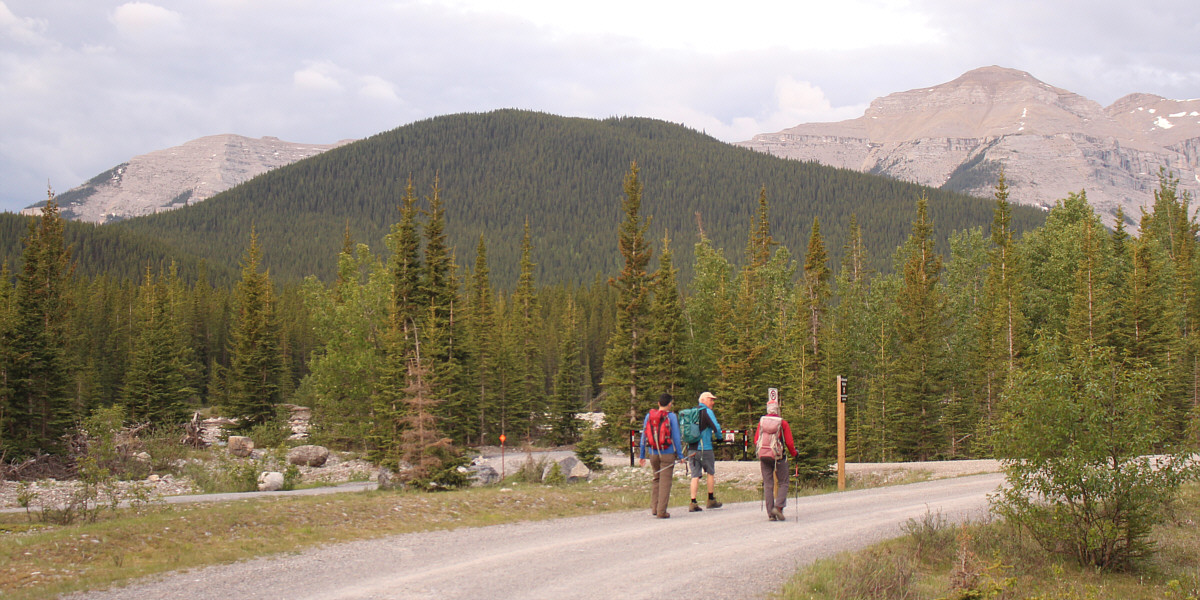 Elbow Hill is visible from the day use area near Little Elbow Campground.
The Harold Chapman Bridge grants easy access to the south side of Little Elbow River.

Leaving Big Elbow Trail, the group heads up a narrower trail at an unmarked junction.

The initial climb up the southeast ridge of Elbow Hill is steep.

An Indian paintbrush blooms on the hillside.

From a viewpoint low on the southeast ridge, there are views across South Glasgow Creek of Threepoint Mountain (left) and Cougar Mountain (right with snow patch).

To the southwest is the eastern outlier of Mount Glasgow with the true summit just behind and to the right.

The remainder of the ascent is mostly off-trail hiking up a forested slope.

A clematis flower blooms in the forest.

Zosia, Wil, Ali and Sonny stand on the high point of Elbow Hill (1932 metres).

The group descends easy terrain on the north side of Elbow Hill.
Calypso orchids such as this one are prolific at this time of year in the Canadian Rockies.
Total Distance: 8.8 kilometres
Round-Trip Time: 3 hours 18 minutes
Net Elevation Gain: 323 metres