BOU AVENUE
Johnson Creek Ridge
---
On 27 March 2021, Asieh Ghodratabadi, Ali Shariat, Zosia Zgolak and I hiked up Johnson Creek Ridge in Alberta's Willow Creek Public Land Use Zone. Although an ascent route from the west is described in Gillean Daffern's Kananaskis Country Trail Guide, we would use the approach from the east as described by Bob Spirko. Starting from a gate on the south side of SR 532 (12 kilometres west of junction with Highway 22), we hiked south along a road which is probably a muddy mess when snow-free. About a kilometre from the gate, we left the main road and headed west on a spur road which follows a drainage emanating from the northeast side of Johnson Creek Ridge. From this point, it is a bit difficult and perhaps even pointless to describe in detail the route that we followed. There are numerous roads and cut lines running throughout the area which can be somewhat confusing to sort out without an aerial map. The general idea is to gain a subsidiary ridge northeast of the main spine of Johnson Creek Ridge and then head southwest to gain the north end of the spine. On this day, there was still a lot of snow coverage especially in forested sections higher up, but Ali and Zosia did a great job of trail-breaking for us. While there are numerous spots along the ridge that grant far-reaching views especially to the northwest, the high point of Johnson Creek Ridge is disappointingly viewless. After snapping a requisite photograph on the high point, we retreated a short distance to take an extended break before resuming our descent. Retracing our broken trail back to the starting gate was uncomplicated but also a bit mind-numbing.

Overall, I think that the trip up Johnson Creek Ridge via the eastern approach is best saved for an inclement weather day in summer or late fall. The few scenic viewpoints along the route hardly justify the long, uninspiring stretches of hiking through logging roads and forest. When the weather is sunny, there are better hiking objectives to be found in that area.
| | |
| --- | --- |
| | Bob Spirko's route up Johnson Creek Ridge starts from this gate beside SR 532. |
| | Johnson Creek Ridge is visible in the distance as the group continues up the road past some steel pipes and concrete blocks. |
| | This road drops into a dip on the left before rising up to the right. The group will eventually abandon the road to gain the ridge crest at far right. |
| | The group climbs up one of several clearings along the ridge crest. |
| | The snow is quite deep in the forest on this day and necessitates some post-holing. |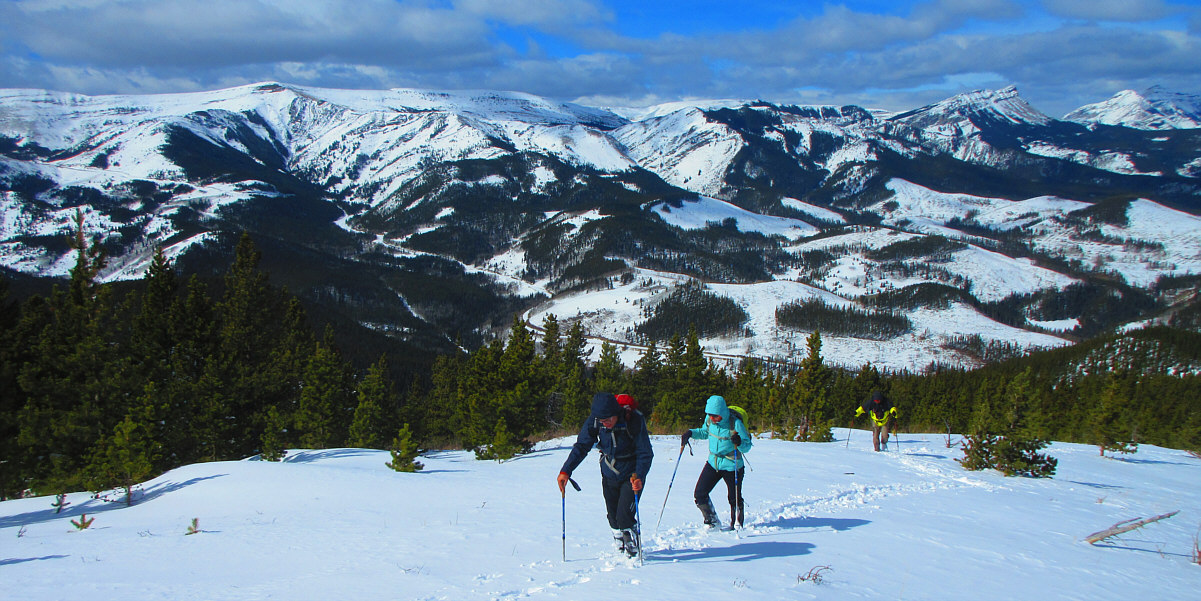 Ali, Asieh and Sonny climb up an open section of the ridge. At left is Hailstone Butte, and at right in the distance are Sentinel Peak and Mount Burke.
Photo courtesy of Zosia Zgolak
Sonny, Zosia, Ali and Asieh reach the viewless high point (1995 metres) of Johnson Creek Ridge.

The group retraces its steps back down the ridge.

Total Distance: 12.8 kilometres
Round-Trip Time: 7 hours 13 minutes
Net Elevation Gain: 545 metres