BOU AVENUE
Loon Lake Knoll
---
On 13 February 2021, Zosia Zgolak and I did some ski touring in and around the townsite at Alberta's Waterton Lakes National Park. A cloudy weather forecast combined with frigid temperatures dissuaded us from attempting more ambitious objectives in the park, but we were both intrigued by the possibility of skiing up a knoll located just east of the townsite but on the far side of Upper Waterton Lake. For most of the year, this knoll is only accessible either by watercraft (or swimming) or by an eleven-kilometre approach along Wishbone Trail (might be a great bike'n'hike). In the midst of the recent polar vortex, we were hoping that the lake would be frozen enough to allow us to safely ski across from the townsite, and for this trip, the most logical place to do so would be at Bosporus, the narrow channel connecting Upper and Middle Waterton Lakes. However, we had a lot of uncertainty about whether this was even feasible. Given the paucity of information regarding winter crossings of the Waterton Lakes, I suspect that it is seldom done, and I also presume that any inquiries made at the Parks Canada information centre would likely elicit strong words of discouragement. With these considerations in mind, we opted to drive to the townsite that morning and take a look for ourselves before deciding if we needed to take the longer but safer approach via Wishbone Trail.

Stopping at the historic Prince Of Wales Hotel which is closed in winter (it reminded me of Stanley Kubrick's movie, The Shining), Zosia and I walked to the viewpoint overlooking Bosporus. Both Upper and Middle Waterton Lakes appeared completely frozen and covered with snow, and I felt fairly confident that we could cross Bosporus safely. We subsequently drove into the townsite for a quick stop at the heated public washrooms before backtracking to the day use area on the north shore of Emerald Bay just below the hotel. The access road for the day use area is probably not plowed in winter but apparently still sees regular traffic.

From the day use area, Zosia and I skied eastward along the shoreline toward the last obvious finger of land sticking out into Bosporus. The channel is roughly two hundred metres wide, and as it turned out, we had no issues crossing the snow-covered ice here which felt pretty solid. On the far bank, we strapped on our climbing skins and muddled through a short stretch of unpleasant bushes before working our way up rising terrain to the southeast. While there are no obvious trails here, route-finding in the forest was fairly easy. We soon broke out of the forest and skied over a variety of bumps and dips aiming for two distinct high points in the distance. We ascended the closer one first, and it turned out to be the highest point. Although we managed to ski all the way up, snow coverage here was a bit of a mixed bag, and we had to be mindful of more than a few rocks lurking just below the snow surface.

After a very brief stop on the highest point, Zosia and I continued south through similar terrain to reach the second high point only a short distance away. This subsidiary high point grants a clear view of a nearby shallow pond known officially as Loon Lake, and I have taken the liberty to attribute this name to the entire knoll. Leaving the subsidiary high point, we descended with some difficulty to the shore of Loon Lake, and after crossing it, we eventually worked our way down to the eastern shore of Upper Waterton Lake. Getting down the last few metres before the shoreline entailed some more unpleasant bushwhacking, but thankfully it was short-lived. Upon reaching Upper Waterton Lake again, we turned north and followed the shoreline back to Bosporus. At one point, we took a short cut across an inlet and suddenly lost our glide. We had inadvertently skied over a section of the lake that was surprisingly still wet, and the moisture instantly froze on the bottoms of our skis rendering them extra grippy. Fortunately, it was easy enough to scrape off the accumulated ice and resume gliding. A second crossing of Bosporus was uneventful, and we were soon back at the day use area enjoying lunch in the warmth of my car.
| | |
| --- | --- |
| | Zosia checks out the conditions of Middle (left) and Upper Waterton Lakes from a viewpoint near Prince Of Wales Hotel. At right, the high point of Loon Lake Knoll is visible but difficult to discern from the bulk of Vimy Peak. |
| | Zosia skis along the shoreline aiming for Bosporus, the connecting channel between Middle and Upper Waterton Lakes. |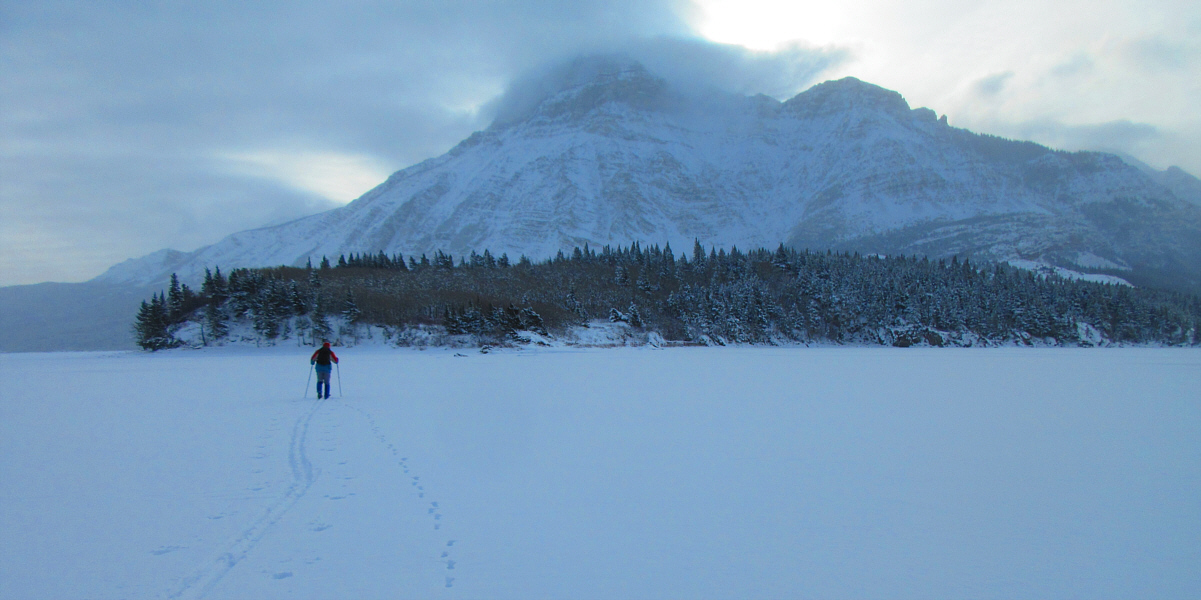 Sonny confidently crosses frozen Bosporus to the far shore.
Photo courtesy of Zosia Zgolak
| | |
| --- | --- |
| | The initial climb on the far shore is quite bushy. |
| | Zosia finally breaks out of the trees and reaches more open terrain. |
| | The high point of Loon Lake Knoll is visible here at far left. |
| | Zosia approaches the high point of Loon Lake Knoll. |
| | Sonny and Zosia stand atop the high point of Loon Lake Knoll (1394 metres). |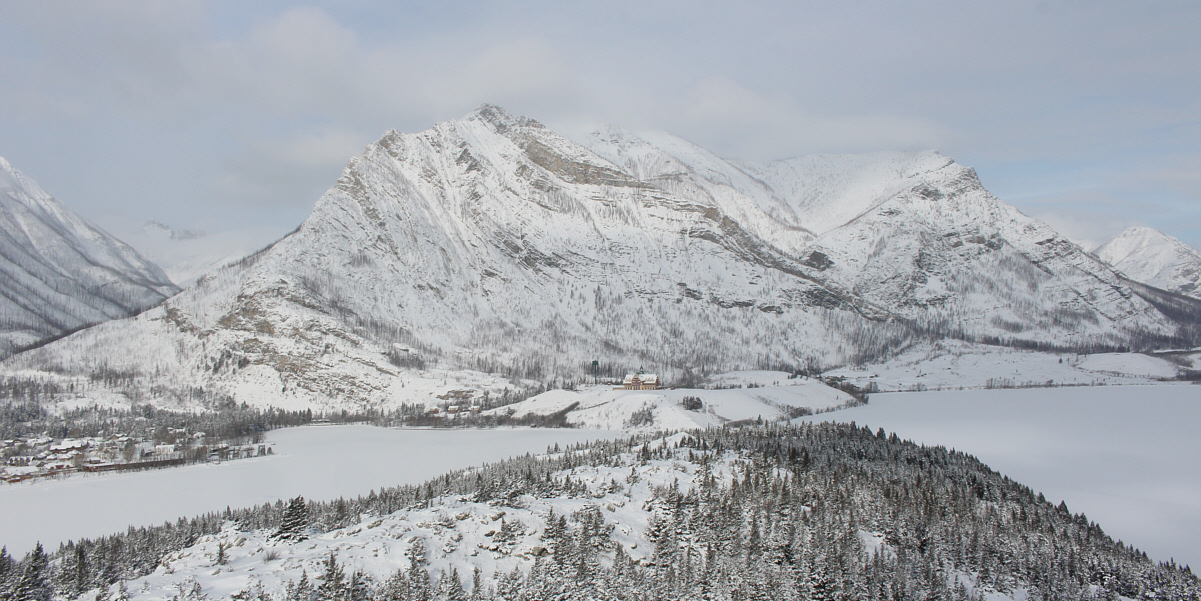 Here is a look back at the approach route in the foreground backdropped by Mount Crandell. Waterton townsite is visible at far left.
Middle Waterton Lake looks completely frozen in this view to the northeast. The obvious outcrop at right on Vimy Peak's northeast ridge is unofficially known as Lions Head.

Zosia approaches a subsidiary high point (1387 metres) further south.

The subsidiary high point grants a clear view of Loon Lake and most of Upper Waterton Lake.

Photo courtesy of Zosia Zgolak

This is looking back at the high point (right) of Loon Lake Knoll.

Here is a more comprehensive view of Waterton townsite.

Zosia tosses one of her skis down a short rock band which is too steep to ski.

Zosia arrives at Loon Lake which is not much more than a shallow pond in summer.

Sonny runs into some thick vegetation while trying to descend to Upper Waterton Lake.

Photo courtesy of Zosia Zgolak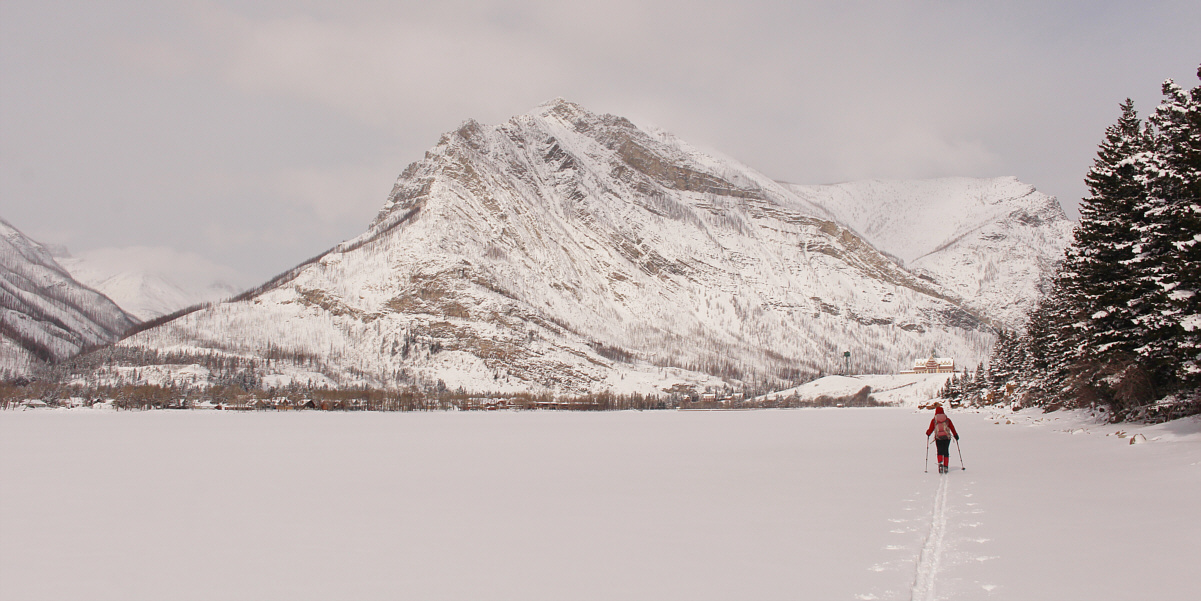 Zosia heads toward Prince Of Wales Hotel along the eastern shore of Upper Waterton Lake. Once again, Mount Crandell dominates the background.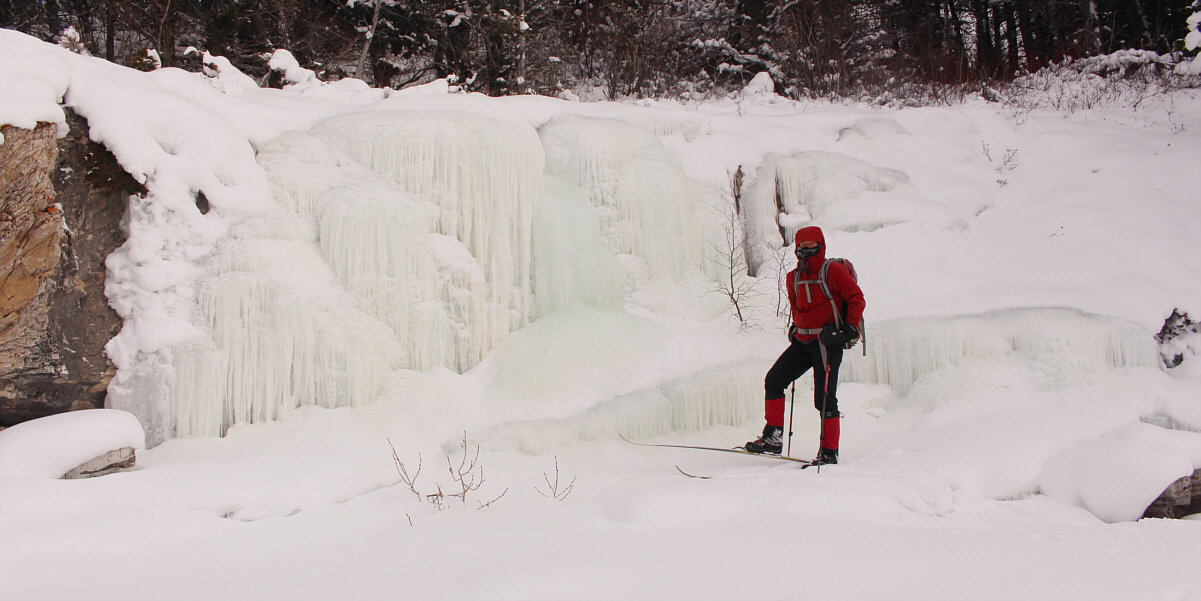 This ice curtain is located along the eastern shore of Upper Waterton Lake about half a kilometre south of Bosporus.
| | |
| --- | --- |
| | Zosia skis back across Bosporus. Visible at left are the cliffs of Bears Hump. |
A couple of skiers can be seen crossing Upper Waterton Lake from the townsite. Oddly, they would soon turn around without going completely across.
Total Distance: 5.1 kilometres
Round-Trip Time: 3 hours 30 minutes
Net Elevation Gain: 115 metres
Because the tour of Loon Lake Knoll went so quickly, Zosia and I had some extra time and energy and decided to continue skiing a clockwise circuit around the townsite after lunch. While we did not have to worry much about bushwhacking or route-finding here, this second ski tour turned out to be no less interesting. Highlights included seeing more amazing mountain scenery, running into a large herd of deer, and me skiing off the roof of a building!
While skiing in the townsite, Sonny pauses in front of an impressive cottage located on the western shore of Upper Waterton Lake.

Photo courtesy of Zosia Zgolak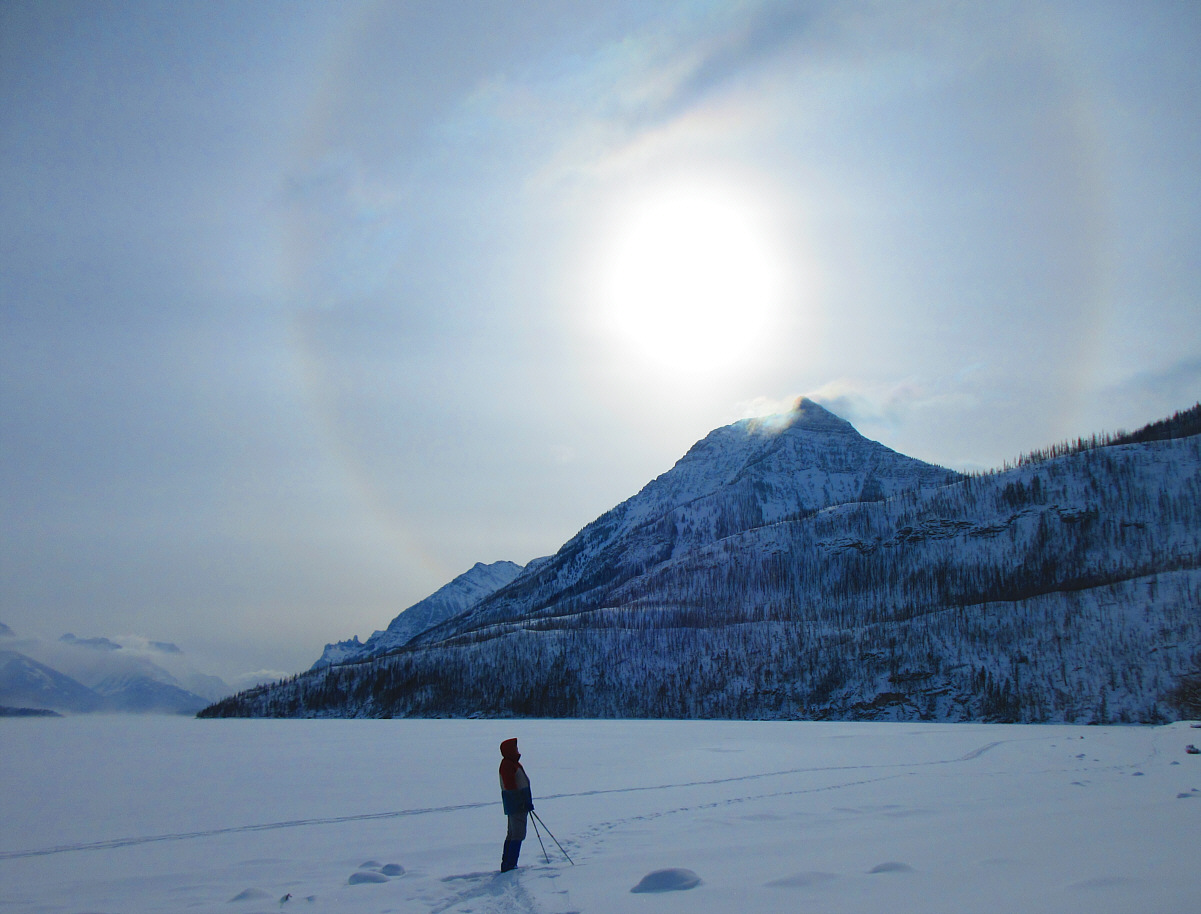 A halo can be seen around the sun above Bertha Peak.
Photo courtesy of Zosia Zgolak
Here is a view from the townsite of Loon Lake Knoll (left of centre), Lions Head (centre through gap), and Vimy Peak.
Zosia follows ski tracks along Cameron Creek with Mount Crandell in the background.
Sonny makes a ski ascent onto the roof of the Falls Interpretive Theatre.

Photo courtesy of Zosia Zgolak

These deer are likely year-round residents of the townsite.
Zosia visits frozen Cameron Falls.
Sonny skis along Evergreen Avenue to complete a loop of the townsite.

Photo courtesy of Zosia Zgolak