BOU AVENUE
Lazy Lake Hill
---
Zosia Zgolak and I went for an easy hike to Lazy Lake and an adjacent hill near the eastern boundary of Alberta's McLean Creek Off-Highway Vehicle Public Land Use Zone on 5 February 2022. We had previously spotted this lake from a distance on our hike up Whiskey Hill in 2020, and with Zosia still recovering from a recent leg injury, I figured that the lake would make a suitably easy winter hiking objective. From looking at Google Earth, I surmised that a small hill just northeast of the lake would also be easy enough to ascend at the same time. Given the abundance of motorized all-terrain vehicles (ATV) here, we would have to be vigilant when hiking in the area.

From Highway 762, turn west onto Aspen Creek Drive 6.1 kilometres south of the junction with Highway 22 or 16.0 kilometres north of the junction with Highway 549. Drive 1.7 kilometres to a 4-way intersection and continue straight ahead for another 480 metres to reach a small pullout before a seasonal gate. If the gate is open, it is possible to turn south and drive another 560 metres before a concrete barricade blocks further vehicular access.

Starting from the concrete barricade, Zosia and I hiked along the continuation of the access road which runs westward briefly before bending south. Despite plenty of snow in the area, the road was well-traveled--we even saw some cross-country ski tracks--and we did not have to worry about breaking trail. Just before a fenced clearing, the road veers to the right and eventually climbs over a short but steep ridge before intersecting an obvious ATV road. Turning left (south), we easily followed the ATV road for about another 2.5 kilometres to reach the eastern shore of Lazy Lake which was completely snow-covered on this day. Incidentally, the only reference I could find for the lake's unofficial name comes from a nearby trail labeled as "Lazy Lake Route" on the windy.com map (probably derived from OpenStreetMap.org).

Up until this point, Zosia and I had enjoyed quiet solitude throughout our hike, but as we returned from checking out a beaver lodge on the lake, we met a couple of quad riders on the lakeshore. We greeted them briefly before proceeding up the small hill to the northeast; I have taken the liberty to call this "Lazy Lake Hill". We had no trouble reaching the high point of the hill from the south, and after stopping for a short break, we completed a traverse by descending easy slopes to the northwest to regain the ATV road. On our return hike back along the ATV road, we encountered several more groups of ATV enthusiasts, and all of them were quite cordial. One group was even apologetic about all the noise they were making even though we were the ones that were intruding on their playground! When we returned to where we first intersected the ATV road, we made a short detour to check out another unnamed lake further north before backtracking to our original access road. We did not see any more ATVs, and the remainder of the hike back to the concrete barricade was uneventful.
| | |
| --- | --- |
| | Zosia begins hiking from a barricade across the access road. |
| | An already broken double-track simplifies route-finding on this day. |
| | Zosia stops to attach ice cleats to her boots for better traction in the snow. |
| | This short but steep section is particularly icy and requires some care to descend. |
| | At a junction about 1.6 kilometres from the start, Zosia turns southward to follow a well-traveled ATV road. |
| | Despite the presence of this sign, there are no cattle in the area on this day. |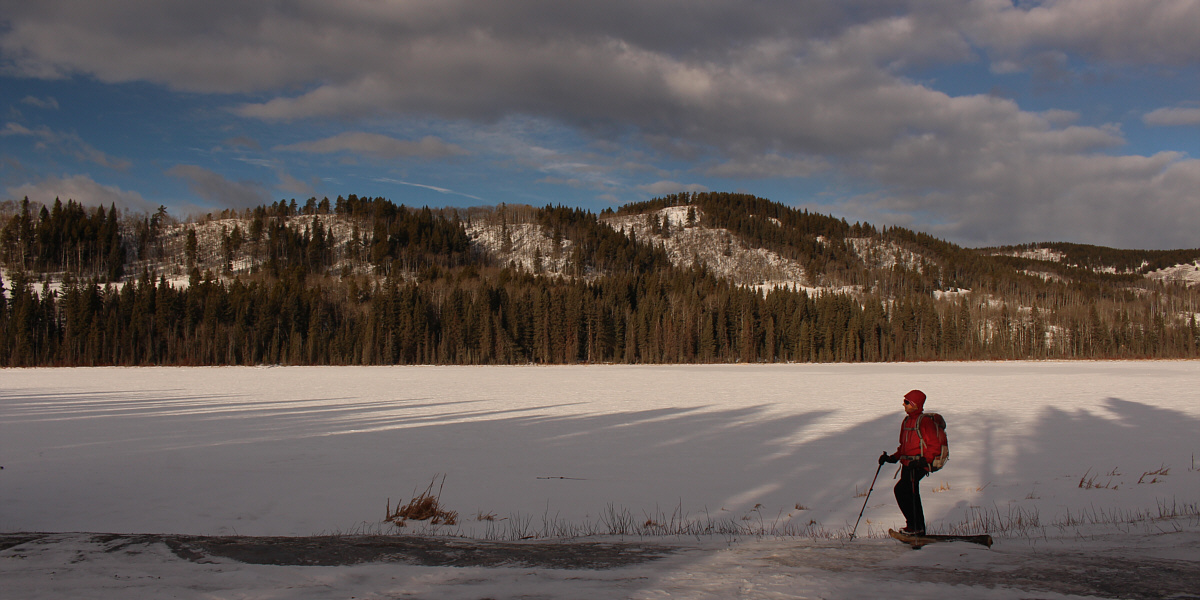 The ridge behind snow-covered Lazy Lake is unofficially known as Cloud Nine.
This is one of two beaver lodges on Lazy Lake. In the background is Lazy Lake Hill.
Zosia hikes up the south end of Lazy Lake Hill.
Here is a look back at Lazy Lake from Lazy Lake Hill. The forested ridge on the left horizon is Mesa (Square) Butte.
Sonny and Zosia stand on the high point of Lazy Lake Hill (1480 metres).

An abundance of ATV enthusiasts show up in the area later in the morning.

Zosia checks out another snow-covered lake located further to the north.

Aided by full sunshine, temperatures are unseasonably warm on the hike out.

Total Distance: 10.2 kilometres
Round-Trip Time: 4 hours 17 minutes
Cumulative Elevation Gain: 375 metres