BOU AVENUE
Wycliffe Buttes, Lone Pine Hill And Beacon Hill
---
Zosia Zgolak and I hiked a number of low hills just outside Cranbrook, British Columbia on 19 February 2023. The first of these were Wycliffe Buttes and officially-named Lone Pine Hill which are located next to each other on provincial nature conservancy land. Wycliffe Buttes are promoted on the Cranbrook Tourism website while a route for Lone Pine Hill can be found on AllTrails. Although we had intentions to try skiing these objectives, the generally poor snow conditions in the vicinity convinced us to simply hike them.

Turn north onto Porteous Road from Highway 95A, 4.8 kilometres east of the intersection with 309 Avenue in Marysville or 2.9 kilometres west of the intersection with Wycliffe Park Road or Mission Wycliffe Road. Drive 930 metres and turn left (west) onto McClure Road. Drive 330 metres and park in a small cul-de-sac without blocking a driveway which continues westward.

From the cul-de-sac, Zosia and I headed west along the icy driveway to a signed entrance for the nature conservancy land (the driveway turns north here and enters a private residence). Passing through the fence line, we turned north aiming for the south cliffs of Wycliffe Buttes which we could already see. On this day, there were numerous well-beaten pathways in the snow which attest to the popularity of this area especially with dog-walkers. We were able to follow a couple of these pathways right to the base of the south cliffs where we went straight up an obvious grassy weakness. We checked out a couple of benches at the top of the cliffs before wandering further north and post-holing a bit to tag the actual high point of Wycliffe Buttes.
| | |
| --- | --- |
| | From the parking area, Zosia can see Wycliffe Buttes behind a private residence. |
| | Zosia heads toward Wycliffe Buttes on a convenient beaten path in the snow. |
| | Zosia aims directly for the obvious weakness in the cliffs guarding the south side of Wycliffe Buttes. |
| | Zosia climbs up the weakness in the cliffs. |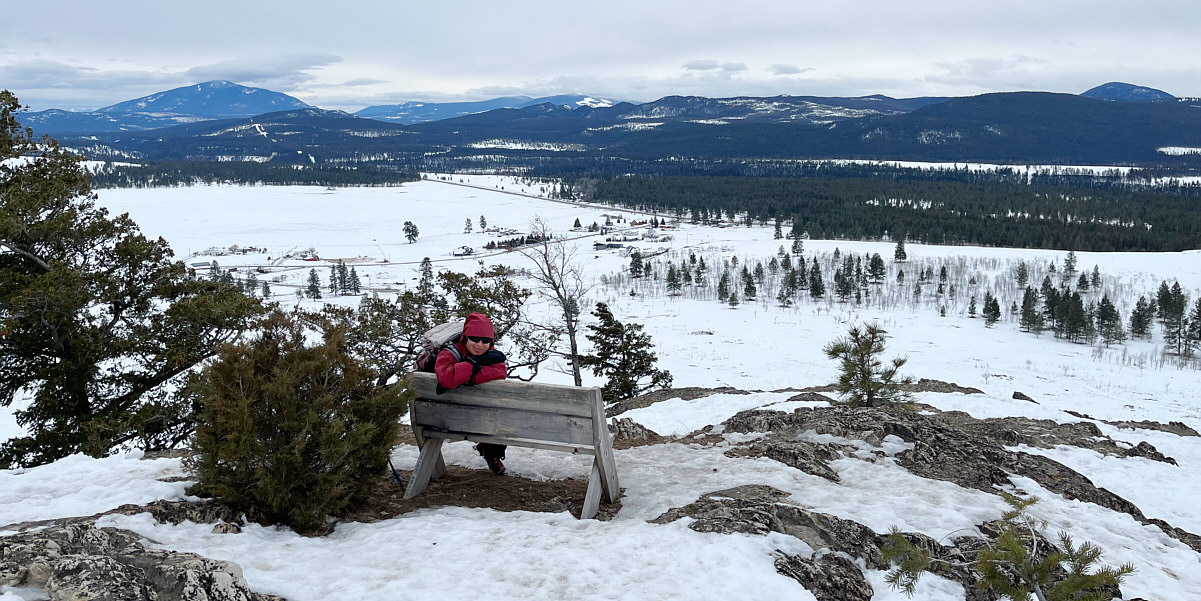 The view to the southeast from this bench at the top of the cliffs includes Mount Baker (far left horizon) and Cranbrook Mountain (centre horizon with snowy clear-cuts).
Sonny tags the high point of Wycliffe Buttes (1085 metres).

Photo courtesy of Zosia Zgolak
From the top of Wycliffe Buttes, Zosia and I followed a trail descending northward to a split where we turned eastward to intersect the AllTrails route to Lone Pine Hill. Heading north again, we continued to descend forested slopes until we reached another split where the trail begins to bend westward. Turning right, we soon entered a powerline right-of-way where we dropped into a dip to cross Luke Creek. Climbing up the far (east) bank, we passed another signed conservancy land boundary fence and then followed the powerline briefly before veering north again to gain the southwest slopes of Lone Pine Hill. The remainder of the ascent was straightforward as we followed the trail all the way to the top without any trouble.

After stopping for a break on top of Lone Pine Hill, Zosia and I backtracked all the way to where we initially intersected the AllTrails route. Instead of climbing back over Wycliffe Buttes, we stuck to the eastern fence line which led us directly back to the nature conservancy land entrance and driveway near our starting point.
Zosia catches a glimpse of Lone Pine Hill at far left as she begins descending the north side of Wycliffe Buttes.
The broken trail drops into the dip ahead and crosses Luke Creek before climbing up the far side under the powerline.
Zosia approaches the south side of Lone Pine Hill.
The hike up the south side of Lone Pine Hill is easy.
Zosia and Sonny stand on the high point of Lone Pine Hill (1172 metres).
The top of Lone Pine Hill is fairly broad.
After taking a lunch break, Zosia begins descending Lone Pine Hill. Wycliffe Buttes can be seen in the middle ground at left. Further back, the low bump a little left of centre is Mother's Day Hill.
From lower down the south side of Lone Pine Hill, there is a clearer view to the northwest of North Star Hill and Kimberley Alpine Resort (right of centre).
Zosia retraces her steps through the forest.
A creepy skull hangs from a tree beside the trail.

Photo courtesy of Zosia Zgolak

Zosia bypasses Wycliffe Buttes on her way back to the trailhead.
Total Distance: 9.3 kilometres
Round-Trip Time: 4 hours 12 minutes
Cumulative Elevation Gain: 306 metres
With time and energy to spare, Zosia and I decided to tack on a short hike up another hill closer to Cranbrook. My initial online research of this objective yielded no results or route descriptions, and I had to concoct a route based on satellite imagery from Google Maps. However, I would discover after our hike that AllTrails already has a published route albeit with a different starting point than mine. In fact, there are likely other possible approaches and routes given the multitude of roads crisscrossing the hill. Most importantly though, AllTrails attributes to this objective the unofficial name "Beacon Hill".

Turn onto Wycliffe Park Road from Highway 95A, 15.0 kilometres east of the intersection with 309 Avenue in Marysville or 5.1 kilometres west of the interchange with Highway 3/95 in Cranbrook. Drive 1.3 kilometres and turn left (south) onto Six Mile Lane. Drive 1.0 kilometre and park at the end of the pavement under a powerline right-of-way without blocking any driveways.

From our parking spot, Zosia and I headed southeast along the powerline right-of-way for about 450 metres before turning right onto a road heading into the forest. Despite extensive snow cover, we were fortunate once again to be able to walk on a beaten pathway--this time made by ATVs. In the forest, we simply followed the ATV-tracked road which winds up the north side of Beacon Hill. At any splits we came across, we picked whichever branching track was continuing uphill, and this included a few short cuts along some switchbacks higher up. At the top of Beacon Hill, the road makes a loop around some telecommunication structures, and the actual high point is behind a fenced area which is inaccessible to the general public.

After looping around the top of Beacon Hill, Zosia and I stopped for a quick break before returning the way we came. Our descent took only half as long as our ascent and was uneventful.
Sonny tries to keep his speed down as he begins hiking along a powerline right-of-way.

Photo courtesy of Zosia Zgolak

Zosia leaves the powerline right-of-way and enters forest on an ATV-tracked road.

The top of Beacon Hill is cluttered with communication infrastructure.

Sonny and Zosia stand near the high point of Beacon Hill (1218 metres).

The city of Cranbrook can be seen to the southeast.

Wycliffe Buttes (WB) and Lone Pine Hill (LP) are barely discernible to the northwest behind Whiskey Jack Hill.

Total Distance: 4.7 kilometres
Round-Trip Time: 1 hour 54 minutes
Net Elevation Gain: 252 metres