BOU AVENUE
Mount Berland
---
With a promising weather forecast for 31 May 2014, I headed out to the south end of British Columbia's Kootenay National Park to scramble up Mount Berland via the route described by Josée Ménard. Although a late winter snow pack still persisted in the Canadian Rockies, I was confident that Mount Berland was mostly dry after monitoring the mountain's conditions on DriveBC's Radium Hot Springs webcam. Ménard's route--head north up a forested rib that eventually turns west toward the main south ridge--is not overly complicated, but is it ever strenuous! After a long winter of intermittent and modest outings, I may have taken the 1200+ metres of elevation gain for this trip a little too lightly.

Starting from an obvious paved pullout beside a large sign, I immediately entered the adjacent forest and began the long grind up the noted rib. Views are certainly lacking during this initial part of the climb, but with the warm temperatures that day, I actually welcomed the cool shade of the forest. Although the route is relentlessly steep, the bushwhacking is mercifully not too bad, and there are lots of useful game trails crisscrossing the slope. After climbing about 900 metres to reach a large cairn on the southernmost high point of Mount Berland's south ridge, I was a bit alarmed by how much time (3 hours 18 minutes) it had taken me to get this far. The true summit is still some three kilometres away to the north from here with a lot of ups and downs in between, and though this was not unexpected, I was still discouraged by the prospect of this lengthy traverse given my slow pace. Furthermore, the warm day had forced me to drink more than I was anticipating, and I was starting to run low on liquid refreshment--another oversight due in part to my mind still being in winter mode when I tend to drink less. There were still a few snow patches hidden in the trees as I continued north along the ridge, but I was not yet desperate enough to start stuffing my mouth with dirty snow! As a result, my pace slowed even more as I tried to conserve both my energy and my remaining water. As if that was not bad enough, ticks were also out in force on this day, and I was regularly flicking them off my shirt and my neck.

As I got nearer to the summit, the snow patches grew more abundant, and the terrain became more complex. Because of the isothermal snow, I opted to stick to the crest of the ridge as much as possible, but this entailed some fairly exposed scrambling which was reminiscent of the cockscomb section of Mount Crandell in Waterton National Park. At one point, I even had to hang precariously over a substantial drop from the branches of a tree that was blocking the knife-edged ridge. Mount Berland was turning out to be quite a tough little sonuvabitch! Nearly seven hours after leaving my car, I finally staggered onto the airy summit and immediately sat down to devour an apple I had been saving. Thirty minutes later, I was retracing my steps back along the ridge.

On my return trip, I circumvented some of the tougher upper sections of the ridge by dropping down on the west side (skier's right) and traversing the snow. This was still not a trivial matter as I suffered a few nasty cuts and bruises due to slipping and crashing into rocks hidden underneath the snow. Once I reached easier ground, I put my mind on cruise control as I re-ascended and re-descended almost every high point along the ridge. Other than some slight route-finding uncertainty below the southernmost high point (my GPS was not working reliably on this day), the rest of my descent was largely uneventful. My round-trip time turned out to be a whopping 11 hours 46 minutes (Ms. Ménard, I salute you and your 8.0 hours with extra snow to boot!). Exhausted, I drove into Radium Hot Springs and checked into a motel room which I had reserved ahead of time. There is a somewhat pathetic epilogue to this trip, but that is a story for another day.

The ascent begins at this sign beside the highway.
This is pretty much the view for the first couple of hours.
A clearing near the southernmost high point of Mount Berland affords this view of Radium Hot Springs and the Columbia River valley.
Beyond the southernmost high point of Mount Berland (right) is Redstreak Mountain (centre).
The true summit of Mount Berland looks far away.
Sonny keeps on trekking along the ridge.
The route becomes more complex and challenging near the summit (not visible here).
The summit cairn is finally in sight.
Sonny stands on the 2358-metre* summit of Mount Berland.

*Data courtesy of Peakbagger.com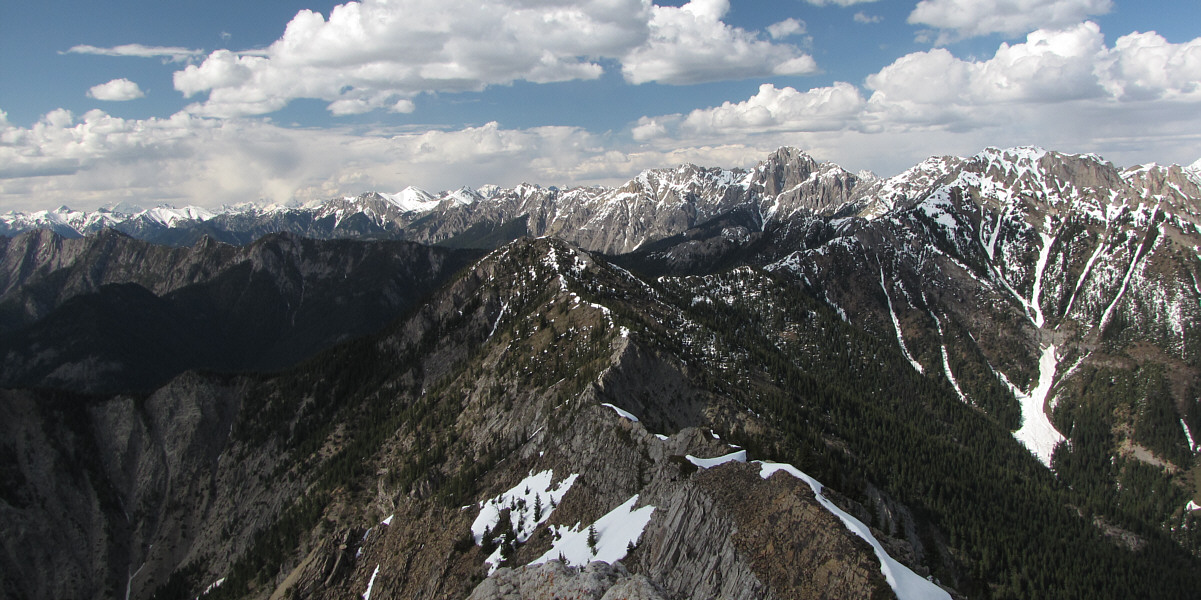 Mount Kindersley (right of centre) is the most prominent peak to the north.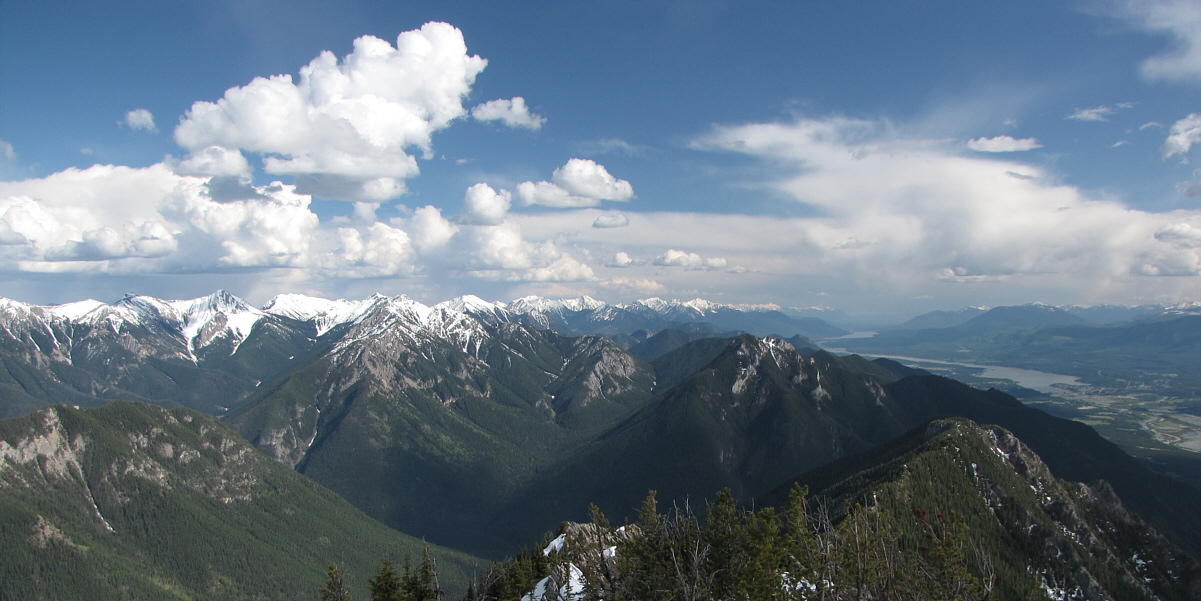 Windermere Lake (far right) is the most recognizable landmark in this southern panorama.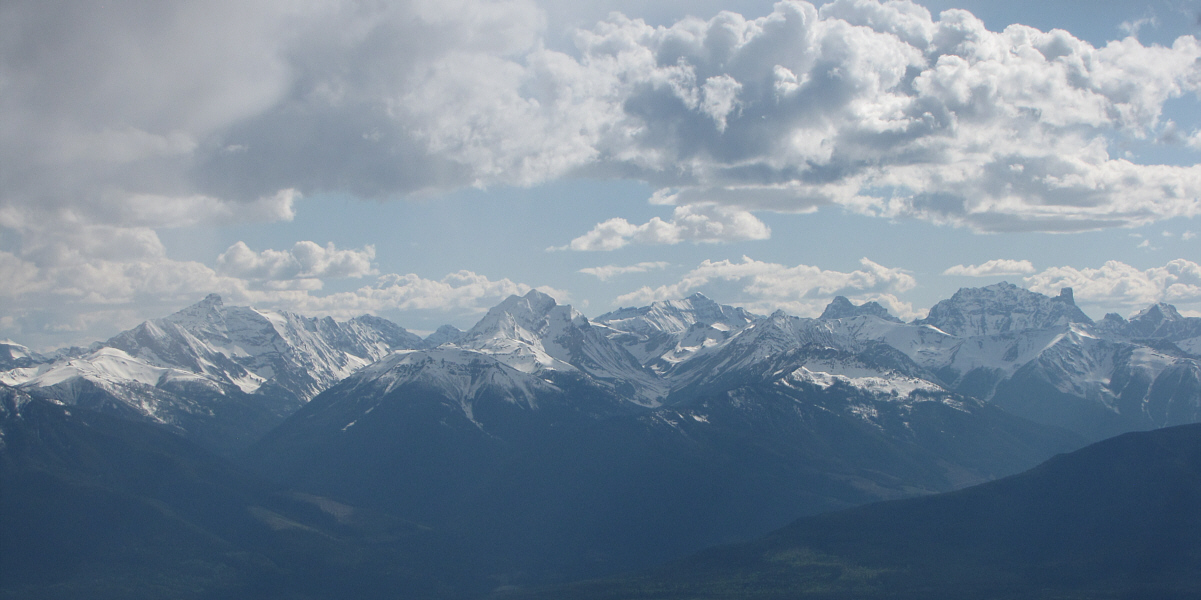 Across the valley to the southwest are some beautiful peaks including Mount Nelson (far left), Mount Slade (left of centre), Mount Delphine (right of centre), and Mount Farnham (far right).
| | |
| --- | --- |
| | This is Mount Berland as seen from Radium Hot Springs (photograph was taken the following day). |