BOU AVENUE
Skoki Lodge
---
On St. Patrick's Day a few years ago, Zosia Zgolak skied to Skoki Lodge in Alberta's Banff National Park and met a fun group who apparently gathered there annually to celebrate the patron saint of Ireland. Hoping to reconnect with this same group, Zosia suggested a ski tour on 17 March 2018 which would entail a visit to the historic lodge. Not content with just skiing to the lodge, Zosia also suggested circumnavigating Fossil Mountain after getting the idea from Alan Kane and Sim Galloway. When we ran into them at the Fish Creek trailhead in 2017, they were repeatedly doing the circumnavigation every weekend for training purposes (they were aiming to do the Wapta Traverse in a single day).

Joining Zosia and me was Leslie Pryslak, and the three of us started the day by climbing up the Lake Louise ski resort's ski-out. The trail to Skoki Lodge was already broken as usual, and we had no difficulties climbing over Boulder Pass and skiing across frozen Ptarmigan Lake. Partway up to Deception Pass, we left the trail and began heading for Baker Lake. We were dismayed to find that no one had gone that way for quite some time as there was not even a hint of an old track to follow. Breaking trail the whole way around Fossil Mountain would have been a Herculean task, and after a brief discussion, we unanimously decided to abandon the attempt.

Instead, we returned to the main trail and climbed over Deception Pass before skiing down to Skoki Lodge. We went inside the lodge to warm up and eat lunch, and although there were a few guests present, we saw no signs of the group that Zosia had met a few years earlier.

After lunch, Leslie and Zosia wandered a bit further and descended to a nearby meadow while I waited for them outside Skoki Lodge. I eventually noticed a fellow with a European accent talking the ears off a couple of skiers who were getting ready to leave. I later learned from the European fellow that the skiers were none other than Alan and Sim, and I regretted not interrupting them to say "hi" and perhaps admonish them for not breaking trail around Fossil Mountain that day! Meanwhile, Leslie and Zosia had neglected to carry their climbing skins with them to the meadow, and as a result, they struggled a bit to get back uphill to the lodge.

When they finally made it back, Leslie and Zosia gathered the rest of their gear from the lodge, and we promptly commenced our return journey. The climb back up to Deception Pass was not nearly as strenuous as I was anticipating, but the descent down the south side was certainly challenging on our light touring skis. In fact, we left our climbing skins on to help slow us down the steepest parts. Later on, the descent from Boulder Pass was also challenging but only for a short distance. The remaining ski out was straightforward and uneventful.
After the usual preliminary climb up the Lake Louise ski resort's ski-out, Leslie and Zosia head into the backcountry along the trail to Skoki Lodge.
Sonny ascends the slope just before Boulder Pass. At distant right is Mount Richardson.

Photo courtesy of Zosia Zgolak

Leslie and Zosia start across frozen Ptarmigan Lake. Note the mist spilling over Deception Pass at left in front of Fossil Mountain.

Zosia and Leslie are halfway across Ptarmigan Lake.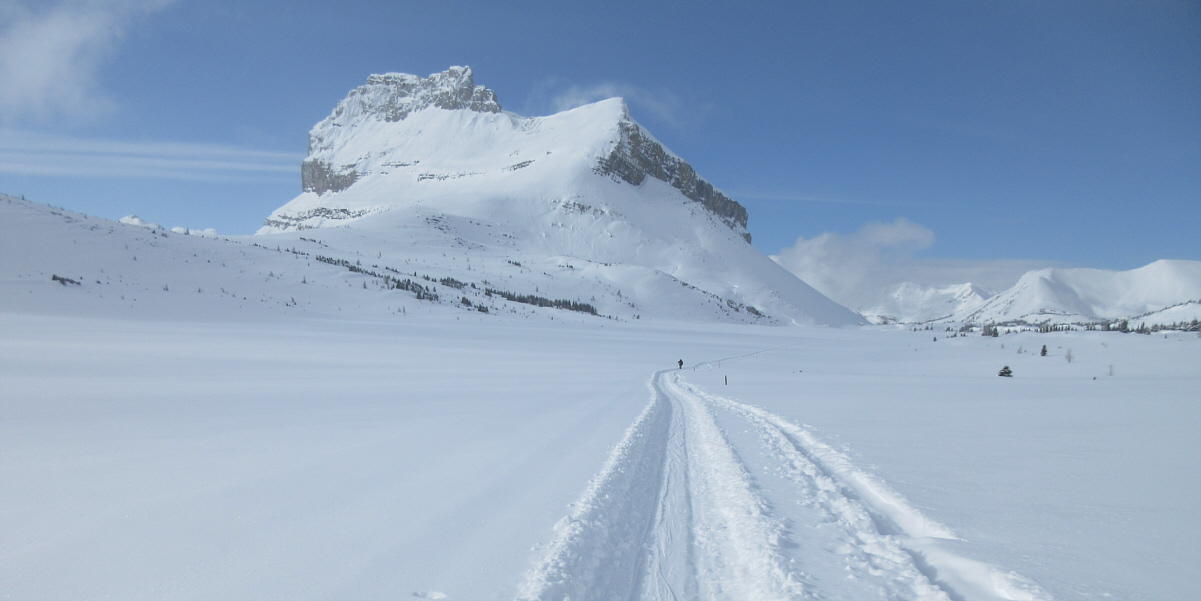 Redoubt Mountain dominates the horizon behind Sonny as he skis across Ptarmigan Lake.
Photo courtesy of Zosia Zgolak
Leslie and Sonny tentatively ski toward Baker Lake (not visible here). At right is Brachiopod Mountain.

Photo courtesy of Zosia Zgolak

Zosia and Leslie abort their plan to circumnavigate Fossil Mountain and begin making their way back to the trail to Skoki Lodge. Behind them is Ptarmigan Peak.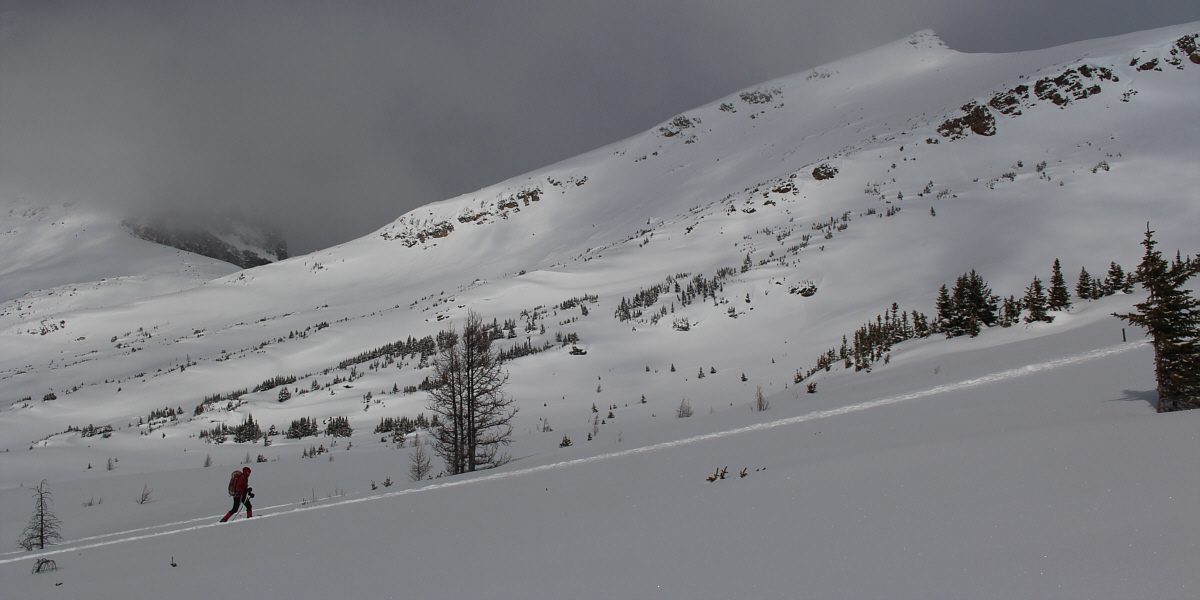 Zosia gets back on the trail to Skoki Lodge. In the background is Packer's Pass Peak.
On this day, snow coverage appears to be thin in some spots on Fossil Mountain.
Zosia descends the north side of Deception Pass.
This is one of the more challenging sections of trail to descend on the way from Deception Pass to Skoki Lodge. At right is Skoki Mountain.
Zosia arrives at Skoki Lodge.
Leslie and Zosia remove their ski boots at the entrance to Skoki Lodge.
Zosia, Leslie and Sonny gather for a group pose just before leaving Skoki Lodge.

Photo courtesy of Zosia Zgolak

Leslie and Zosia begin the long climb back up to Deception Pass.
Zosia and Leslie approach Deception Pass again.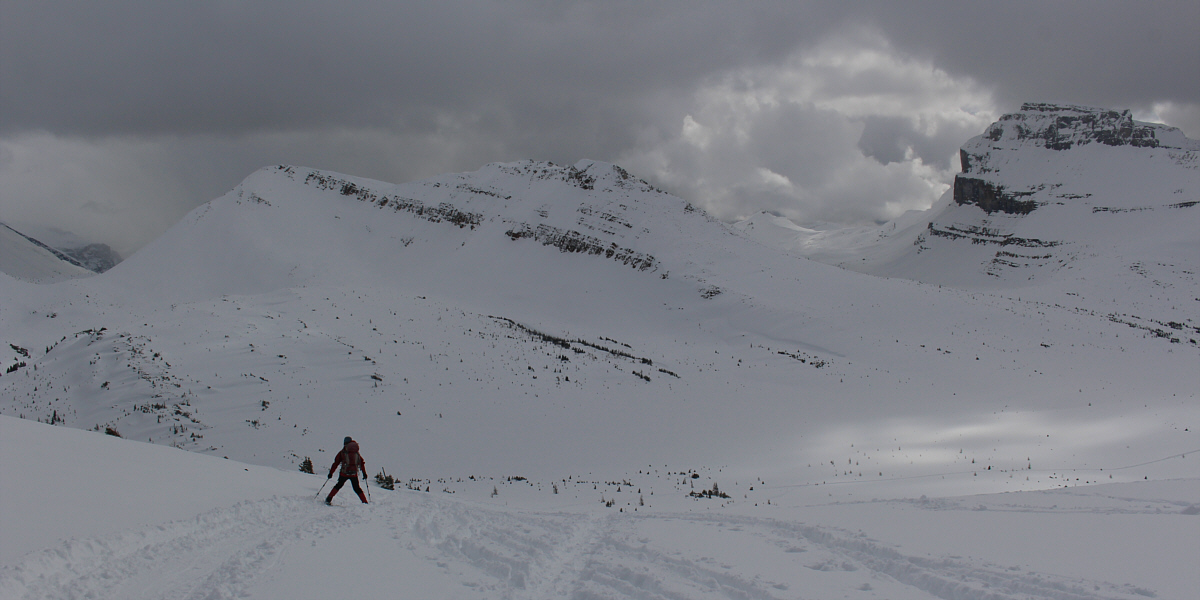 Heather Ridge provides a nice backdrop as Zosia begins her fast descent on the south side of Deception Pass.
Sunshine illuminates Ptarmigan Peak as Zosia heads back to the trailhead.
Total Distance: 29.9 kilometres
Round-Trip Time: 10 hours
Total Elevation Gain: 1150 metres