BOU AVENUE
Limestone Mountain And Limestone Ridge
---
On 28 August 2021, Shaun Luong, Zosia Zgolak and I scrambled up Limestone Mountain and unofficially-named Limestone Ridge located near Wedge Pond in Alberta's Kananaskis Country. All three of us had previously ascended Limestone Mountain separately, and Shaun had also tagged Limestone Ridge on his outing. However, there would be something new for everyone on this day since we would follow a route that differs slightly from each of our previous individual trips. While the south ridge route for Limestone Mountain is well-documented in Andrew Nugara's More Scrambles in the Canadian Rockies and numerous online trip reports, I used an alternate route via the northwest ridge in 2008, and we would go up this way as well on this day. The extension to the higher Limestone Ridge is also described both in Nugara's guidebook and originally on his personal website in 2005, but in choosing this objective, I was actually more inspired by So Nakagawa's 2010 trip report. Incidentally, Limestone Ridge is actually the northwest ridge of The Wedge, but perhaps because it is usually ascended in conjunction with Limestone Mountain, the unofficial name has stuck and now appears on many online maps.

From the Galatea trailhead parking lot (west side of Highway 40, 33 kilometres south of junction with Trans-Canada Highway), Shaun, Zosia and I walked back to the highway and followed it north for about half a kilometre before carefully crossing to the east side. We picked up a trail here which immediately starts to climb up the forested northwest ridge of Limestone Mountain. About ten minutes after starting our climb, we passed a curious biffy-like shack situated on the ridge. It had not changed much since my last visit here, and I was relieved that it had not been used as an actual biffy by inconsiderate hikers. I am still dumbfounded about its purpose, but unable to solve the mystery of the shack, we carried on up the ridge. A little more than a kilometre from the highway, the trail peters out in a forested plateau of sorts, and we had to bushwhack a bit to find the continuation of the ridge. By traversing to climber's left, we eventually picked up the northwest ridge again. Although the remainder of the ascent is steeper and perhaps requires more use of the hands, we otherwise had no problems reaching the summit of Limestone Mountain.
| | |
| --- | --- |
| | Shaun and Zosia check out the curious biffy-like shack located partway up Limestone Mountain's west ridge. The shack has not changed much since 2008 when Sonny was last here. |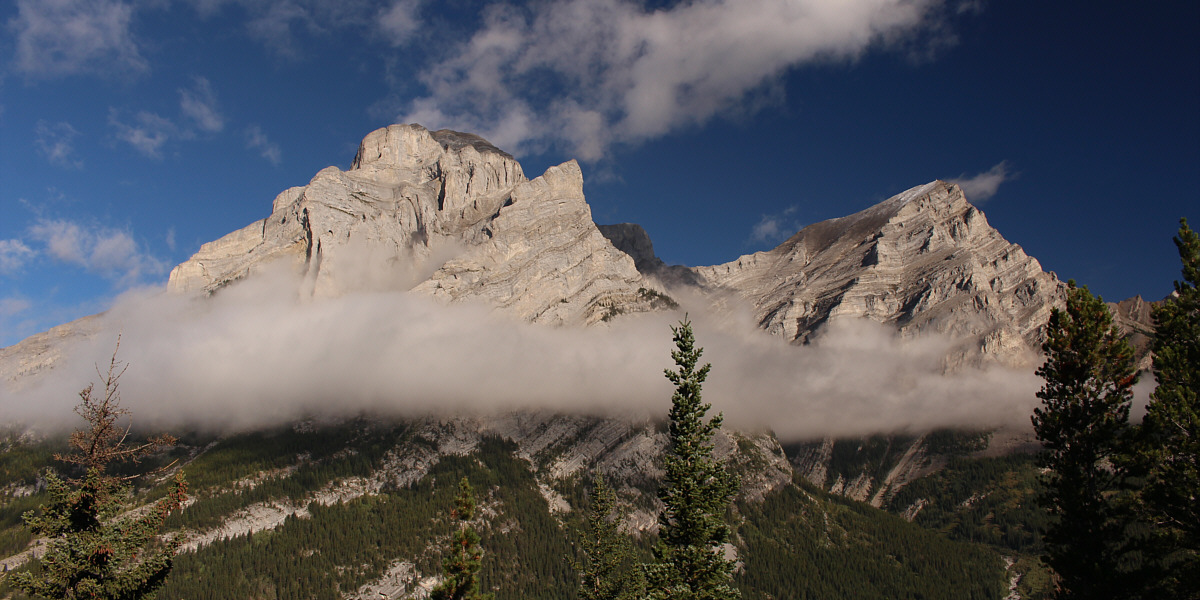 Clouds hang low on Mount Kidd (right) across the valley.
| | |
| --- | --- |
| | The ridge begins to steepen here. Visible at left is unofficially-named Limestone Ridge. |
| | Zosia and Shaun work their way up the weakness in the middle. |
| | The west ridge can feel a bit airy in some spots, but the scrambling is generally easy. |
| | Zosia, Shaun and Sonny stand on the summit of Limestone Mountain (2166 metres). This is everyone's second ascent of this mountain. |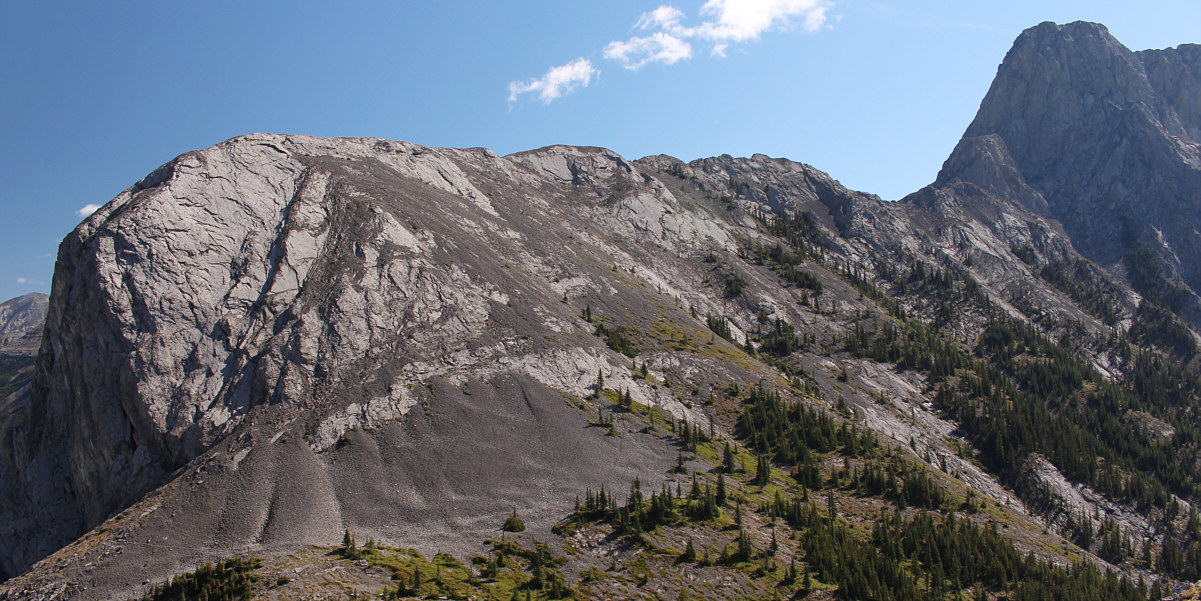 Limestone Ridge is really just the northwest extension of The Wedge.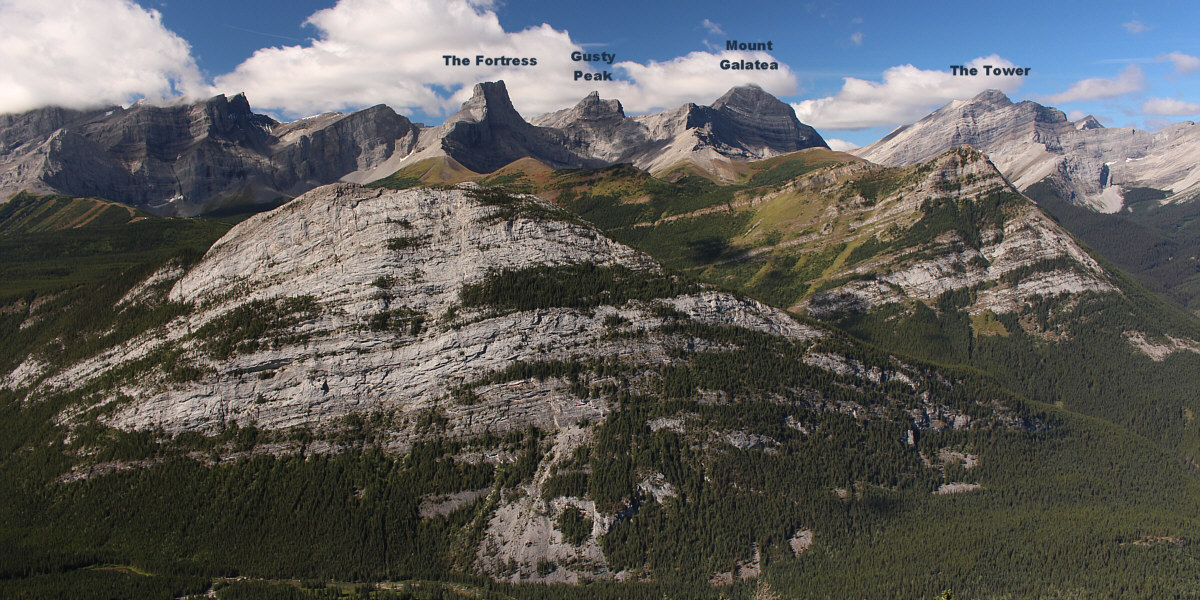 Familiar mountains are visible on the western horizon. Spoon Needle (foreground) and Fortress Ridge (in front of The Tower) are also readily visible.
| | |
| --- | --- |
| | Wedge Pond steals the show to the north. |
After stopping for a short break below the summit of Limestone Mountain, Shaun, Zosia and I turned our attention to Limestone Ridge which is separated by an intervening col. There are two cliff bands guarding the east face of Limestone Mountain, and we had no problems finding the weakness to get through the upper one. The lower one proved to be a little trickier to get through. While Shaun and Zosia searched a bit harder to find the gully mentioned by Nugara that breaches the lower cliff band, I was impatient and tried to down-climb about a three-metre high drop-off. About halfway down, one of my handholds broke, and I fell about two metres landing on my back on a grassy slope below the drop-off. Fortunately, I was not physically hurt since my backpack probably cushioned my impact with the ground. However, I did snap one of my trekking poles, and inexplicably, I also knocked out a filling in one of my front teeth. After dusting myself off, I reassured Shaun and Zosia that I was alright and waited as they safely descended Nugara's gully to clear the lower cliff band.

Reunited, Shaun, Zosia and I crossed the col and climbed up a mix of rubble and low-angled slabs to the crest of Limestone Ridge. Some route-finding is necessary here to avoid more technical terrain, but overall, I found the ascent to be relatively straightforward. Upon gaining the crest near a survey marker, we turned right and hiked as far as we felt comfortable; the ridge becomes increasingly more exposed and technical as it approaches the main mass of The Wedge. With no intentions of continue up The Wedge, we then turned around and hiked past the survey marker to a scenic perch near the northwest end of the ridge. When we had our fill of eye-popping scenery, we returned to the survey marker and descended back to the col the way we came.

For the remainder of our descent, Shaun, Zosia and I chose to follow an alternate route that was first documented by Matt Hobbs. From the col, we headed north and descended a narrow corridor through the trees which is essentially the start of the drainage on the north side of Limestone Mountain. There was some deadfall here but nothing too heinous. The drainage eventually opens up lower down, but instead of staying in it, we dropped down along the edge of some slabs before traversing to skier's right to gain essentially the continuation of Limestone Ridge. Just as Hobbs had discovered, we found this lower section quite easy to descend, and there are even smatterings of trail and occasional cairns which suggest that some people possibly use this as a more direct ascent route for Limestone Ridge. Near the bottom, we stumbled onto a convenient exploration road which we followed all the way out to the highway. We concluded our trip with an easy walk back to the Galatea trailhead parking lot.
| | |
| --- | --- |
| | Zosia and Shaun descend the east side of Limestone Mountain en route to Limestone Ridge. |
| | Shaun and Zosia encounter some steep cliff bands on the east side of Limestone Mountain. |
| | Shaun and Zosia descend easier terrain after slithering down a loose gully. |
| | Here is a more comprehensive view of Limestone Mountain's complex east face. |
| | The Wedge serves as a nice backdrop for Shaun and Zosia as they grind their way up Limestone Ridge. |
| | Slabs guarding the ridge crest are easy to circumvent. |
| | Zosia and Shaun gain the crest of Limestone Ridge. |
| | Shaun is about to scramble over a narrower section of the ridge crest. |
| | Shaun stands on the high point of Limestone Ridge (2325 metres) for the second time in his life. |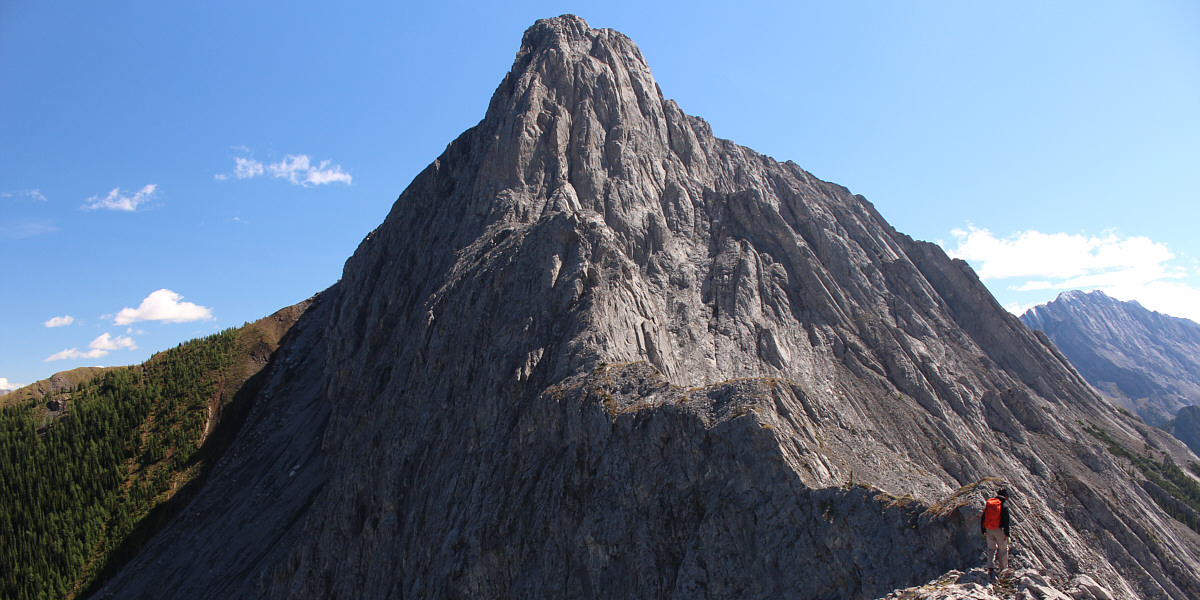 The connecting ridge to The Wedge becomes increasingly technical from this point on.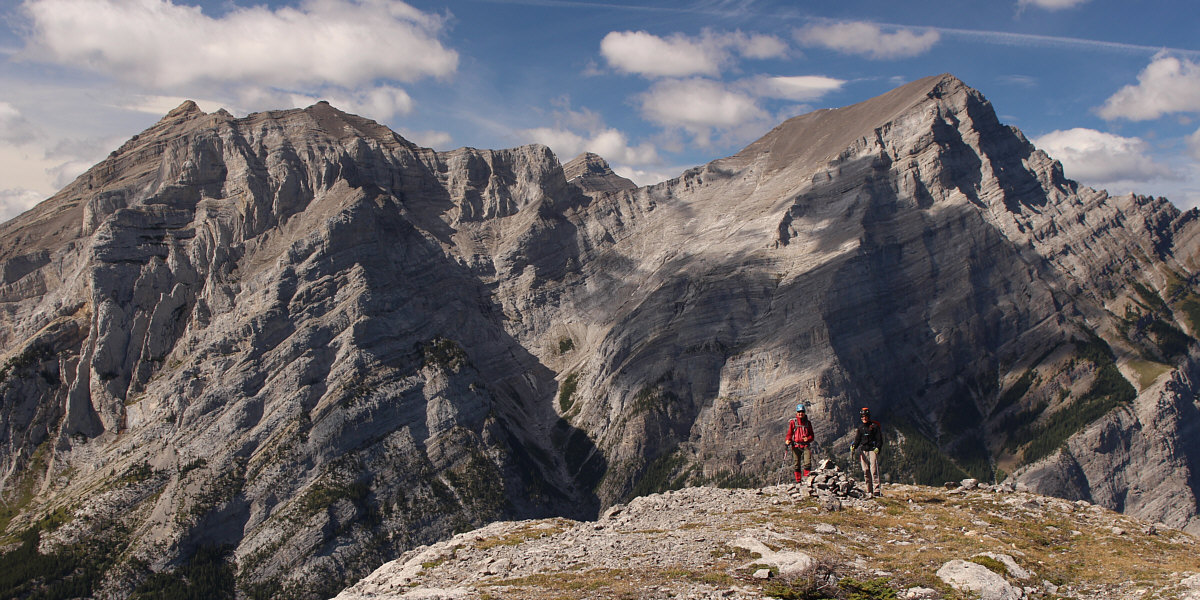 With Mount Kidd dominating the background, Zosia and Shaun gather around a cairn near the northwest end of Limestone Ridge.
Zosia makes her way back down to the col (bottom left) below Limestone Mountain's east face.

Zosia and Shaun take an alternate descent route north of Limestone Mountain.

Here is one last look at Mount Kidd from the ridge of descent.

Total Distance: 9.1 kilometres
Round-Trip Time: 7 hours 37 minutes
Cumulative Elevation Gain: 966 metres