BOU AVENUE
Shunga-la-she And Jagermeister Peak
---
On 26 June 2021, Zosia Zgolak and I were part of what turned out to be a large group of people climbing Shunga-la-she and Jagermeister Peak located in Alberta's Elbow-Sheep Wildland Provincial Park. A scramble route for Shunga-la-she is described in Andrew Nugara's guidebook, More Scrambles in the Canadian Rockies, but the unofficially-named peak was probably first brought to most scramblers' attention by Bob Spirko in 2001 when he and his party ascended the northwest ridge. Nugara actually ascended via the more difficult northeast ridge in 2005, but based on subsequent reports by Vern Dewit, Cornelius Rott and others, Spirko's route, with some slight variations, has proven to be more popular. As documented only by Rott to date, the extension to unofficially-named Jagermeister Peak is a much more challenging endeavour.

I had invited a number of people for this trip, but only Ali Shariat rendezvoused with Zosia and me early in the morning at Junction Creek Day Use area (at the end of Highway 546 about 38 kilometres west of Turner Valley). The three of us hiked the wide and easy-to-follow Sheep River Trail--basically an old road--for about 3.3 kilometres to a bridge which was recently rebuilt after the catastrophic floods of 2013. Immediately after crossing the bridge to the south side of Sheep River, we left the road to ascend a beaten path rising up a forested slope. The path seemingly peters out after awhile, but we fortuitously spotted some flagging and were soon climbing steadily up a ridge. Just before we reached tree line, Andrea Battistel and Peter Henostroza caught up to us. I had invited them for this trip, but they decided to start from the trailhead about half an hour after us. The five of us continued climbing together up the ridge. Breaking out of the trees, we soon joined Spirko's route, and we generally stayed close to the crest of the northwest ridge the whole way to the summit of Shunga-la-she. Other than some minor route-finding and easy hands-on scrambling, difficulties are few on this route.
Zosia and Ali start up Sheep River Trail which is essentially an old road.

Ali and Zosia reach the bridge over Sheep River with the east peak of Gibraltar Mountain in the background.

Zosia and Ali follow a faint trail into the forest after crossing the bridge.
A small clearing on the ridge grants another view of the east peak of Gibraltar Mountain.

Photo courtesy of Zosia Zgolak

Above tree line, Peter and Zosia grind their way up a rubble slope.
The ridge ahead can be tackled head on or circumvented on the right.
Zosia opts to tackle the ridge head on.
The group continues to scramble up the ridge.
The summit of Shunga-la-she still looks far away at left.
The group heads up the relatively easy final rise before the top. The actual summit of Shunga-la-she is not visible here.
Ali, Sonny, Zosia, Andrea and Peter reach the summit of Shunga-la-she (2614 metres).
Unofficially-named Highwood Peak (right) stands out to the south.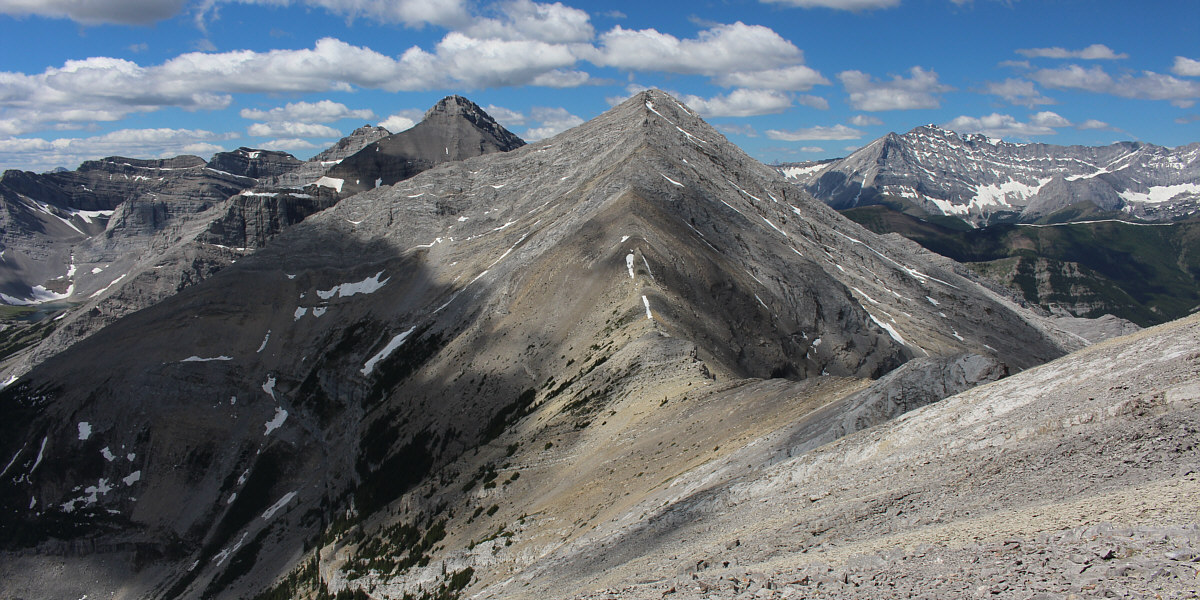 Jagermeister Peak beckons to the southwest. Further right in the distance is Mist Mountain.
While we relaxed on the summit, we were joined by Bert Blankenstein who had come up behind us. Although Zosia and I both know Bert, I had neglected to include him in my original invitation, but he coincidentally chose to climb the same peak as us on this day. Meanwhile, Andrea had already previously climbed Shunga-la-she, and she was keen on extending the trip to Jagermeister Peak. I had originally only planned on climbing Shunga-la-she because Zosia and I had a social engagement in Calgary that evening, but since it was still early, we thought that we would be able to squeeze in another summit. Bert had also only planned for Shunga-la-she, but being an avid peak-bagger, he could not resist joining the rest of us as we all began traversing toward Jagermeister Peak.

Almost right away, we ran into a serious obstacle along the connecting ridge to Jagermeister Peak. While it is possible to circumvent this obstacle, doing so would entail some significant elevation loss. Instead, Peter, who is a professional mountain guide, led us up an exposed crack in the middle of the obstacle, and we were now fully committed to completing the traverse. Unfortunately, the connecting ridge is more complex (Class 4) than it appears necessitating a lot of route-finding and a few awkward down-climbs. There is no shortage of scrambling opportunities on this ridge, but making progress up Jagermeister Peak can be tedious and time-consuming. In the end, it took us nearly 2.5 hours to traverse the 1.6 kilometres between the two peaks (Rott took just as long, but he had the added challenge of wintry conditions).
The group scrambles over a difficult obstacle along the connecting ridge between Shunga-la-she and Jagermeister Peak.
Bert follows Peter up an exposed crack on the obstacle.
The connecting ridge to Jagermeister Peak looks deceptively easy from this vantage point.

Ali, Peter and Andrea watch Zosia climb up one of many tricky rock steps along the connecting ridge.

The connecting ridge is turning out to be more complicated than anticipated.

Peter helps guide Andrea down a difficult step.

Photo courtesy of Zosia Zgolak

The scrambling seemingly never ends going up Jagermeister Peak.

On the summit of Jagermeister Peak (2744 metres) are Sonny, Peter, Andrea, Bert, Zosia and Ali.

The higher peak to the southwest is officially unnamed, but Andrew Nugara calls it "Crumble Peak".

Here is the view to the west.

Looking northwest, Gibraltar Mountain (left) and its east peak (right) are not nearly as distinct as Mount Rae (left horizon) or Mount Burns (right horizon).

Bluerock Mountain is visible at distant centre to the north. At bottom centre is the drainage the group would eventually exit on descent.
As we lounged on the summit of Jagermeister Peak, two more familiar faces joined us--Ben Wards and Parry Loeffler. The day before, Parry had contacted me about joining him for a backpack trip, but ultimately, he decided to come along for the scramble albeit starting a few hours later and dragging Ben along with him. Both of them were remarkably fast in tagging Shunga-la-she and then catching up to us on top of Jagermeister Peak.

With such a large group now, there were a lot of discussions about descent options. While I favoured returning the way we came and retracing our ascent route, some in the group were unenthusiastic about revisiting the many difficult spots along the connecting ridge. Another option was to drop down into the valley to the southeast where there was possibly a good trail leading down to Junction Creek. However, this option would be longer in terms of distance and would entail a potentially difficult ford of Sheep River at the end of the trip. In the end, we opted to descend a steep scree slope on the north side of Jagermeister Peak and follow the ensuing drainage out. In theory, this seemed like the shortest and easiest option, but as it turned out, it was anything but.

From the summit of Jagermeister Peak, the eight of us descended the connecting ridge briefly before turning north down a steep scree slope. Most of the rubble here was not ideal for surfing which made for a lot of tedious stumbling, but the worst aspect was the looseness of the slope. This was definitely not a good place to descend with such a large group, but to everyone's credit, we managed to mostly avoid raining rocks down on each other. A few of us including myself took advantage of some lingering snow patches to glissade part of the slope, but since I had neglected to bring my ice axe, I actually slid out of control at one point and crashed into some rocks near the bottom. Fortunately, I escaped injury when my boots and legs absorbed the impact, but the short ordeal was still a bit unnerving. Another brutal aspect of the descent was the heat from the sun which, combined with the reflection from the rocks, threatened to bake us alive. As such, we were thankful for some much-needed shade when we re-entered forest lower down.

At this point, Ben and Parry separated from the rest of us and quickly disappeared down the drainage while the rest of us muddled on a bit more slowly. Exiting the drainage is far from trivial and entails a lot of moderate to heavy bushwhacking. Somewhere along the way, Bert and I became separated from the other remaining four in our group, and between the stifling heat and the thick bush, I felt both my energy and morale waning. Luckily, Bert and I got a bit of a boost when we finally reached the flowing creek within the drainage. We took an extended break here to quench our growing thirst and replenish our depleted water supply before moving on. Andrea, Peter, Ali and Zosia were considerate enough to wait for Bert and me, and the six of us reunited shortly after bypassing (to skier's right) a waterfall in the drainage. Some more bushwhacking ensued, but we eventually stumbled onto a good beaten path which led us back to Sheep Trail only a few hundred metres west of the bridge. It had taken us a whopping 4.5 hours to get there after leaving the summit of Jagermeister Peak!

The remaining long walk back to the trailhead was not without some drama. We encountered two separate black bears along the old road, but fortunately, both bears were eager to avoid us (unfortunately, none of us were quick enough to snap any photos). More amusing was an ornery male spruce grouse standing in the middle of the road. Likely guarding a nearby nest, the grouse was extremely aggressive as it fearlessly approached and pecked us as we tried to pass by. Even when we passed it, the grouse continued to chase and peck us repeatedly until we were well beyond its domain.

Because this turned into an unexpectedly long trip, Zosia and I sadly missed our engagement in Calgary that evening. We will have to make it up to our other friends at a later date, but when we do, perhaps we can regale them with tales of this rather memorable day in the mountains filled with exciting scrambling, exquisite scenery, excruciating suffering, and excellent socializing.
The group descends partway down the connecting ridge to Shunga-la-she (upper right).

The group abandons the ridge to descend a steep scree slope on the north side of Jagermeister Peak.

Andrea and Ben take advantage of a snow patch to slide down the scree slope.

Photo courtesy of Zosia Zgolak

Ali opts to plunge-step down the snow patch.
Here is a look back at the scree slope that the group descended.
The exit out the drainage north of Jagermeister Peak is far from trivial.

Photo courtesy of Zosia Zgolak

Back on Sheep Trail, Sonny is attacked by a fearless male spruce grouse which is likely protecting a nearby nest.

Photo courtesy of Zosia Zgolak

Total Distance: 17.9 kilometres
Round-Trip Time: 14 hours 12 minutes
Cumulative Elevation Gain: 1374 metres