BOU AVENUE
Cornea Ridge
---
On 28 May 2022, Bob Spirko invited Zosia Zgolak and me to join him for a traverse of an unnamed ridge located in Alberta's Cataract Creek Snow Vehicle Public Land Use Zone. Due to the ridge's close proximity to Cataract Creek campground, Bob came up with a whimsical name for our objective--Cornea Ridge. Logging roads in the area provide easy access to the ridge, but given the shortness of this hike, we did not bother to bring our bicycles for the approach.

Starting from the day use area on the west side of the Forestry Trunk Road (SR 940; 13.3 kilometres south of Highwood Junction), Bob, Zosia and I walked eastward along the turnoff to Cataract Creek campground for about 100 metres before veering right onto a logging road. We soon passed a locked gate restricting motorized access and continued for a couple hundred metres to the first of two switchbacks in the road. We took a brief short cut here and regained the road past the second switchback. From there, we followed the road for about 1.4 kilometres to a good bridge which crosses a tributary of Salter Creek. Just past the bridge, we ignored a side road branching off to the right and carried on along the main road which makes a big curve to the north before bending back to the south. About 1.6 kilometres past the bridge, we abandoned the road to climb up a large clear cut and gain the north end of Cornea Ridge. The ridge crest is mostly forested, but we had little trouble climbing up to the mostly viewless high point.

After stopping for a short break in a small clearing just south of the high point, Bob, Zosia and I followed the forested ridge crest southward until we popped out into another clear cut. We easily dropped down here onto the very same road we had used for our approach. Turning northward, we walked parallel to Cornea Ridge for about 1.3 kilometres along the road before abandoning it again to take another short cut through a logged area. This conveniently led us to the side road which we had ignored earlier, and once we returned to the junction near the bridge, we simply retraced our steps back to the day use area without any issues.

Be sure to check out Bob's trip report.
| | |
| --- | --- |
| | Bob and Zosia walk along a logging road with North Peak of Burke and Mount Burke visible in the distance. |
| | There are lots of bear footprints in the area. |
| | Cornea Ridge comes into view. Bob and Zosia would climb up the ridge via the clear cut at left and return along the road visible at distant right. |
| | Bob and Zosia approach the clear cut at the north end of Cornea Ridge. |
| | Zosia and Bob ascend the clear cut. |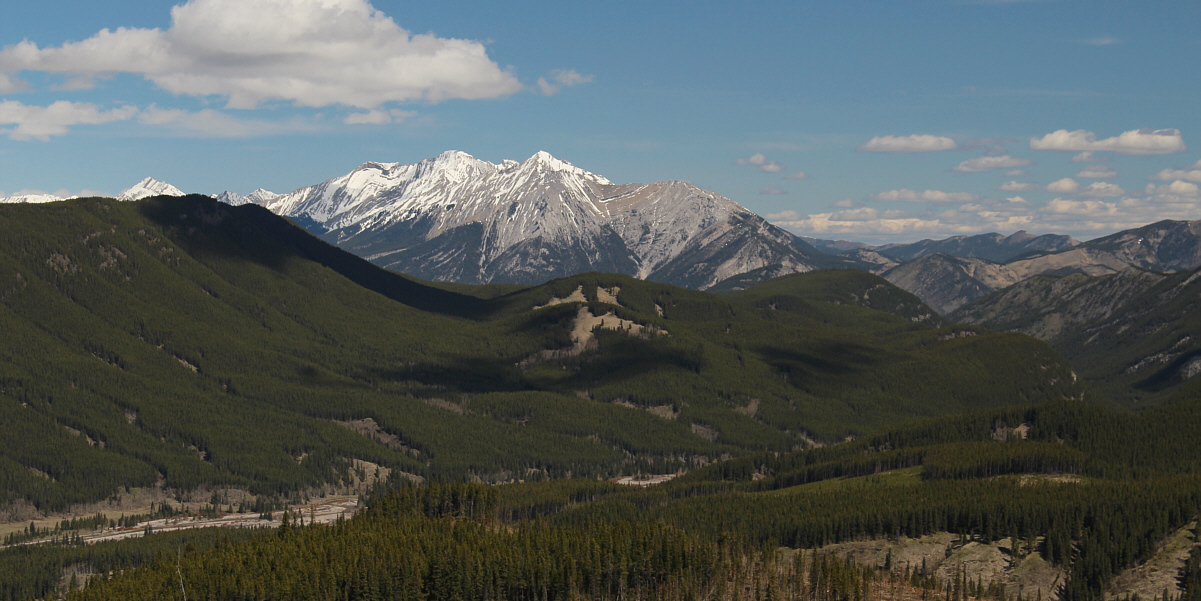 From the clear cut, there is a nice view to the north of Mount Head and Holy Cross Mountain.
Zosia follows Bob up the north end of Cornea Ridge.
A break in the trees along the ridge grants this view of distant peaks to the west.
Sonny, Bob and Zosia stand on the viewless high point of Cornea Ridge (2066 metres).

Leaving the high point, Zosia continues southward along the ridge crest.

Bob and Zosia enter another clear cut near the south end of Cornea Ridge. Plateau Mountain is visible at left in the distance.
Bob and Zosia hike northward on a road which runs along the west side of Cornea Ridge. The snowy peak on the horizon is Mist Mountain.
Bob and Zosia take a short cut through another logged area.
Total Distance: 9.9 kilometres
Round-Trip Time: 4 hours 5 minutes
Net Elevation Gain: 404 metres