BOU AVENUE
Grouse Mountain
---
Not to be confused with its popular namesake near Vancouver, British Columbia, Grouse Mountain is an obscure and lowly hill on the western shore of Lake Pend Oreille in Idaho's Bonner County. During my research for Little Blacktail Mountain to the south, I had picked out Grouse Mountain as a possible second hiking objective for the same day. While we had no issues climbing Little Blacktail Mountain on 29 March 2019, the snow on Grouse Mountain was more abundant and less supportive. Rather than spend a long day post-holing and floundering through deep snow, we decided to abandon our attempt on Grouse Mountain, and in retrospect, this was probably a wise decision. On 22 April 2019, Zosia and I were wrapping up a whirlwind road trip to central Oregon, and since we were passing through the area, we decided to give Grouse Mountain another try.

From US Highway 95, turn east onto Sagle Road about 4.7 kilometres south of the south end of Long Bridge near Sandpoint or 64 kilometres north of the interchange between Highway 95 and I-90 in Coeur d'Alene. Ignore all side roads and drive for about 6.9 kilometres to a T-intersection with Discovery Way. Turn south and drive for about 800 metres passing under a big ranch sign. Veer left onto Lewis Trail and drive for about 900 metres to a junction with Grouse Mountain Trail. Keep right and continue for about another 770 metres until the pavement ends. About 60 metres further, a small pullout just before a locked gate has room for maybe two vehicles. Be sure not to block the locked gate or any private access roads if parking further back on the pavement.

Starting from the locked gate, we hiked along the continuation of the gravel road which is remarkably well-maintained and was snow-free on this day. About 2.5 kilometres from the gate, we spotted a distinct beaten path heading into the forest. We were not sure if this path would lead anywhere, but knowing that we would eventually have to leave the road anyway, this seemed like a logical spot to do so (given that this is prime snowmobile and OHV country, it is surprising that there are no existing roads that run all the way to the top of Grouse Mountain). Not entirely unexpectedly, the beaten path petered out fairly soon after we left the road, but we pushed on anyway through some light bush to gain the open north ridge of Grouse Mountain. Despite the odd bushy section or lingering snow patch, our hike up the north ridge was most enjoyable. Some of the vistas from the ridge are actually superior to that from the summit, and at one point, we also startled a young moose which disappeared before we had a chance to snap a photograph.
Zosia passes a gate near the start of the hike.
A dead deer rests on the side of the access road. The photo on the left was taken over three weeks earlier.
A faint beaten path through the trees seems like a logical spot to leave the road.

Photo courtesy of Zosia Zgolak

With the beaten path petering out, Zosia continues off-trail through the forest.
Zosia clears the forest and ascends an open slope.
Gold Mountain can be seen to the north as Zosia climbs the open slope.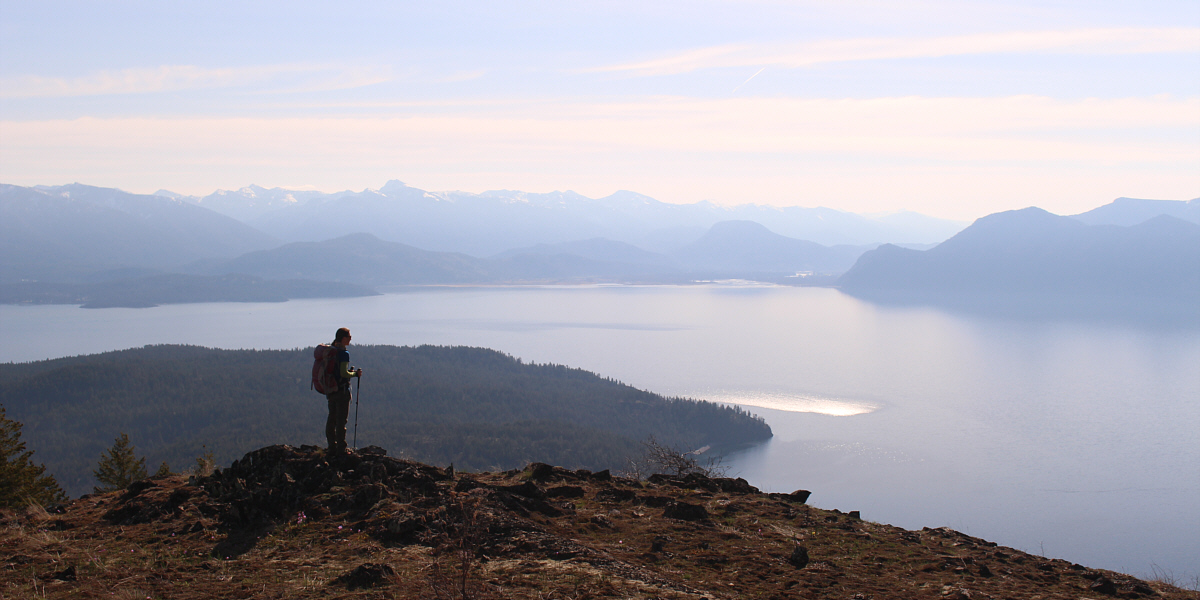 A plateau along the north ridge of Grouse Mountain grants an unobstructed view of the eastern half of Lake Pend Oreille. At left in the hazy distance is Scotchman Peak.
Sonny approaches the summit cairn on Grouse Mountain.

Photo courtesy of Zosia Zgolak

Sonny and Zosia stand near the summit of Grouse Mountain (1289 metres).
When Zosia and I reached the summit of Grouse Mountain, we stopped only long enough to snap some photos before wandering south to a clearing which granted some nice views of the southern half of Lake Pend Oreille. We initially considered sitting down here for a snack, but after catching a few ticks crawling up our pant legs, we got out of there pretty quickly and promptly began our descent.

Instead of retracing our steps along the north ridge, we opted to take a short cut down the western slopes in hopes of saving some extra time and distance. We encountered a few more deep snow patches here, but luckily, they were generally short-lived. The bushwhacking was a bit more heinous though, and there were moments where I began to have second thoughts about our choice of route. After a lot more thrashing than I would have liked, we finally emerged onto our original well-maintained road albeit along a section that was well beyond where we had originally left it. We briefly hiked along the road only to leave it again with the lure of another short cut along a rougher and more overgrown road. We followed this rougher road until it started to turn uphill, and at this point, we re-entered the forest to continue our descent. Thankfully, the bushwhacking here was light, and travel was pleasant and easy.

Near the bottom, we inadvertently emerged from the forest onto private property, but we only had a short distance to walk out the driveway and back to my car.
| | |
| --- | --- |
| | Zosia wanders toward the south end of the summit ridge. |
| | At the south end of the summit ridge, Zosia gets a nice view of the southern half of Lake Pend Oreille. |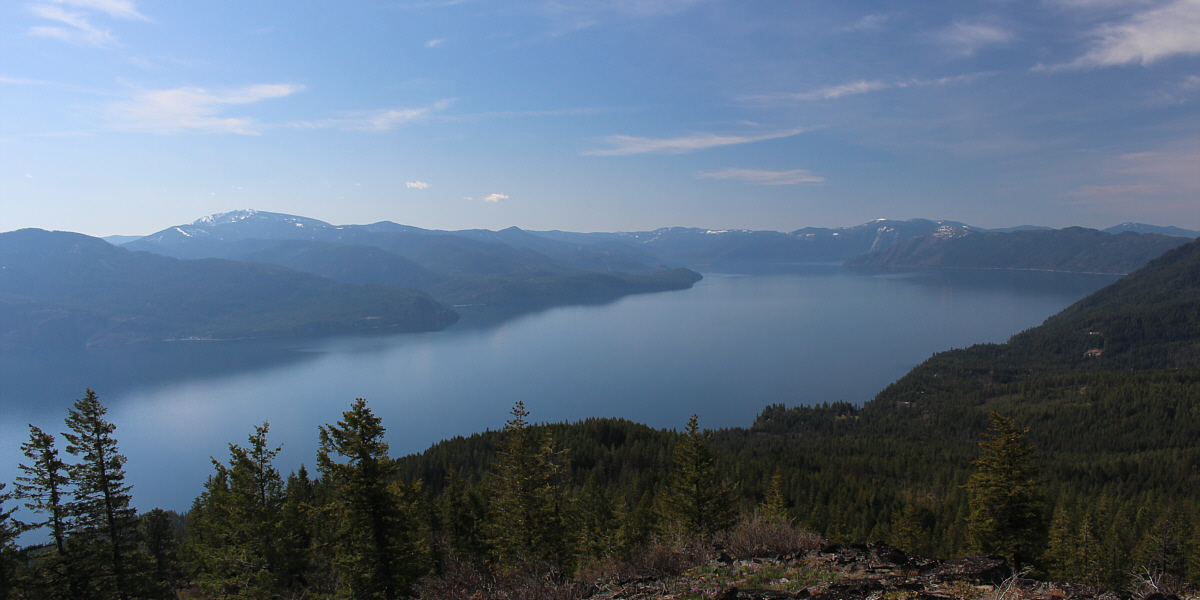 Here is another look at the southern half of Lake Pend Oreille. At left is Packsaddle Mountain.
Grasswidow flowers (Olysinium douglasii) are blooming all over Grouse Mountain.
Zosia takes a short cut down the west side of the mountain.
The bushwhacking on the west side of Grouse Mountain is moderately tough.
Zosia follows an unmarked logging road partway down the mountain.
The bushwhacking is lighter lower down the mountain.
Total Distance: 7.3 kilometres
Round-Trip Time: 3 hours 23 minutes
Net Elevation Gain: 428 metres