BOU AVENUE
Gypsum Ridge
---
On 7 December 2019, Zosia Zgolak and I initially had plans to ski up an old road which runs more or less up Gypsum Creek valley in Alberta's Peter Lougheed Provincial Park. This road appears on most topographical maps and branches off from another road leading to an old gypsum mine on the northeast slopes of Mount Invincible. The road to the gypsum mine is a strenuous but fairly straightforward ski trip which is described in Gillean Daffern's out-of-print guidebook, Kananaskis Country Ski Trails. Had I read Daffern's route description more carefully, I would have noticed that she briefly mentions the branching road into Gypsum Creek valley as being "hopelessly overgrown". Blissfully unaware of this statement, Zosia and I started skiing from the winter gate for Peninsula day use area which is located along Smith-Dorrien/Spray Lakes Trail (Highway 742) about 3.1 kilometres west of the junction with Kananaskis Lakes Trail. Following various roads along the north shore of Lower Kananaskis Lake, we headed westward for about 1.3 kilometres before crossing the frozen inlet at the mouth of Smith-Dorrien Creek. On the south side of the inlet, we briefly carried our skis up a narrow but distinct path through the trees guarding the embankment until we gained the start of the gypsum mine road.

Zosia and I skied south along the well-defined gypsum mine road for about 800 metres before reaching the "junction" with the branching road to Gypsum Creek valley at a hairpin turn. "Junction" might be a bit of a stretch as we discovered to our dismay that the branching road was completely overgrown just as Daffern had reported. Out of curiosity and with some faint hope for better conditions further up the valley, we tried to ski the road anyway, but after grinding through about 350 metres of heinous deadfall, we gave up and turned around. In my opinion, there may still be some merit for exploring this reclaimed road using snowshoes, but skiers would be well-advised to avoid it like the plague.
Sonny descends to the inlet near the mouth of Smith-Dorrien Creek at the north end of Lower Kananaskis Lake. Gypsum Ridge is visible in the background.

Photo courtesy of Zosia Zgolak

Zosia is shocked to see some icy "shark fins" sticking out of the snow-covered inlet at the mouth of Smith-Dorrien Creek.

On the other side of Smith-Dorrien Creek, Zosia proceeds up the road which ultimately leads to a gypsum mine.
The road to Gypsum Creek does not appear to be well-traveled.
Sonny struggles to get past some deadfall blocking the road to Gypsum Creek.

Photo courtesy of Zosia Zgolak

Giving up on reaching Gypsum Creek, Zosia beats a hasty retreat along the overgrown road.
Hoping to salvage the day, Zosia and I decided to ski up Gypsum Ridge which I had previously ascended in 2016 using snowshoes. Unfortunately, I made a mistake thinking that we could simply gain the west end of the ridge from the gypsum mine road and work our way eastward to the high point. There are some short but troublesome dips along the ridge which are not indicated by the contour lines on any topographical maps, but worst, most of the terrain here is very bushy and, like the reclaimed road, not conducive to skiing. The bush was so bad that, at one point, I thought that we had stumbled onto someone else's ski tracks only to realize shortly after that we had gone in a complete circle. We wasted some time here going in the wrong direction since it took awhile for my GPS to orient correctly in the forest.

Even after we righted our course, bushwhacking along the ridge crest with our skis was a miserable affair, and I was starting to become frazzled both physically and mentally. We eventually resorted to carrying our skis for a short distance before ditching them altogether some 400 metres short of the ridge's high point. Luckily, the snow was not too deep for hiking, and by then, we had finally found a path of some sort which made travel much easier through the trees. We had no further difficulties reaching the true high point of Gypsum Ridge and the subsidiary viewpoint further east. On this day, the surrounding views under an overcast sky hardly justified the Herculean effort to reach the viewpoint, and we only stayed long enough to take an obligatory photograph before retracing our steps back to our skis.
| | |
| --- | --- |
| | Zosia makes better progress along the gypsum mine road. |
| | Leaving the road, Zosia skis through some rather miserable terrain en route to Gypsum Ridge. |
| | After a few hours of thrashing through thick bush, Zosia finally emerges onto the semi-open crest of Gypsum Ridge. |
| | Behind Zosia is the actual high point of Gypsum Ridge (2117 metres). |
| | Sonny and Zosia stand on the eastern high point of Gypsum Ridge. Behind them is Mount Indefatigable. |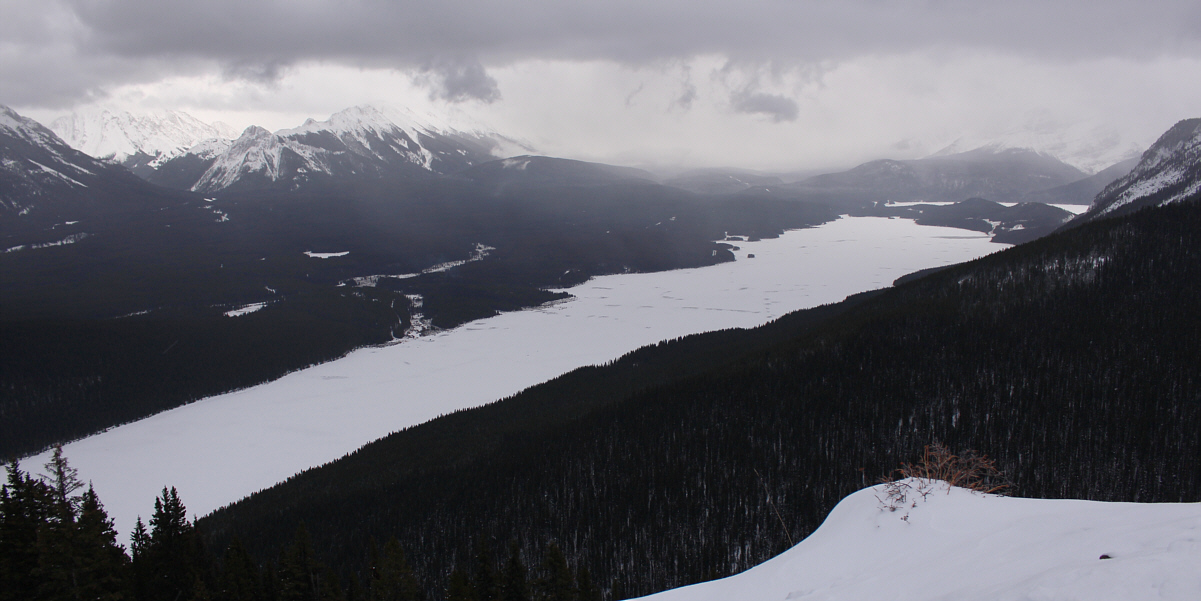 Lower Kananaskis Lake stretches away to the south.
For our descent, Zosia and I again carried our skis until we cleared the steeper sections of the ridge and the worst deadfall. Instead of retracing our earlier tracks after strapping our skis back on, we made a beeline for one of the switchbacks in the gypsum mine road. Once again, we had to contend with bushy terrain, but we made better progress here and regained the road with seemingly less struggles. After all the tribulations we had suffered, we were finally rewarded at the end of the day with an excellent ski down the gypsum mine road. I had a minor problem with my bindings while re-crossing the frozen inlet, but otherwise, the remainder of our return was uneventful.
Zosia descends a bushy slope to regain the gypsum mine road.
Total Distance: 14.8 kilometres
Round-Trip Time: 8 hours 12 minutes
Net Elevation Gain: 430 metres