BOU AVENUE
Healy Pass Peak
---
Healy Pass Peak is the unofficial name of a prominent ridge to the north of well-traveled Healy Pass in Alberta's Banff National Park. This is a very popular peak-bagging objective if the wealth of online trip reports is any indication, and Zosia Zgolak and I had been eyeing it as a possible ski ascent for quite some time. However, we were adamant about having absolutely clear weather conditions before making an attempt because we did not want to be cheated out of what promised to be amazing summit views. When we left Calgary early on the morning of 24 February 2019, we were still not quite sure where we wanted to go skiing that day, and the brutally cold temperatures did not exactly inspire us to try a long and committing trip. We decided to drive to Sunshine Village Ski Resort, and if the weather was looking marginal, we would simply skin up the ski-out and do a few downhill turns for practice. When we arrived at the parking lot though, it looked like the weather was going to be clear and sunny, and we opted to give Healy Pass Peak a go.

From the lower gondola station, we followed Lower Canyon ski run for about 700 metres before turning onto the trail to Healy Pass. This trail descends to a bridge over Sunshine Creek before continuing westward. The next three hours would be a somewhat monotonous plod for us up Healy Creek valley on a well-packed trail. The forest offered little in the way of views, but worse, it shaded us from the morning sun which made for very frosty conditions. Even with heat packs--albeit poor ones--in my mittens, I constantly had to clench my hands into a fist to warm them up. Fortunately, my toes went numb fairly early, and I did not feel much from them until later in the day.

Things improved once we started to break out of the trees and into the open environs of Healy Pass. The bright sun warmed us up considerably, and best of all, there was not a breath of wind anywhere. Before reaching Healy Pass, we veered north and easily gained the south ridge of Healy Pass Peak. Except for a few rocky spots where snow coverage was a bit thin, we generally had no problems climbing up the south ridge all the way to the summit. The summit views did not disappoint, and both Zosia and I were jubilant about picking the right day to be up there with perfect weather conditions.

After snapping our requisite photos and removing our climbing skins, we considered a few options for descending, but ultimately, we simply skied back down the south ridge. The few thin spots on the ridge probably left a few scrapes on the bases of our skis, but we managed to get down to the open meadows of Healy Pass without any spills. We enjoyed a little powder skiing in the meadows before regaining the Healy Pass trail and re-entering the forest. Strangely enough, the best skiing of the day was descending the luge-track-like trail with its many twists and turns through the forest just below Healy Pass. Snow conditions were excellent which made the skiing very enjoyable.

The remainder of the ski back along Healy Creek had short-lived moments of downhill fun interspersed with long tedious stretches of flat or even uphill sections. Both of us had remnants of skin glue which remained stuck to our ski bases, and this adversely affected our glide on the flat sections. However, this was also a blessing in disguise since we could also walk up the many uphill sections as if we had grip wax on our skis. This saved us a great deal of energy since we rarely had to resort to herringboning. In fact, we had no trouble skiing up the final long uphill section between Sunshine Creek bridge and Lower Canyon ski run. From there, we easily cruised back to the lower gondola station to conclude one of the most satisfying ski trips to date for us.
| | |
| --- | --- |
| | Zosia climbs up the trail to Healy Pass. |
| | Larches pervade the landscape as the forest begins to thin out. |
| | The terrain is wide open near Healy Pass. |
| | Zosia veers toward Healy Pass Peak (right). |
| | An unnamed ridge nearby also looks enticing to ski. |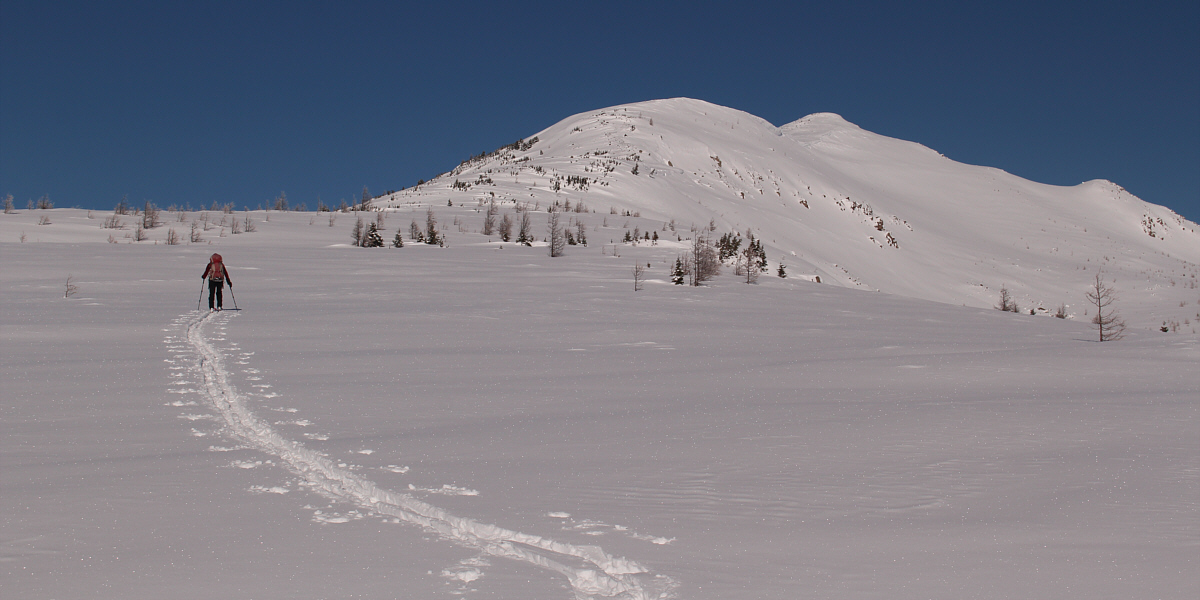 Zosia approaches the south ridge of Healy Pass Peak.
| | |
| --- | --- |
| | Some parts of the south ridge are still a bit rocky. |
| | Zosia makes the final push to the summit. |
| | Sonny and Zosia stand on the summit of Healy Pass Peak (2578 metres). |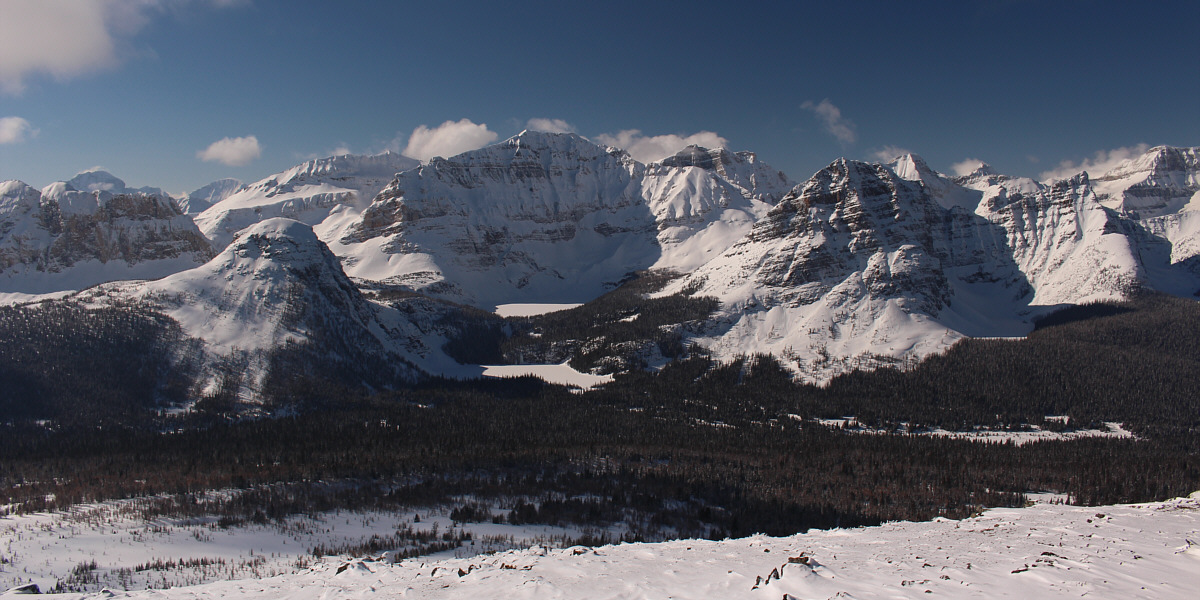 The view to the west includes Sugarloaf Mountain (left foreground; also known as The Sphinx or Natalko Nubbin), Egypt Lake (lower), Scarab Lake, Haiduk Peak (right of centre) and Pharaoh Peaks (right).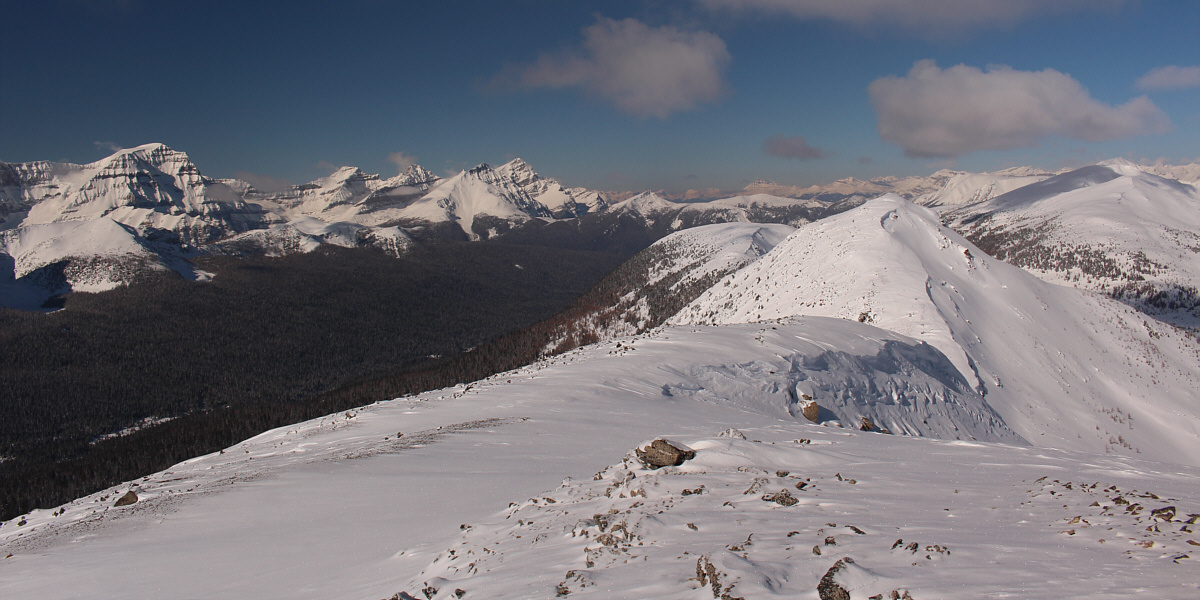 The view to the northwest includes Mount Ball (far left), Storm Mountain (left of centre) and Mount Hector (distant horizon right of centre). The unnamed ridge in the foreground at right is likely higher than Healy Pass Peak.
| | |
| --- | --- |
| | Pilot Mountain's summit block stands out to the northeast while the top of Mount Brett is obscured by a passing cloud. |
| | There is a lot of open terrain to explore between Healy Pass Peak and Mount Bourgeau (right). |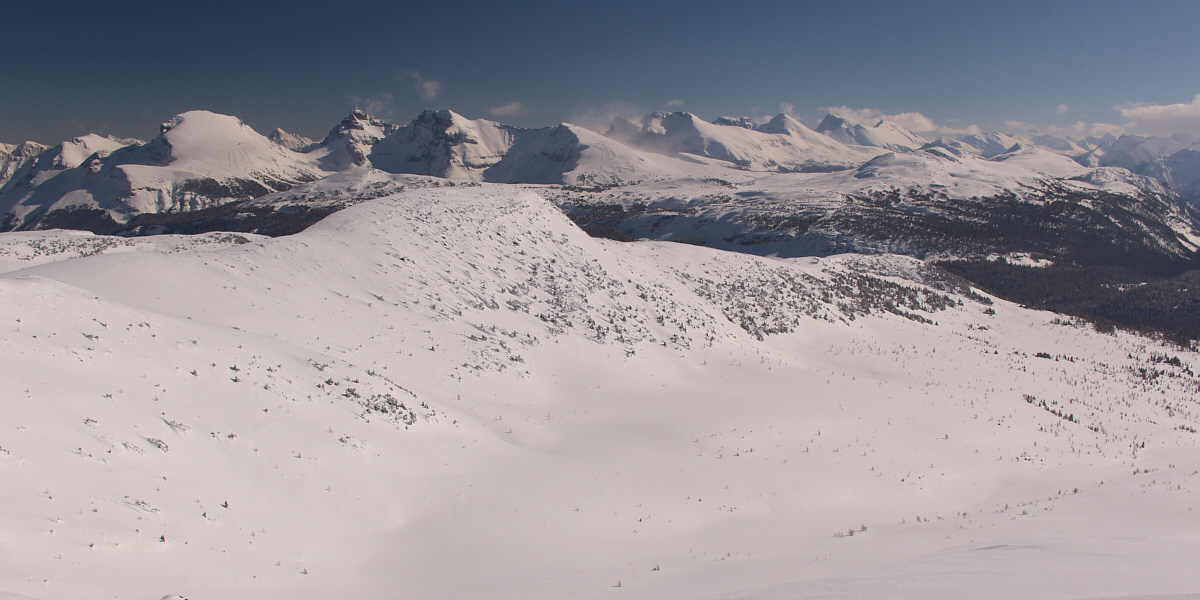 Notable peaks visible to the southeast include Eagle Mountain, Mount Howard Douglas, Fatigue Mountain, Nasswald Peak and Golden Mountain.
Zosia descends the south ridge of Healy Pass Peak with The Monarch (centre) dominating the southern skyline.
Zosia ducks under a tree trunk while skiing back from Healy Pass.
Zosia carefully crosses the bridge over Sunshine Creek.
Total Distance: 19.7 kilometres
Round-Trip Time: 7 hours 11 minutes
Net Elevation Gain: 939 metres