BOU AVENUE
Highway 1A
---
Taking advantage of a fantastic weather forecast on 13 May 2023, Zosia Zgolak and I went for an out-and-back bicycle ride along Highway 1A (Bow Valley Parkway) in Alberta's Banff National Park. As part of a three-year pilot project by Parks Canada, the eastern section of Highway 1A from its junction with the Trans-Canada Highway to Johnston Canyon is closed to public motorized vehicles from May 1 thru June 25. As such, this has become a phenomenally popular route for cyclists of all shapes and sizes. Although parking is available at Johnston Canyon, most people begin their ride from the town of Banff or along Vermilion Lakes Road since there is no parking allowed at the Trans-Canada Highway junction.

Zosia and I were lucky enough to find parking at the Fenland trailhead along Mount Norquay Road, and that is where we started our ride. After briefly riding northward along a connector pathway, we turned westward onto Vermilion Lakes Road. Although motorized traffic is allowed on this road, it is usually pretty light, and while the 4.3-kilometre ride to road's end does not take very long, we could not resist stopping a few times to marvel at the scenic views across the Vermilion Lakes. At road's end, we continued on the paved Legacy Trail for another 1.8 kilometres before reaching the exit ramp from the Trans-Canada Highway which is also the east end of Highway 1A. The ride to Johnston Canyon was both scenic and thoroughly enjoyable. Among the many undulations in the highway, the toughest hill to climb is at a big split just west of Hillsdale Meadows, but the hard work to get up to the high point of the ride is more than compensated for by an exhilarating downhill run just before reaching Johnston Canyon.

Zosia and I stopped in front of Johnston Canyon Lodge for a pleasant lunch break before commencing our ride back to Fenland trailhead. With the exception of a couple of splits along Highway 1A, our return route was the same, and the ride back was equally enjoyable. We even spotted a black bear which was a nice bonus.

Perhaps the nice weather had something to do with it, but I cannot overstate how much I enjoyed this trip. Hopefully, Parks Canada will turn its pilot project into permanent policy as I would certainly be in favour of repeating this ride annually. Maybe next time, I will try it with my e-bike!
| | |
| --- | --- |
| | Zosia rides along Vermilion Lakes Road with Mount Bourgeau in the background. |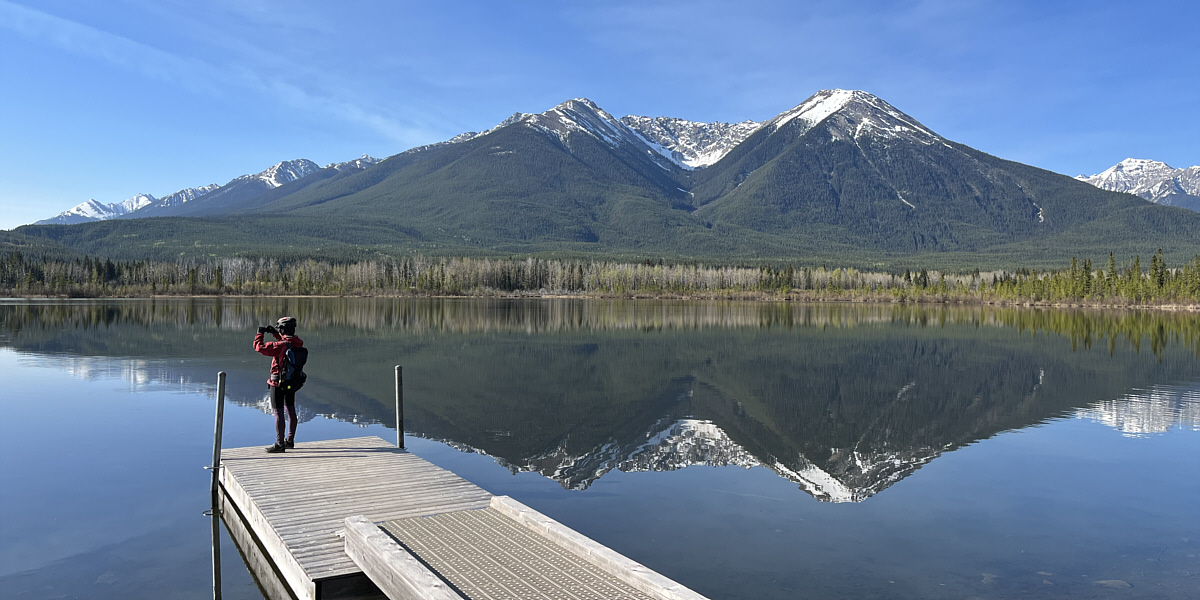 The Sundance Range is reflected in the waters of one of the Vermilion Lakes.
Zosia opens a gate along a section of the Legacy Trail.

Zosia arrives at the east end of Highway 1A (Bow Valley Parkway).

Pilot Mountain comes into view as Zosia descends a hill along Highway 1A.

Zosia gets her first glimpse of Mount Ishbel in the distance.
Zosia reaches Hillsdale Meadows. At left is Hillsdale Ridge while at right is Mount Ishbel.
Castle Mountain is visible in the distance as Zosia arrives at Johnston Canyon.
The washrooms at Johnston Canyon look like a fancy lodge.
Cyclists wait patiently as a black bear casually crosses the highway.

Photo courtesy of Zosia Zgolak

This is apparently a popular frog crossing.
Zosia and Sonny stop along a section of highway overlooking the Bow River.
The views across Vermilion Lakes are just as nice the second time around.
Total Distance: 48.7 kilometres
Round-Trip Time: 4 hours 13 minutes
Cumulative Elevation Gain: 244 metres