BOU AVENUE
Ruby Ridge
---
On 27 September 2020, Zosia Zgolak and I took advantage of a unique opportunity for a bike and hike trip to Ruby Ridge in Alberta's Waterton National Park. The usual driving access for Ruby Ridge is via Akamina Parkway, but the road has been closed to public access ever since the devastating Kenow Wildfire in 2017. Recently, Parks Canada announced that it would be re-opening Akamina Parkway for motorized traffic on 1 October 2020, but before then, hikers and bicyclists would be allowed to travel along the newly-paved road. Although cycling Akamina Parkway to climb Ruby Ridge would entail extra distance and elevation gain, doing so without the presence of motorized vehicles held a lot of appeal for us.

Starting from the Emerald Bay day use area (flush toilets available) on the north side of the townsite, Zosia and I cycled across Highway 5 and soon passed the gate at the start of Akamina Parkway. The road climbs 175 metres over the first three kilometres, and this was the most strenuous section of cycling for us. Beyond this initial steep section, the road levels out, and we enjoyed a more gradual climb the rest of the way to a historical interpretive display about eight kilometres from the gate. It took us about fifty minutes to cycle here. For the hike up Ruby Ridge, we opted to do the same loop described by Bob Spirko, and therefore, we ditched our bicycles at a parking lot near the interpretive display and walked the remaining 1.2 kilometres along the road to the Lineham Creek trailhead.

On our way to the trailhead, Zosia and I were surprised to see a hiker walking towards us on the road. He had been hiking solo along the Lineham Creek trail en route to Mount Blakiston but turned around when he encountered a couple of bears. When I told him where we were headed, the hiker--his name is Serge Massad--asked if he could accompany us at least as far as the turnoff to Ruby Ridge, and we were more than happy to have him tag along. From Serge's account, the bears did not seem aggressive, and I felt confident that we could scare them off by making lots of noise. Zosia was also equipped with bear spray as a defensive backup. Reaching the trailhead, the three of us hiked the well-maintained Lineham Creek trail for roughly 1.8 kilometres before taking off up the hillside to the right. We saw no sign of the bears, but by this point, Serge had pretty much given up on ascending Mount Blakiston and was content to stick with Zosia and me on Ruby Ridge.

While chatting on the trail, Zosia and I learned that Serge is a Lebanese stock broker from Montreal who, like me, has no children but owns two cats. He was also formerly a signals officer in the Canadian army reserves. Most astonishingly, we learned that he is a member of the Seven Summits Club with an impressive peak-bagging résumé. Because of international travel restrictions due to the current pandemic, Serge flew to Alberta for a vacation and had been spending the last two weeks tagging various county high points throughout the province. I find it amusing that someone who had climbed such challenging mountains as Mount Everest or Mount Logan would be so keen on tagging a viewless hill like Blue Ridge near Turner Valley or a lowly fire lookout near Cold Lake! In spite of all his mountaineering accomplishments, Serge is very modest and personable without a hint of ego. Throughout the rest of our hike, he would regale us with lots of interesting and sometimes amusing personal stories which are sadly beyond the scope of this trip report.

The 640-metre climb from the trail to the high point of Ruby Ridge is steep but not technically challenging. It took us about an hour and forty-five minutes to reach the top after leaving the trail, but great conversations made the time seemingly fly by. After taking a short break near the high point, we made our way down the connecting ridge to the lower east summit. There are some short but steep drop-offs here, and we had to search a few times to find the easiest way down. Even then, some fresh snow made descending these drop-offs a bit tricky, but fortunately, we were able to muddle our way down to easier terrain without any serious grief. The remainder of the hike to the east summit was both easy and pleasant.

To complete Spirko's loop, we backtracked a little from the east summit before descending an obvious ridge to the south. There are a few big drop-offs along this otherwise easy route, but all of them can be circumvented usually to skier's right. The ridge broadens and becomes more bushy lower down, but deadfall was surprisingly minimal. By luck, we popped out of the bush right where Zosia and I had stashed our bicycles. We parted ways with Serge here and thanked him for his wonderful company. He would eventually walk back via Crandell Lake to his car parked along Red Rock Parkway. Meanwhile, Zosia and I mounted our iron steeds and cruised back to the townsite in a mere twenty minutes to conclude an immensely satisfying day in our beloved Canadian Rockies.
| | |
| --- | --- |
| | Zosia enjoys smooth riding on the newly-paved Akamina Parkway which is closed to motorized traffic on this day. The east summit of Ruby Ridge is visible in the background. |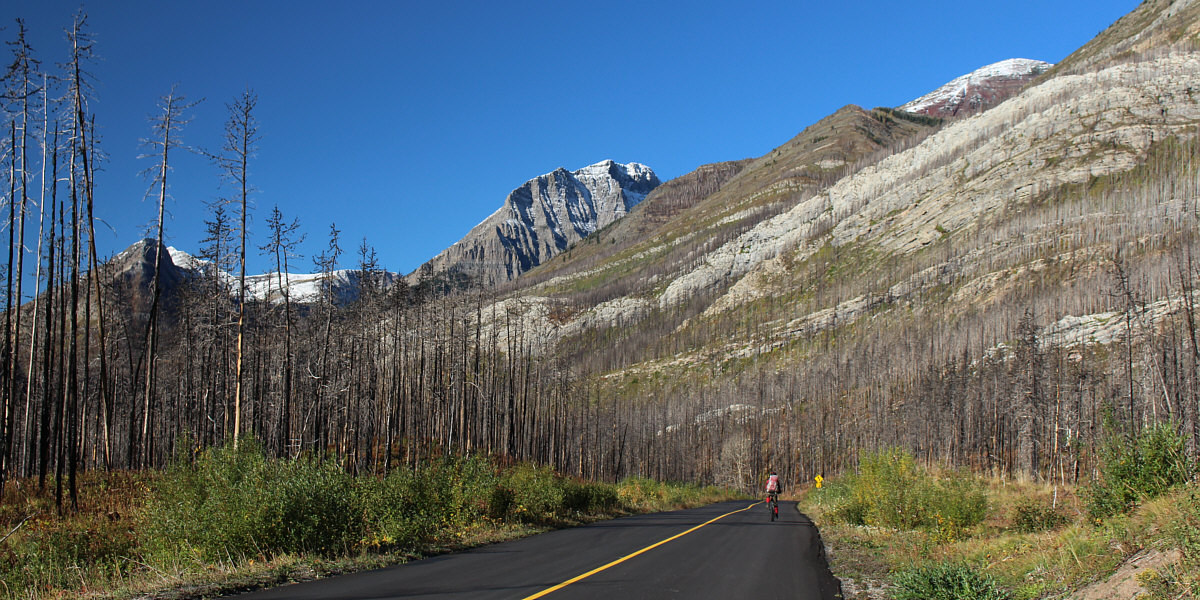 The high point of Ruby Ridge is barely visible at upper right. The alternate descent route described by Bob Spirko is the grassy ridge behind the band of white rock.
After ditching his bicycle nearby, Sonny checks out the interpretive display for western Canada's first producing oil well.

Photo courtesy of Zosia Zgolak

After turning around further up the trail because he ran into a couple of bears while hiking solo, Serge Massad returns with Zosia to Lineham Creek trailhead (1558 metres). The area closure sign is directed only at equestrians.
The route up Ruby Ridge leaves the Lineham Creek trail roughly at this spot.
Serge and Zosia weave through a forest of burnt trees.
Mount Blakiston (right) was Serge's original objective for the day.
After a lengthy climb, the high point is finally within sight.
Serge, Zosia and Sonny stand atop the high point of Ruby Ridge (2435 metres).
Visible across the southern horizon are Mount Alderson, Buchanan Peak, Buchanan Ridge, Mount Carthew, Chapman Peak (US), Mount Custer (US), and Cameron Lake.
The view to the west includes Mount Hawkins (far right) and Lineham Lakes which are a bit difficult to discern in the larch-filled basin at left.
Mount Blakiston and Ruby Lake steal the show to the northwest.
Serge and Zosia head for the east summit of Ruby Ridge. The three bumps visible at distant left are The Horn (Dunwey or Rogan Peak), Mount Galwey North Summit, and Mount Galwey.
Zosia watches as Serge slithers down a slippery ramp while descending from Ruby Ridge's high point.
Serge and Zosia hike along the crest of Ruby Ridge en route to the east summit.
Serge and Zosia reach the east summit of Ruby Ridge (2407 metres).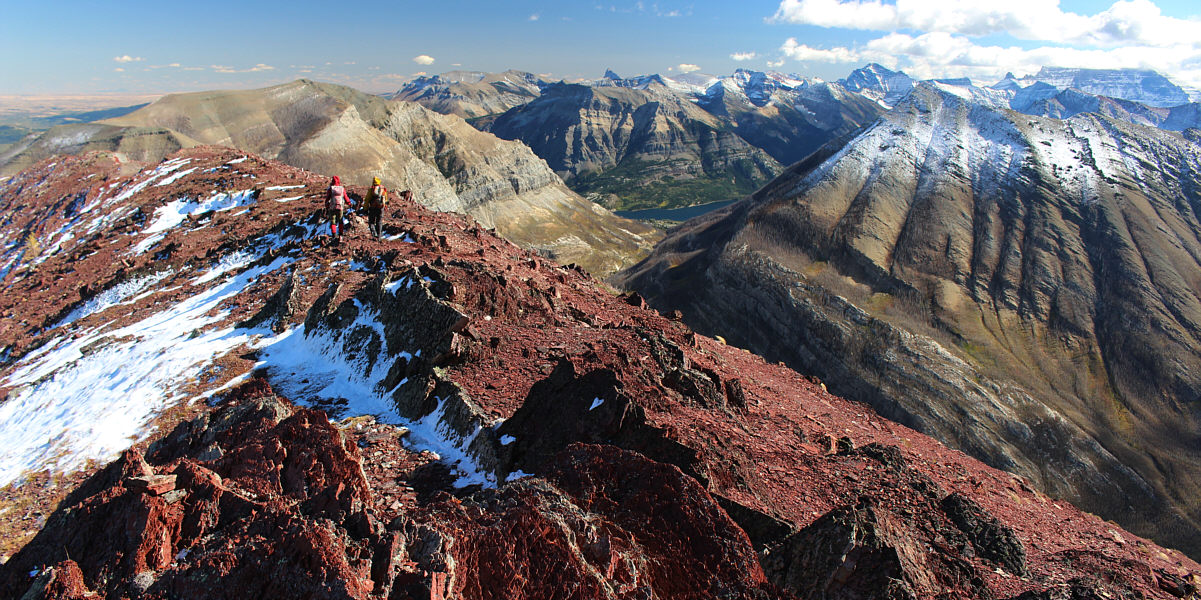 From the east summit, a small sliver of Upper Waterton Lake is visible at centre. Also visible are Mount Crandell, Sofa Mountain, Vimy Peak, Chief Mountain (US), and Kaina Mountain (US). The top of Mount Cleveland is shrouded in clouds at far right.
Serge and Zosia backtrack partway toward the high point of Ruby Ridge (left) with intentions of taking an alternate descent route at lower left. Right behind the high point of Ruby Ridge is Mount Lineham.
Zosia and Serge follow the same ridge that Spirko had descended.
Serge and Zosia take advantage of the loose terrain here to scree-surf down the ridge.
Lower down the ridge, Zosia and Serge descend some rock outcrops amongst the burnt forest.
The final drop to the road is both bushy and colourful.

Photo courtesy of Zosia Zgolak

After retrieving her bicycle, Zosia cruises back along Akamina Parkway. At right is the northwest outlier of Mount Crandell.
The fast ride back to Waterton townsite is the highlight of the day for Sonny.

Photo courtesy of Zosia Zgolak

Total Distance: 26.4 kilometres
Round-Trip Time: 7 hours 57 minutes
Cumulative Elevation Gain: 1464 metres